Unicorn, fried, sweet and hot: We taste the OC Fair food
Frankie Reyes munches on a giant turkey leg, a longtime favorite fair food, at the OC Fair on Friday.
(Don Leach / Daily Pilot)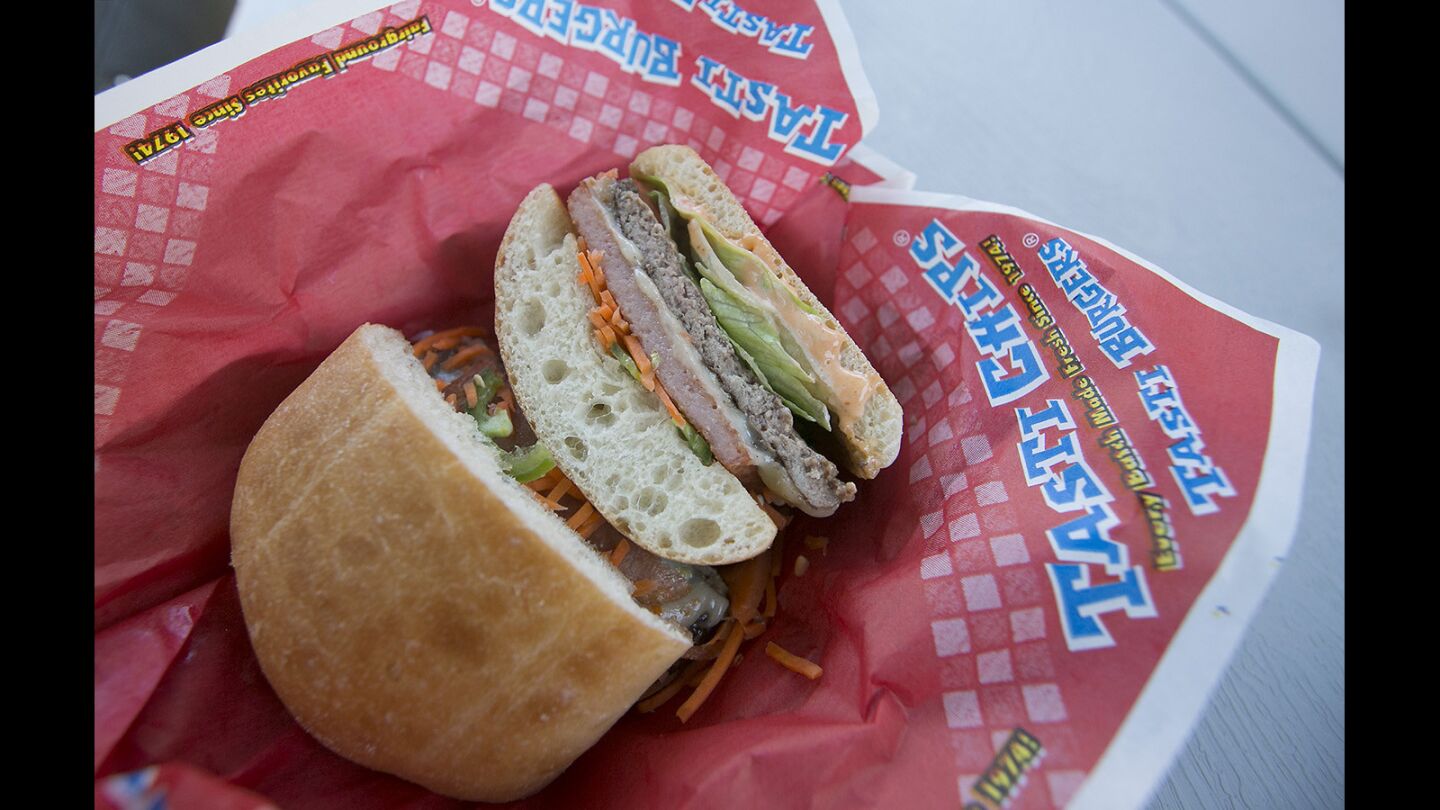 A Maui Cowboy from Tasti Burger is on the menu at the 2017 OC Fair.
(Don Leach / Daily Pilot)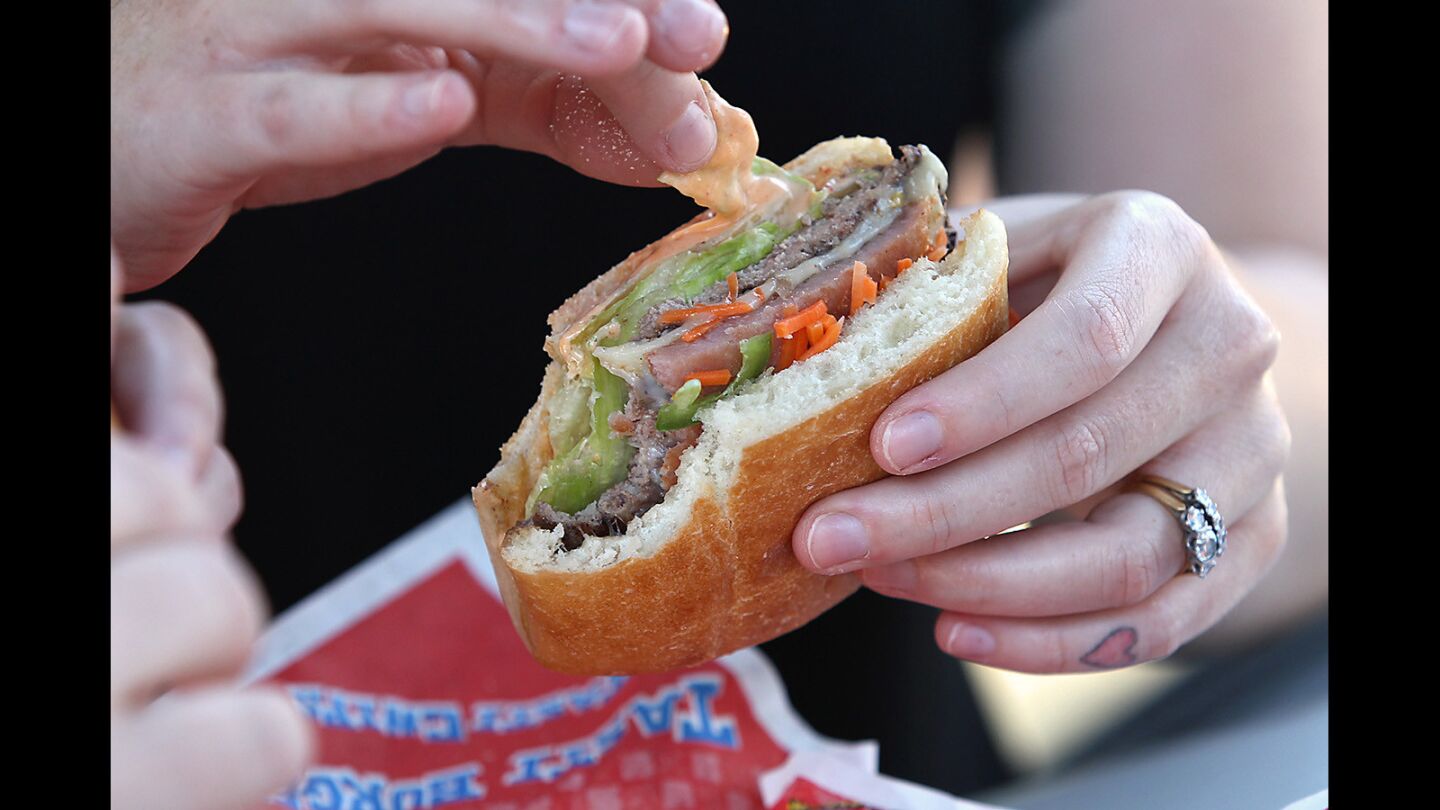 The Maui Cowboy from Tasti Burger.
(Don Leach / Daily Pilot)
The Flamin' Hot Cheetos cheese fries are an offering at the 2017 Orange County Fair.
(Don Leach / Daily Pilot)
The Unicorn Pineapple Bomb is a big smoothie served in a pineapple shell at the 2017 OC Fair.
(Don Leach / Daily Pilot)
From Flamin' Hot Cheetos cheese fries to a chicken sandwich made with doughnuts and heaped with ice cream, we made our way to the Orange County Fair Friday — stomachs rumbling and antacids at the ready — to taste some of the event's most unconventional gastronomic delights.
Our first stop was Chicken Charlie's, a stand known for the unique culinary creations of Charlie Boghosian, who is always cooking up ideas for extreme fair foods. By the time one fair ends, he already has ideas for the next.
"Every year we try to outdo ourselves from the year before," Boghosian said. "I'm just trying to do a good job in the sense of giving people something wild and crazy when they come to the fair."
"It's a rare opportunity for people to indulge and eat without worrying about calories," he added. "The fair is the best place for that."
Krispy Kreme ice cream chicken sandwich
The idea for the Krispy Kreme ice cream chicken sandwich — fried chicken and a heap of vanilla ice cream sandwiched between two glazed, jelly-filled, doughnuts — came while Boghosian was walking through the aisles at a grocery store.
"I was just walking along thinking, 'What can I fry? What can I mix together?' " he said.
It was there that inspiration struck and the sandwich was born.
"It's not something people are going to try every day anywhere else," he said of his menu items. "It has to be spectacular. It can't be mediocre."
Money: What really struck me was how well everything blended together. It's definitely a creation that's greater than the sum of its parts. The chicken stars — it's juicy, crispy and perfectly cooked and seasoned — and the ice cream provides a sweet, but not overpowering complement. The doughnuts are delicious and, all things considered, do a pretty good job of holding everything together. It was the best thing I ate all day. Pro tip: Have some napkins and water handy. This one's messy — especially on a hot summer day.
Fry: Typically, I'm not a fan of mixing sweet and savory foods, so I was skeptical about how much I would appreciate the elements of this sandwich. But I realized the error of my ways after my first bite. The fried chicken was crispy on the outside and juicy on the inside and the ice cream acted as a sauce to complement the nicely peppered flavor of the poultry. Those aspects, combined with the sweetness of the doughnuts and their raspberry filling, made for the perfect fair food.
Fried peanut butter meatballs
Some of Boghosian's craziest creations come from just messing around in the kitchen.
Enter the fried peanut butter meatballs, which consist of a beef and pork meatball dipped in a mixture of peanut butter and pancake batter, which is then deep-fried.
Money: The word that keeps coming to mind to describe the meatballs is dry. I'm sure the heat played a bit of a role, but my order begged for some kind of dipping sauce — though I'm not sure what exactly pairs well with both peanut butter and meat. Overall, the batter and meatball both tasted OK but didn't really work together in any kind of cohesive way. I wouldn't necessarily whip them up in my own kitchen but, as a nearby diner noted, this is the type of thing you try during fair time.
Fry: I had high hopes for this item, as mixing peanut butter and meat isn't unheard of in some cuisines, and if executed well, can actually be pretty delectable. Unfortunately, the meatball was over-seasoned and dry and left me with an unpleasant aftertaste. The peanut butter flavor was seemingly missing from the batter surrounding the meatball. The dish definitely could have benefited from some type of dipping sauce to bring out the peanut butter flavor and moisten the meatballs.
Maui Cowboy
Lori Southerlend, who runs Tasti Burger, said she may have been subliminally inspired to create the Maui Cowboy from television Spam commercials.
It boasts an all-beef chuck patty, banh mi-style carrots, peppers, jalepenos and onions with lettuce, grilled Spam and Sriracha mayo on a ciabatta roll. The ghost pepper cheese is meant to provide a punch of heat.
While Southerlend is always looking for new flavors and foods to work with, she doesn't get caught up in the competition of coming up with the wildest culinary creation. Instead, she focuses on creating tasty and high-quality food for the masses.
"I never think about deep-frying a tennis shoe and trying to figure out how to make it taste good," she said. "I'm not knocking anyone else, though — everyone has their niche and they do it well. Our niche has all this time been that we've had a super-great burger."
Money: My taste buds were cowering at the mere mention of ghost peppers, but the first bite of this burger was a sweet relief. There's heat, sure, but it's of the steady, underlying variety, not the "dunk your head in a bucket of ice and pray for oblivion" kind. I've never eaten Spam before, despite Monty Python's insistence on its quality, but I found it to be pleasantly salty and nicely cooked. My only real critique would be that I would've preferred the burger patty to be a little bit thicker, but that's a nitpick. The ciabatta roll was tasty, as well.
Fry: I don't shy away when my food brings the heat, but admittedly, I was sweating a little bit when I heard the words "ghost pepper." If you've ever watched a video of someone eating one of those bad boys you'll understand my hesitation. But the burger, which boasts a slice of ghost pepper cheese, is pretty tame and tasty. The meat patty, though thin, was well-seasoned and complemented by the light heat from the cheese and Sriracha mayo. The carrots, peppers and jalepenos weren't pickled enough to be classified in my book as banh mi-style, but added a pleasant crunch to the burger. Overall, if you want a tasty burger that you can eat without setting your taste buds on fire, this is one to try.
Unicorn Pineapple Bomb
Either a raspberry lemonade or piña colada would serve as a refreshing break from the heat of the midway, but when they come served in a hollowed-out pineapple, topped with whipped cream and fruity cereal and adorned with a Rice Krispies treat, candy-speckled marshmallow, a cherry and sour candy ribbon? You've got yourself more than a beverage — you have a head-turner served up fresh from Country Fair Cinnamon Rolls.
Money: No item we sampled attracted more attention than the Unicorn Pineapple Bomb. Just walking with it to find a place to sit drew a few head turns and questions of, "Hey, what's that?" The beverage itself (we went with raspberry lemonade) was light, fruity and refreshing. The pineapple turned out to be more than just a pretty vase, it added just enough extra tartness to balance out the sweetness of the whipped cream. Taken together, it was a delightful sip. The Rice Krispies treats and marshmallow were served on sticks, and I suppose they could stand in for horns to fit the unicorn motif, but they seemed superfluous. They didn't taste bad, I just questioned why they were there.
Fry: This pineapple creation just screams Instagram-worthy. If ever there was a food to put on social media, this is it. The candy-coated marshmallow, Rice Krispies treat, sour ribbon candy and Fruit Loops definitely captured attention of fairgoers passing by, but this pineapple bomb doesn't need all the bells and whistles. The raspberry lemonade slushy inside was tart and refreshing on the hot summer day. The whipped cream on top helped mellow out the sour elements of the drink and the pineapple was reminiscent of sipping a frozen beverage on an exotic beach instead of standing in a crowd of sweaty fairgoers. A bonus: It's big enough to share with a friend.
Flamin' Hot Cheetos cheese fries
Fairgoers this year will notice a number of items — pizza, corn dogs and corn on the cob to name a few — topped with Flamin' Hot Cheetos. That's no coincidence. Dominic Palmieri, who operates several fair food stands that offer the delicacies, said the snacks add a bit of extra crunch and heat that go well with a variety of other flavors.
When asked how many Cheetos he expects to go through during the fair, Palmieri quickly responded, "a truckload."
We visited Biggy's Meat Market to try the Flamin' Hot Cheetos cheese fries.
Money: I like fries. I like cheese. I like Flamin' Hot Cheetos. Surprisingly, I like them all put together. The Cheetos provided a nice spicy undertone and pleasant crunch, which gave the snack some textural variety. The fries were also well-cooked — not overly salty or greasy. They could have used more cheese, both because it tasted delicious and it helped keep the Cheetos from falling off.
Fry: French fries, cheese and crushed up Flamin' Hot Cheetos is truly an unbeatable combination. It's the stuff we dream about as children and young adults sitting in our dorm rooms. This fair creation did not disappoint. The french fries were crispy and perfectly salted. The Cheetos added a nice hint of heat. The only improvementneeded would be the cheese. There needs to be more of it to help anchor the bits of glorious Cheetos to the french fry vessel.
Twitter: @HannahFryTCN
ALSO
First-day visitors to Orange County Fair find a lot to like
Midway Moments: Veteran inspector gets O.C. Fair ready for a safe ride
Knights in live action: OC Fair welcomes full-contact jousters for first time
With O.C. Fair fast approaching, here's your guide to 'Farm Fresh Fun'
---
All the latest on Orange County from Orange County.
Get our free TimesOC newsletter.
You may occasionally receive promotional content from the Daily Pilot.