Fountain Valley man sentenced to life in prison in kidnapping and torture of marijuana dispensary owner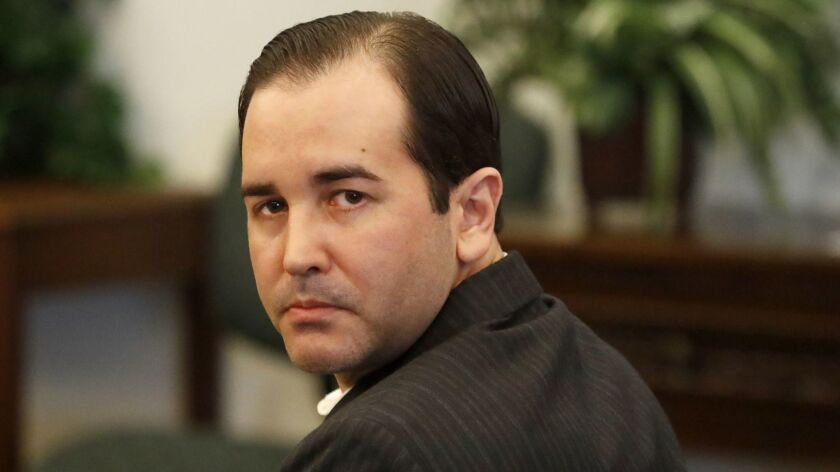 A Fountain Valley man was sentenced Friday to spend the rest of his life behind bars for kidnapping a medical marijuana dispensary owner and his roommate in 2012 and torturing the dispensary owner as part of a plot to extort money.
Orange County Superior Court Judge Gregg Prickett gave Kyle Shirakawa Handley, 39, the maximum sentence of life in state prison. A Superior Court jury in January swiftly found Handley guilty of of kidnapping, aggravated mayhem and torture, all felonies.
Prosecutors contended that Handley, a marijuana grower who supplied the victim's dispensary, and three other defendants kidnapped the man and his female roommate from their 25th Street home on the Balboa Peninsula in Newport Beach on Oct. 2, 2012.
Prosecutors alleged that after a high-rolling Las Vegas trip together in May 2012, Handley mistakenly believed the dispensary owner had a large amount of money buried in the desert. Handley hatched a plan to steal it with two other men he grew up with in Fresno, authorities said.
Hossein Nayeri and Ryan Kevorkian, both 39, are facing the same charges as Handley in the case.
The dispensary owner — whom the Daily Pilot is not identifying because he was a victim of a sexual assault — testified in December last year that masked captors zip-tied his hands and feet, threw him in back of a van and drove him and his roommate to the Mojave Desert. During the nearly three-hour trip, he was stomped on, Tased, beaten and burned, he said. The kidnappers demanded $1 million from him dozens of times. Once they arrived in the desert, the captors cut off his penis.
The woman was bound and blindfolded as she listened to her roommate being tortured in the back of the van.
The victims testified that they were dropped off, still bound, in the desert about 150 miles from Newport Beach and that one of the captors tossed a knife into nearby bushes. The woman was told that if she could find it, she could cut herself free. She managed to release herself, but her roommate's hands were too swollen, she said.
She walked to the road and flagged down a sheriff's deputy.
"It still haunts me," she testified.
In closing arguments last year, Deputy District Attorney Matthew Murphy portrayed Handley as part of a kidnapping conspiracy that showed unconscionable cruelty.
"What they did … defies the English language," Murphy told jurors. "The cruelty and viciousness … [all] so they could get money."
Handley's attorney, Robert Weinberg, contended that others involved in the kidnapping sought to make Handley the "fall guy."
Nayeri grabbed headlines in 2016 when he escaped from Orange County Jail and was captured in San Francisco after evading authorities for eight days. His case is scheduled to go to trial next month.
Kevorkian is scheduled for a pretrial hearing next month.
Naomi Rhodus, who also is charged in the case, is scheduled for a pretrial hearing in October.
All have pleaded not guilty.
Twitter: @HannahFryTCN
---
All the latest on Orange County from Orange County.
Get our free TimesOC newsletter.
You may occasionally receive promotional content from the Daily Pilot.