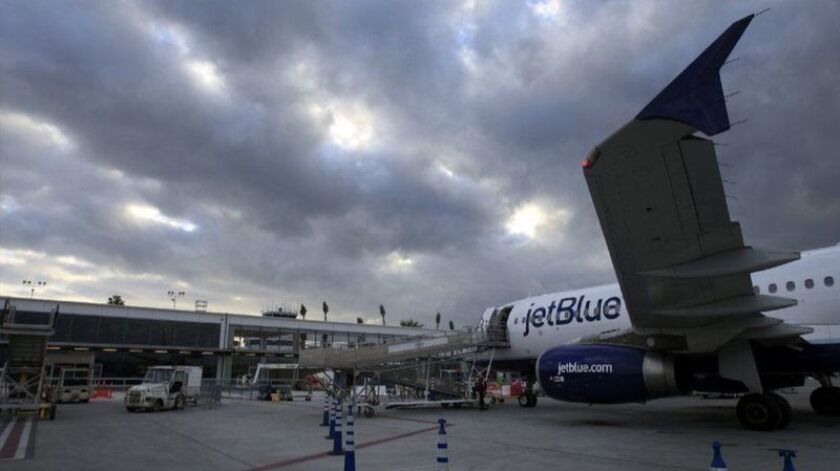 An Irvine-based aviation consultant is seeking to partner with Huntington Beach to conduct an analysis that could be submitted to the Federal Aviation Administration as part of the city's efforts to address residents' concerns about increased airplane noise.
Under the proposed six-month, $48,370 contract — which the City Council will consider Monday — Landrum & Brown would conduct a series of tests and compile the results into a report for the city.
The consultant plans to work with Long Beach Airport staff to monitor and measure existing noise levels at locations selected by Huntington Beach officials.
Landrum & Brown also would collect flight data to show existing and proposed altitudes at various points along the flight path of aircraft arriving into Long Beach. This glide slope analysis must be done and submitted to the FAA before changes can be made to arrival patterns, according to a city staff report.
Aircraft typically arrive into airports using a flight path that is on a 3-degree glide slope — so as to apply minimal power to their engines, according to Landrum & Brown. However, those that fly below that path may use more power, which increases noise and burns more fuel.
Huntington Beach residents have increasingly complained about airplane noise — most of it linked to Long Beach Airport — since the FAA implemented regional flight path alterations in 2017. City officials, though, have said the issue dates as far back as 2007.
More than two dozen air routes have historically passed over Huntington Beach, according to the FAA.
In September, the council created a Jet Noise Commission as part of its long-term plan to research ways to help residents affected by the sound of passing planes.
The city believes keeping aircraft arriving into Long Beach Airport at the 3-degree glide slope may result in reduced noise for its residents.
Monday's council meeting begins at 6 p.m. at City Hall, 2000 Main St.
---