2 Huntington Beach officers and a suspect are wounded by gunfire after report of man with a knife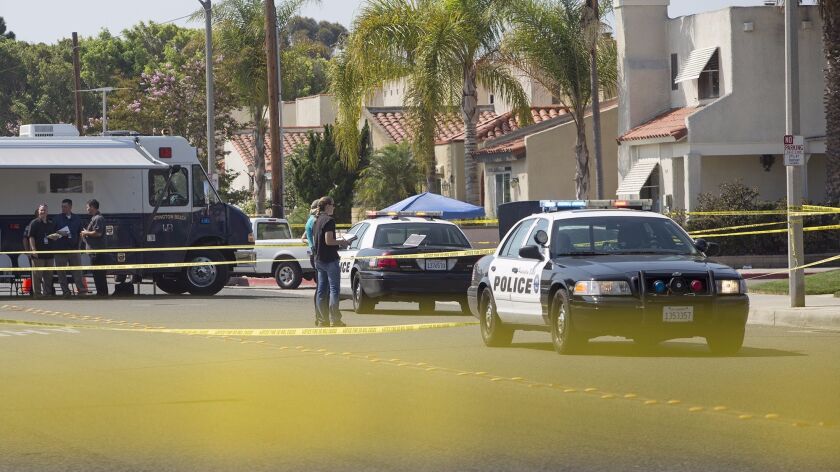 Two Huntington Beach police officers and a suspect were hospitalized Thursday morning after a report of a man with a knife turned into an officer-involved shooting, police said.
Huntington Beach officers were called to the 2000 block of Delaware Street at 7:08 a.m. The caller said a man was running around the neighborhood slashing tires, Police Chief Robert Handy told reporters at the scene.
"One of the callers said the person running around with the knife was talking about a sharpshooter and yelling that he was a sharpshooter or something to that effect," Handy said.
At least four officers began searching for a suspect. They found a man in a narrow walkway between two fenced patios attached to multifamily complexes. The suspect confronted the officers and a shooting occurred, police said.
The man, who has not been identified, was hit by police gunfire and taken to a hospital in stable condition. Late Thursday morning, he was in surgery for non-life-threatening injuries, Handy said.
Two officers were struck by gunfire and were taken to hospitals for treatment. One was released from UCI Medical Center in Orange at about 10 a.m. The other is in stable condition, Handy said.
"I just visited with both of them," Handy said. "They're both in good spirits and their injuries for gunshot wounds are relatively minor. Both are doing well."
The circumstances of the shooting are unclear. Authorities said they found a knife at the scene but are continuing to investigate whether the man had any other weapons. Handy said investigators have not determined whether the officers were hit by "friendly fire."
The Orange County Sheriff's Department will investigate the case, as is typical for officer-involved shootings in Huntington Beach.
Handy said both officers have served more than two years on the Huntington Beach police force.
"They are both really good, hard-working officers doing a great job," he said. "These scenes get really chaotic and difficult for our officers, and it's really just an example of the danger they face every day. We're blessed that they're OK."
Authorities canvassed the neighborhood Thursday morning talking to witnesses and scouring for evidence. Delaware Street between Utica Avenue and Toronto Avenue was blocked by patrol cars and crime scene tape as police investigated. The street is expected to remain closed until the evening.
Ashlee Vanderbilt, who has lived in the neighborhood for about four years, said she and a group of her neighbors went outside around 7:30 a.m. after they heard gunshots. The typically quiet neighborhood has been on edge following a string of car burglaries, she said. She suspects the shooting and burglaries might be related.
Louis Gamboa, who has lived in the area for 15 years, stood on a nearby lawn and watched as police worked the scene.
"We ride our bikes here all the time," he said. "It's a quiet, peaceful place. It's very unexpected."
This is the sixth officer-involved shooting in Huntington Beach this year, and the first since March.
The total is more than in any entire year this decade, according to department archives.
The others in 2017:
March 19: A man was hospitalized with non-life-threatening injuries after being shot by Huntington Beach officers near Beacon Hill Lane and Lawn Haven Drive.
March 9: Steven Schiltz, 29, was shot and killed by police on a crowded soccer field in the Huntington Central Park Sports Complex on Goldenwest Street. Police and a witness said he had chased children and others with a baseball bat and a broken bottle. Schiltz's mother, Angela Hernandez, has alleged police used excessive force and filed a lawsuit against the department in July.
In a 25-hour span in January, the Police Department had three officer-involved shootings:

Jan. 9, a man who reportedly was armed with a knife was wounded after being shot by police at the Huntington By-the-Sea RV Resort on Newland Street.
A few hours after that, police fired shots as they were pursuing two men and two juveniles who were later arrested on suspicion of trying to break into a business that once housed a marijuana dispensary in the 17500 block of Griffin Lane. No one was injured.
Jan. 8, a dog was shot and killed by police after it bit an officer while its owner was being arrested on suspicion of assault with a deadly weapon, police said.
Huntington Beach police typically have had one or two officer-involved shootings each year since 2011. In 2010, there were none, records show.
Police told the Daily Pilot in January that Huntington Beach officers are permitted to use their guns in defense of their lives or the lives of others.
Twitter: @HannahFryTCN
ALSO
Man wounded in 5th Huntington Beach police shooting this year
Financially strained Huntington Beach air show gets a $100,000 boost from city
Mariners Church to open new campus in Huntington Beach on Sunday
---
UPDATES:
1 p.m.: This article was updated with information from Police Chief Robert Handy.
This article was originally published at 10 a.m.
---
All the latest on Orange County from Orange County.
Get our free TimesOC newsletter.
You may occasionally receive promotional content from the Daily Pilot.