Newport Beach man pleads guilty to federal charge in theft of endangered lemur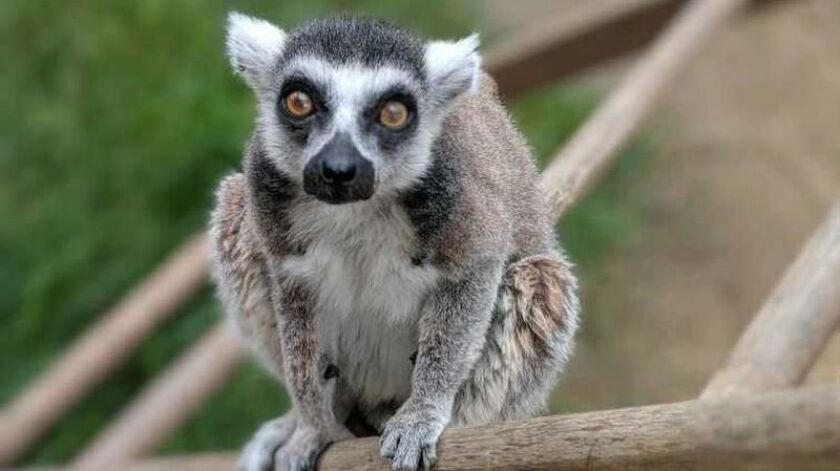 A Newport Beach man pleaded guilty Monday to a federal charge related to the theft of a lemur from the Santa Ana Zoo last year.
Quinn Kasbar, 19, who earlier had pleaded not guilty, formally changed his plea on the misdemeanor count of unlawful taking of an endangered species, court records show. He had agreed to plead guilty in a deal filed in court May 20.
The charge carries a maximum penalty of one year in federal prison and a $100,000 fine, prosecutors said. Sentencing is set for Oct. 28.
"Mr. Kasbar admitted in court today to stealing Isaac, a critically endangered ring-tailed lemur. This is a serious offense and we will continue to vigorously prosecute those who violate this law," U.S. attorney's office spokesman Ciaran McEvoy said Monday.
32-year-old lemur stolen from Santa Ana Zoo turns up at Newport Beach hotel »
Isaac, North America's oldest lemur in captivity at age 32, was taken from the zoo after it closed July 27. Someone cut through enclosures housing lemurs and capuchin monkeys, authorities said. The break-in cost the zoo nearly $8,500, according to prosecutors.
Shortly after 2 a.m. July 28, staff members at the Newport Beach Marriott Bayview were surprised to find Isaac abandoned in a container at the hotel's front door. The crate included two handwritten notes that read "Lemur (with tracker)" and "This belongs to the Santa Ana Zoo. It was taken last night. Please bring it to police," prosecutors said.
In his plea agreement, Kasbar described using bolt cutters to break into the enclosures after the zoo was closed.
Kasbar "decided to plead guilty today to a single misdemeanor count related to a mistake he made as a high school student," said his attorney Brian Gurwitz, who pointed out that Kasbar quickly took steps to correct his actions, including surrendering the animal with a note.
In May, Santa Ana police identified Kasbar as a suspect in Isaac's theft based on evidence they said the Newport Beach Police Department obtained in its investigation of a rash of Newport Beach residential burglaries.
'I was rocked and so was my community': After a spate of home burglaries, Balboa Island residents say their sense of security has been shaken »
Kasbar is facing 29 felony and three misdemeanor counts in the burglaries case and has pleaded not guilty. He had been free on $560,000 bond, but on June 12 he was remanded to custody at Orange County Jail on suspicion of violating the terms of his release. His bail was increased to $2 million and he has remained in custody since.
He was transferred to federal custody last week ahead of his federal court appearance Monday. He is expected to return to county custody this week, Gurwitz said.
Kasbar previously had posted $25,000 bond in the lemur case, but on Monday his bail in that matter was revoked because of the terms violations cited in the burglaries case, Gurwitz said.
---
All the latest on Orange County from Orange County.
Get our free TimesOC newsletter.
You may occasionally receive promotional content from the Daily Pilot.