Construction on Laguna Beach's long-awaited Village Entrance project is putting a strain on artists during the Sawdust Art & Craft Festival's Winter Fantasy, according to some artists presenting at the holiday season event.
A space on Laguna Canyon Road between parking Lots 10 and 11 that once held about 30 parking spaces is now filled with dirt, fencing and construction vehicles. Some artists at Winter Fantasy, which opened Nov. 17 and runs weekends through Dec. 16 at the Sawdust Festival grounds at 935 Laguna Canyon, say the reduction in nearby parking is affecting their business.
"We can always pick at why we're not doing well sales-wise," said Robert Holton, a painter exhibiting pop art at the festival. "But parking keeps coming up. Everyone says parking is challenging."
Lot 10, which has about 60 parking spots, also is closed for Village Entrance construction, though Assistant City Manager Shohreh Dupuis said the lot is usually closed during Winter Fantasy and is used by a Christmas tree vendor.
The city has made parking available at Lot 16, also known as Act V, across from Ganahl Lumber on Laguna Canyon Road. Dupuis said free weekend trolleys run about every eight minutes between Lot 16 and the Sawdust Festival grounds and every 15 minutes between Lot 16 and the bus depot on Broadway, across from Acacia Drive. Dupuis said 4,800 people rode the trolley from Lot 16 to Winter Fantasy last year.
"There is sufficient service from ACT V to Sawdust and the depot along these routes," Dupuis said in an email.
Still, some artists are concerned that a lack of signage is contributing to a heightened parking problem. Two parking signs on Laguna Canyon Road point to the dug-up construction zone.
Dupuis said new signs will go up before this weekend on Laguna Canyon Road and around Lots 11 and 16 to alert festival-goers to the parking changes.
Michaell Magrutsche, who describes himself as an "activist for artists," said he contacted city officials about the parking situation after several artists complained to him about a decrease in festival attendance.
"You're really hurting artists," Magrutsche said. "They love the Sawdust, they love going there. I've never seen people who are more committed to the cause of art and being in the Sawdust — and not making money."
Representatives of the Sawdust Festival did not respond for requests for comment.
Parking was a major consideration for the Village Entrance construction plan, which officially broke ground in September.
From January to May, Lot 10 will be reopened and Lot 11 will be closed. Lot 12 on Forest Avenue and the City Hall employee lot will be open.
Construction will pause for the summer and begin again in September, closing the employee lot until January 2020. From January to May 2020, Lots 10 and 11 and the employee lot will be open and Lot 12 will be closed.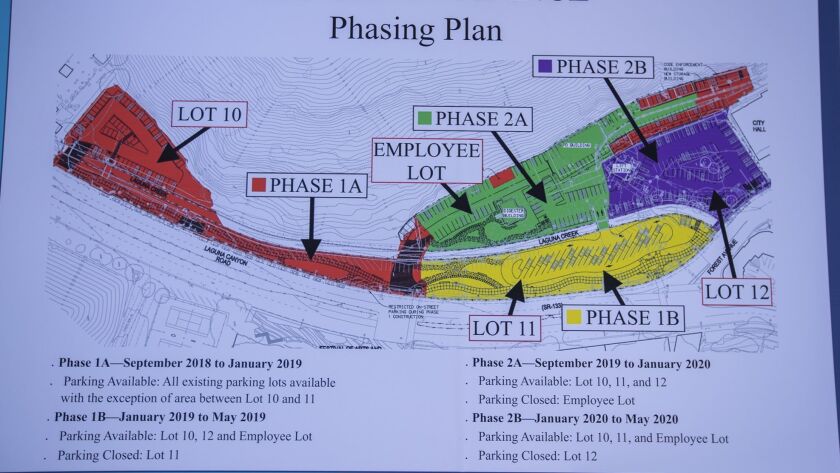 Once the Village Entrance is complete, Dupuis said, 370 parking spaces will be available on the project site, as well as spots for eight motorcycles and 104 bicycles.
The Village Entrance project has been in discussion for nearly 50 years. The City Council approved a construction contract in August for an $11.1-million plan to add new pedestrian and bicycle pathways, 120 trees and thousands of shrubs to help beautify the Laguna Canyon Road entry to Laguna Beach.
Some festival artists are prepared for parking closures until the project's proposed end in May 2020.
"I'm extra early because I know you gotta be extra early if you want to park," Winter Fantasy exhibitor Bill Atkins, a graphic designer, said with a laugh. "Just be there, be happy. It's a festival."
Twitter: @faithepinho
---