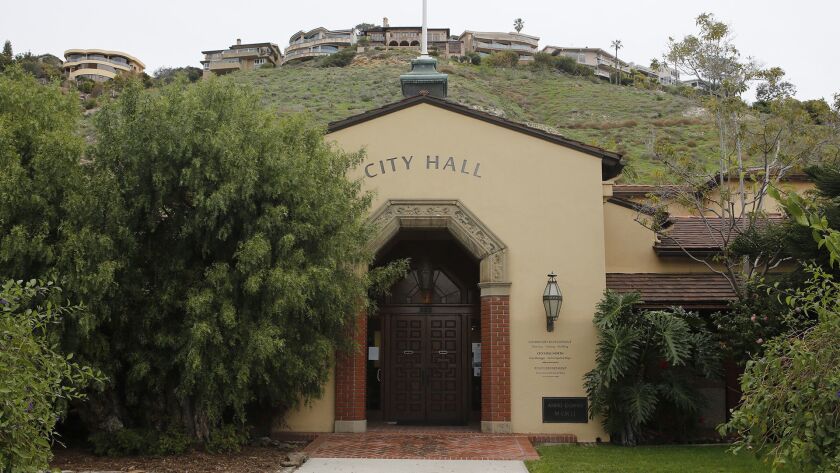 The Laguna Beach City Council is set to adopt a two-year budget Tuesday.
Estimated expenditures for the 2019-20 fiscal year — which begins July 1 — are $103.6 million, with that figure jumping to $108.4 million in 2020-21. Last year's adopted city budget totaled $97 million.
As part of the proposed spending plan, staff recommends dipping into local coffers to hire a full-time arborist, following the council's earlier feedback that the city needs an expert to mediate tree issues.
On an estimated $144,000 salary, the arborist would be responsible for inspecting trees, overseeing their care and handling public complaints.
In addition to regularly scheduled salary increases, the council also will consider giving City Manager John Pietig a "exceptional performance pay" of up to 5%. Pietig currently makes $273,156 a year.
Councilman Peter Blake said Pietig will have his hands full in the upcoming fiscal year, with several large development projects and a contentious election on the horizon.
"I want to incentivize John to pretty much do the best job possible," Blake said Thursday. "His community is backing him; his council is backing him and we're paying him to do the job that we need done."
The budget also earmarks $1 million to fund planned fire-prevention measures, which the council is expected to review following a presentation from the Wildfire Mitigation and Fire Safety Subcommittee next month.
Also included are several items the council has approved at recent meetings, such as increasing development fees and funding to add positions to the Community Development Department and ramp up security at the Alternative Sleeping Location homeless shelter.
Much of the budget focuses on public safety, with 27% going to police and 20% to fire services.
The council will vote on the budget during Tuesday's meeting, which begins at 6 p.m. in City Hall, 505 Forest Ave.
---