Longtime Laguna journalist honored by grand marshal title, though rain forecast cancels Patriots Day Parade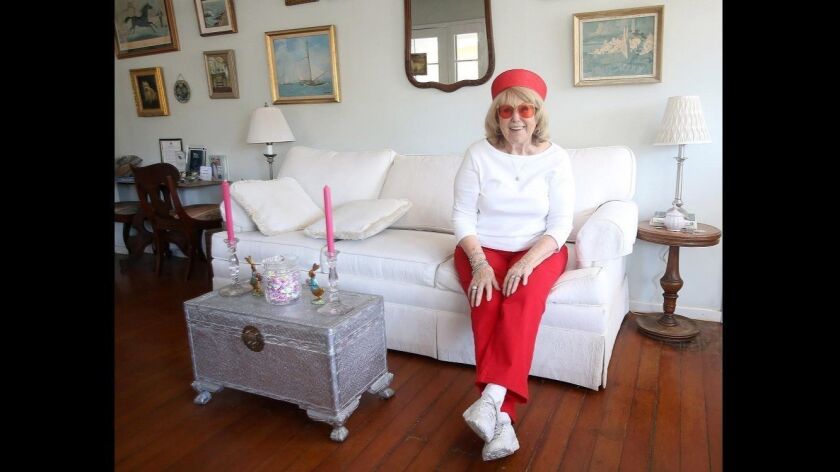 After nearly 40 years of reporting on Laguna Beach's annual Patriots Day Parade from the sidelines, longtime local journalist Barbara Diamond was chosen to take on a new role this year — grand marshal.
The 53rd parade, themed "Everyday Heroes," was scheduled for Saturday morning, but organizers decided Thursday afternoon to cancel it because of an expected rainstorm. Organizer Sandi Werthe said that with 92 groups set to participate, many of them from out of town, it wasn't possible to reschedule it.
Diamond was planning to lead the parade with a wave, a smile and the red pillbox hat she has worn to every parade since moving to Laguna in 1980.
"There was no way in the world I wasn't going to wear the red hat," said Diamond, 86.
While the hat is no different from any other year, Diamond's participation in the parade would be a marked change for her. As a journalist, she usually shies away from any public event where she is the display and not the observer.
"I don't make news, I write news," Diamond said.
That almost led Diamond to decline the grand marshal offer from Patriots Day Parade Assn. President Ed Hanke.
"She at first was kind of reluctant to agree to it," Hanke said. "But then, after I just kind of let her know that the whole city knows her and that she would be a perfect person for it, she agreed."
The parade also was to honor Army veteran Arnold Silverman, who fought during the Korean War; Sande St. John, who was recognized as Citizen of the Year for her volunteer work with several community organizations; and Laguna Beach High School seniors Alexis Yang and Cal Nielson, who are Junior Citizens of the Year.
Hanke said the association will try to recognize this year's honorees at the 2020 parade.
Diamond's journalistic work has become a fixture in the community. She has written for several local papers, including the Laguna News-Post and reporting on the City Council and writing a column for the Coastline Pilot (which folded into the Daily Pilot a few years after Diamond left in 2013).
Diamond picked up her current job with the online newspaper Stu News Laguna at age 83 after returning to Laguna Beach from a nearly three-year hiatus in Marin County to be with her son Paul, who died of pancreatic cancer.
"Barbara found her niche in Laguna Beach," said Tom Johnson, publisher of sister publication Stu News Newport. "She's seen the town change over the years and contributed her voice, like it or not, to a lot of those issues. … She's cultivated a following and she has a lot of people that take her every word as the news of the day."
As a resident and reporter in Laguna Beach for nearly 40 years, Diamond emphasizes the importance of community news, which she says is the "heart and soul of journalism."
"There has never been and likely never will be a professional journalist who is as deeply sourced in Laguna Beach as Barbara Diamond," said John Canalis, executive editor of Los Angeles Times Community News, who edited her City Hall stories and columns for the Coastline Pilot. "She knows everything and everyone. She even knows what the competition is working on because her sources trust her so much that they don't want to see her get scooped — an occurrence that is about as common as a solar eclipse. She is the Helen Thomas of Laguna Beach journalism."
"She's also fun to work with, pushing back hard on any changes we wanted to make to her copy," Canalis added. "She'd fight for every word, and she was usually right."
Diamond has been honing her reporting instincts since junior high school in San Francisco, when she began writing newsletters for class. Her work earned her a spot as the only ninth-grader taking a 10th-grade-level journalism course.
When a polio scare quarantined the entire high school newspaper staff, Diamond, then a sophomore, took on the roles of reporter, editor and designer, producing that month's eight-page paper by herself. The next year, she was promoted to editor and led the student publication to a top prize in a University of Missouri nationwide contest.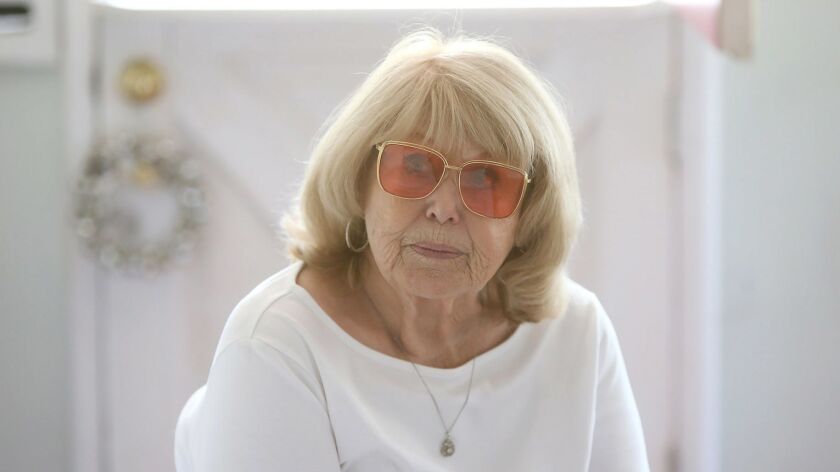 Diamond said her mother, Zella, also a reporter, planted the journalistic seed in her.
"It never crossed my mind that I couldn't be a reporter," Diamond said. "I've always written. I don't remember not [writing]."
While she prefers to not be in the public eye, Diamond can always be found in a front seat at City Council meetings and tracking down speakers. She's usually sporting something in her favorite color — the red on the parade hat, much like the neon coral of her sunglasses and her tomato-colored home office, is her signature.
"It jazzes you," she said.
At a council meeting in July, she received a surprise proclamation from then-Mayor Kelly Boyd. The resolution recognized her career and contributions to the city and assured Diamond a seat next to the deputy city clerk at all council meetings.
"She's been in town forever and ever," Werthe said. "She is a hero because she brings us the local news. We felt it was the right time to honor her."
After her initial grudging approval to join the parade, Diamond said she's proud she was chosen to the ranks of grand marshals.
"It doesn't happen every day that you get to be a part of the history of the town," she said.
She said it's a shame the parade had to be canceled.
"I'm so sorry for the committee and all the people who planned to participate," she said. "They practice routines and they do costumes. It's an effort on all their parts, and to have it rained out is just not what one would want."
Diamond said she will still go out for dinner with family this weekend, as planned.
---
UPDATES:
This article was originally published at 11:45 a.m. and was later updated with new information.
---
All the latest on Orange County from Orange County.
Get our free TimesOC newsletter.
You may occasionally receive promotional content from the Daily Pilot.