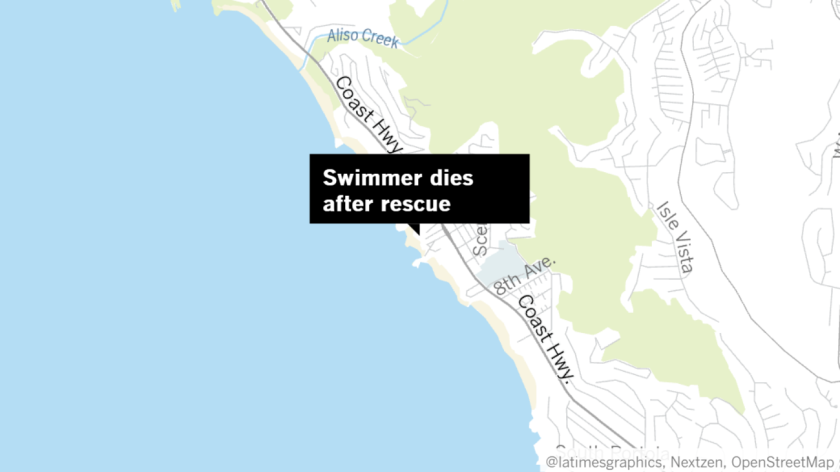 A swimmer who died Sunday night after rescuers found him off Table Rock Beach in South Laguna has been identified as a 27-year-old Huntington Beach man, the Orange County Sheriff's Department said.
Javier Vargas Cuellar was pronounced dead at 9:32 p.m. Sunday at Mission Hospital in Mission Viejo, according to the county coroner's office. His death is being investigated by Orange County parks rangers.
Laguna Beach police, fire and marine safety personnel responded to Table Rock Beach at 7:40 p.m. after a report of three swimmers in distress, police Sgt. Jim Cota said Monday.
Cuellar, another man and a woman had jumped into the water from rocks and found themselves being pulled out to sea by a rip current, Cota said. The two men were able to escape the current, but the woman struggled to reach the rocks.
Cuellar jumped back into the water and helped her swim back. But he was seen going under the surface, Cota said.
At one point, more than 30 county and city lifeguards were in the water looking for him, Cota said.
At about 8:30 p.m., an Orange County Fire Authority helicopter crew helped lifeguards find Cuellar, who was unresponsive in the water, authorities said. He was hoisted up to the helicopter and flown to Mission Hospital, OCFA Capt. Jon Muir said.
An autopsy is scheduled for Tuesday, according to the coroner's office.
Daniel Langhorne is a contributor to Times Community News.
Support our coverage by becoming a digital subscriber.
---
UPDATES:
This article was originally published at 12:35 p.m. and was later updated with additional information.
---