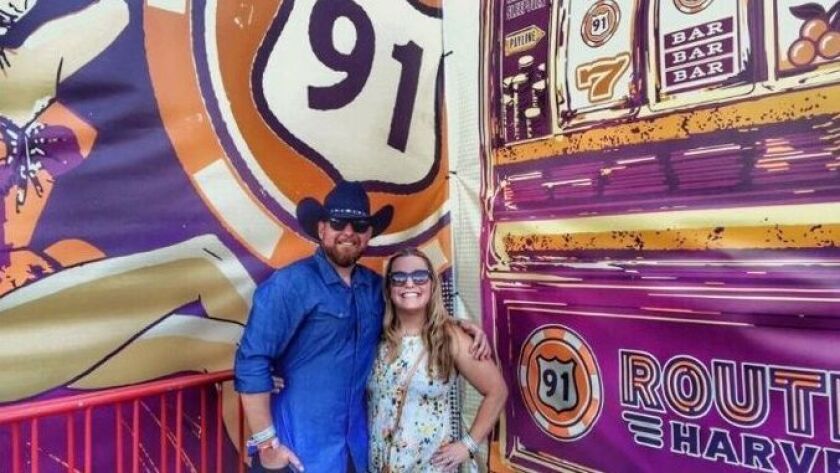 Seven months have passed since Jimmy Lessard crouched behind a bus tire not far from the bright lights of the Las Vegas Strip as bullets peppered parked cars around him.
Lessard, 34, a program manager at the Huntington Beach Family YMCA, described the chaos and confusion as people attending the Route 91 Harvest country music festival realized they were being fired on.
Lessard, of Laguna Niguel, and a group of friends were watching singer Jason Aldean perform the night of Oct. 1 when the first shots rang out. People in the crowd, including Lessard, initially thought the popping sounds were firecrackers being set off in the distance.
"Everyone is looking around unsure," he said. "I turned around and watched a row of people go down behind me."
What they didn't realize was that Stephen Paddock, who eventually took his own life, was shooting into the crowd of nearly 22,000 from the 32nd floor of the nearby Mandalay Bay resort.
Lessard's wife, Brittany, 33, had left a minute before to use the bathroom. The two were separated during the shooting and spoke by phone once to confirm they were alive before Jimmy's phone ran out of power.
"We didn't know if we were going to get hit," Jimmy Lessard said. "We might survive this, but we might not. I prayed like crazy."
They reunited at their hotel eight hours later.
More than 500 people were injured and 58 were killed in the gunfire.
Painful memories lingered long after they returned home. Eventually the couple put a name to their malady: post-traumatic stress disorder.
In the months since the shooting, the Lessards have grown closer and learned to help each other work through their trauma.
Now, Jimmy hopes to expand that connection to the wider community. He, along with YMCA colleagues from the Newport-Mesa branch in Newport Beach, have partnered with Irvine-based nonprofit Crime Survivors to present Ride 4 Healing on Saturday.
The cornerstone of the event will be a stationary bike ride overlooking Upper Newport Bay in which participants work together to cycle the roughly 300-mile distance from Newport Beach to Las Vegas.
The event will begin at 7:45 a.m., when Jimmy plans to release 58 doves obtained from a local business in remembrance of those killed in the shooting. Doves also will be available for individuals to release, which Jimmy likens to a "letting go of a huge emotional weight."
There also will be yoga, family self-defense classes and painting to enable participants to explore tools to cope with trauma they have experienced.
Jimmy said he wants the event to also have a lighthearted aspect, so there will be a bounce house, music, games and food trucks.
Money raised during the cycling portion will benefit Crime Survivors and the YMCA scholarship program. The other activities are free.
Allie Jacoby, 29, a program manager at the Newport-Mesa YMCA who helped organize the event and plans to attend, said she has faced her own struggle with PTSD since her 21-year-old pregnant friend went missing in Colorado in February 2013.
Authorities have charged Kelsie Schelling's boyfriend, Donthe Lucas, 25, in connection with her death, though Schelling's body hasn't been found, said Jacoby, of Irvine.
About two weeks after Schelling's disappearance, Jacoby began having nightmares and severe anxiety. That has persisted, she said, partly because Schelling's friends and family haven't been able to determine what happened to her.
"I thought it was something that would just naturally go away," Jacoby said.
When it didn't, she found support from church groups, organizations like Crime Survivors and her collegues at the YMCA. She said her experience with PTSD has helped her identify when people close to her may also be struggling.
When Jimmy returned from Las Vegas after the shooting, Jacoby recognized the signs almost immediately, she said.
"If Jimmy and I both have dealt with trauma, I wonder how many more people are also struggling," she said.
According to the National Center for PTSD, 7% or 8% of U.S. residents will suffer from PTSD at some point in their lives.
For Jimmy, anything from a car alarm to an object dropped loudly on the floor can trigger his PTSD.
On a recent walk in Upper Newport Bay, Brittany Lessard was frozen in fear after she mistook the sound of a gust of wind for flying bullets.
Jimmy said he plans to make Ride 4 Healing an annual event.
"We want to make sure that everyone has a place where they can go to work through their healing process," he said.
Brittany said she's looking forward to meeting others who have suffered from PTSD.
"Knowing I'm not alone and I can meet others that feel the same way makes me feel comforted," she said. "The healing art is what I'm really looking forward to. I'm hoping to find some peace and comfort with it."
IF YOU GO
What: Ride 4 Healing
When: 7:45 a.m. to noon Saturday
Where: Newport-Mesa YMCA, 2300 University Drive, Newport Beach
Cost: $150 per rider for the cycling event. Group rates also are available.
Information: ymcaoc.org/ride-4-healing
Twitter: @HannahFryTCN
---