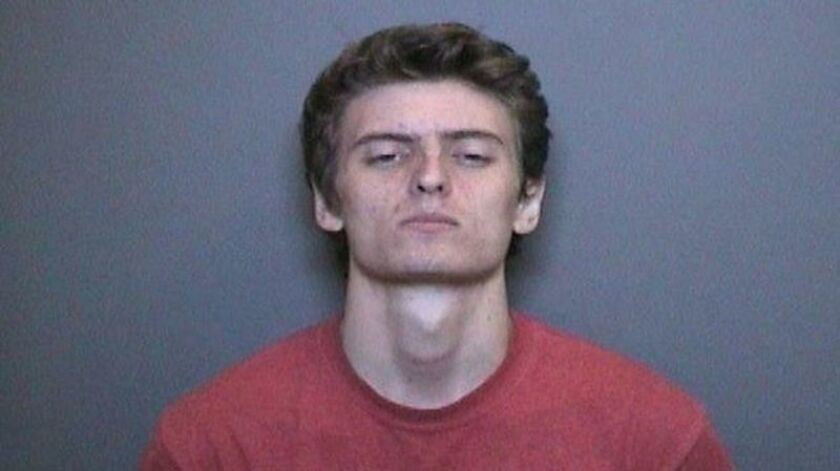 A Costa Mesa man who was previously barred from Orange Coast College, where he was a student, is being sought by police on suspicion of violating a restraining order by communicating with a protected person, police said.
Robert Bouton McDougal, 23, has been charged with two misdemeanor counts of violating a protective order on March 14, according to court records. As of Friday, no hearing had been scheduled in the case.
"McDougal is aware of the warrant and charges against him and he has not been seen at home in over a week," the Costa Mesa Police Department said in a bulletin Thursday night, adding that he has "been uncooperative with law enforcement in the past and has attempted to flee from officers on multiple occasions."
Police did not provide details of the allegations against McDougal, though they did say the alleged violations are related to his earlier issues with OCC.
In March 2017, a judge issued a restraining order at the behest of college officials, barring McDougal from entering the Costa Mesa campus or contacting a chemistry instructor.
College officials have said McDougal's problems at the campus began in February 2017 when he repeatedly asked the instructor to retake an exam with the help of a calculator after receiving a lower grade than he had expected. McDougal had received a "B," according to court documents.
The instructor declined the request.
A week later, according to school officials, McDougal barged into a class , prompting campus security to escort him out. According to a police report, McDougal evaded officers, ran back inside and sprinted in circles around the classroom.
Police said campus security officers eventually used pepper spray to subdue McDougal after he kicked them.
On March 7, 2017, McDougal was suspended from all Coast Community College District facilities until March 2019, according to college officials. But days later, he was arrested on suspicion of carving a swastika and a racial slur into the hoods of two OCC security vehicles and slashing their tires. He was booked into Orange County Jail and later posted bail.
Prosecutors alleged McDougal returned to the campus several times in violation of the protective order.
McDougal filed a civil lawsuit against the college in March 2018, alleging negligence, emotional distress, assault, battery and false imprisonment on the part of the college and school officials.
McDougal, who has been diagnosed with autism, first enrolled at the school in 2014.
"OCC was grossly negligent in handling this situation," according to a claim filed with the college in August 2017. "OCC harassed Robert and discriminated against him because of his disabilities. The damage to Robert's image and reputation is irreparable."
McDougal pleaded guilty in July 2018 to one count of felony vandalism and eight misdemeanor counts, including resisting a peace officer, disobeying a court order and vandalism. On Aug. 29 he was sentenced to six months in jail and received three years' formal probation for vandalizing the two campus security vehicles and violating an order to stay away from the campus.
---