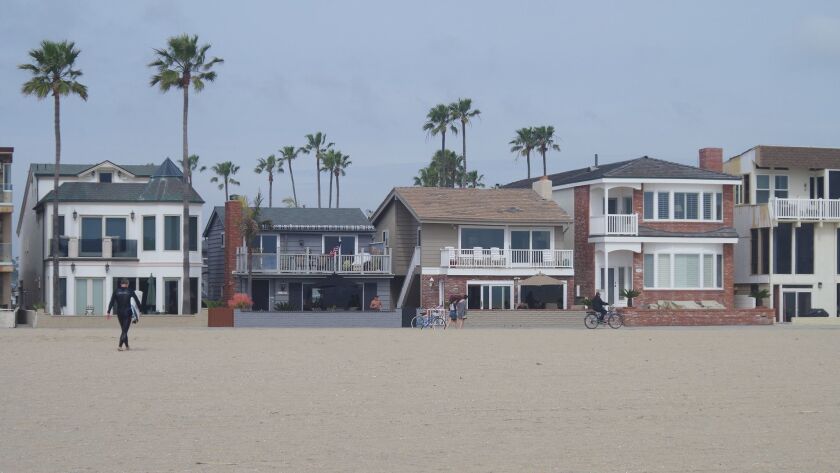 Newport Beach added more than $170,000 in tax revenue last year after taking a harder look at short-term rentals in the Airbnb age.
With a contracted short-term rental monitor helping comb through 22 online rental platforms, Newport reviewed 240 properties last year, handing out 52 citations or notices of violation to homes offering rentals in neighborhoods not zoned for them and helping 81 others come into compliance, staff told the City Council Tuesday.
These efforts have led to the city collecting about $173,000 more in bed taxes for 2018, bringing all such levies tied to short-term rentals to $4 million last year.
The city has about 1,400 active short-term lodging permits, with about 1,100 of them between the Balboa Peninsula and Balboa Island. Residential properties offering such vacation rentals — defined as less than 30 days — have long been part of the local culture, with zoning, lodging permits, business licenses and taxes to regulate them.
City Community Development Director Seimone Jurjis said some smaller platforms seem set up to skirt local laws. The popularity of online short-term rental platforms has made it difficult for the city to keep tabs on un-permitted homes. But HomeAway, one of the major companies, now requires hosts to list their city permit number on ads after discussion with the city.
Most homeowners are honest and want to follow Newport's rules, Jurjis said.
"We recognize that there's a culture for short-term lodging but we also want to look at the quality of life for the surrounding neighbors," he said.
The council seemed amenable to several suggestions out of the community development office to improve short-term rental regulations, including clarifying code language to restrict commercial activity, such as filming, and to include single-room and couch rentals in short-term rental activity. Mayor Diane Dixon suggested closing out permits if a property owner hasn't reported bed tax collections after three years.
Bed taxes collected at short-term rentals have been steadily increasing over the last five years, with collections at $3.2 million in fiscal year 2017. Traditional hotels also pay these taxes.
Newport partnered with monitor Home Compliance to compare addresses in the city's database of permitted hosts with online listings, paying the company $120,000 for its services over two years.
Newport to test 'smart' meters
The city will test-drive radio-controlled "smart" water meters.
The council agreed 6-0, with Councilman Kevin Muldoon absent, to replace 250 of the roughly 26,500 residential, commercial and irrigation meters citywide with the advanced devices for up to six months, giving customers direct access to their frequently updated water usage data and eliminating the current need for manual meter reading.
North Carolina-based Mueller Systems won the $191,000 contract and will install the meters this spring, mostly around the West Newport, Westcliff, Lido Isle and Spyglass Hill areas.
City utilities Director Mark Vukojevic said the smart meters would put Newport in company with neighbors like Huntington Beach and Laguna Beach.
He said the daily data updates would allow users and the city to catch leaks, which show as continuous usage, within days instead of after the usual manual reading every two months.
This frequent monitoring could prevent calls like one he described taking last week, when a customer investigated a water bill that spiked from its usual $70 to $700 because of a leak that went undetected for several weeks.
If the city wants to commit to full smart-meter implementation, it would cost an estimated $9.5 million.
---