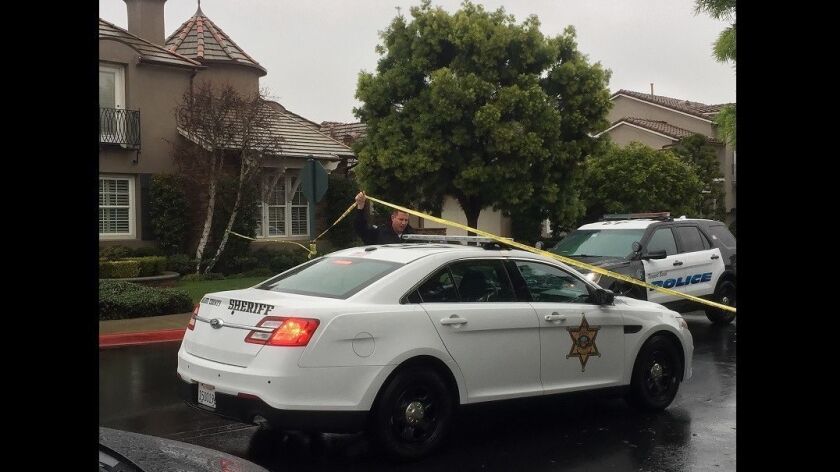 Residents of Newport Beach's Bonita Canyon community were in shock Thursday after three people were found slain the night before in a home in the quiet gated neighborhood.
Newport Beach police were still serving search warrants Thursday morning at the home on Palazzo. Crime scene investigators with the Orange County Sheriff's Department also were on hand to help with evidence collection.
A man was arrested in connection with the case and taken to Orange County Jail, said Heather Rangel, a Newport Beach police spokeswoman.
On Thursday evening, Newport Beach police confirmed that the suspect is Camden Burton Nicholson, 27, who public records show was booked Wednesday by Newport police on suspicion of homicide. Nicholson is named in property records as a relative of the Palazzo home's owners.
He is scheduled to appear in Central Jail Court on Friday.
The names of those killed have not been released because officials are still notifying their relatives, police said.
Tien Lemay, 50, was taking her son to school Thursday morning when they noticed crime scene tape and police cruisers parked on the cul-de-sac behind their home.
Lemay said she didn't know the homicide victims but said three slayings on the street behind the home she has lived in for 15 years made for an unnerving Valentine's Day.
"It makes you want to squeeze your kids a little bit harder," she said.
Kirsten Aleman, 54, said she learned of the killings after her daughter nervously asked around 9:30 p.m. Wednesday why there were police cars in their neighborhood.
The community is known for going all out for holiday celebrations because of the many young families who live there, she said. On Halloween, neighbors will hand out glow sticks to children so drivers can see them when they cross the street.
"You move into certain neighborhoods, people stay to themselves, but not here; everyone is super friendly," Aleman said.
Krystine Solomon, 47, said she moved to the neighborhood because of how safe it is for children.
"I really like the gated community because of our two young kids," she said. "They can go out and ride their bikes and I'll know they're safe. It's a lot like my childhood."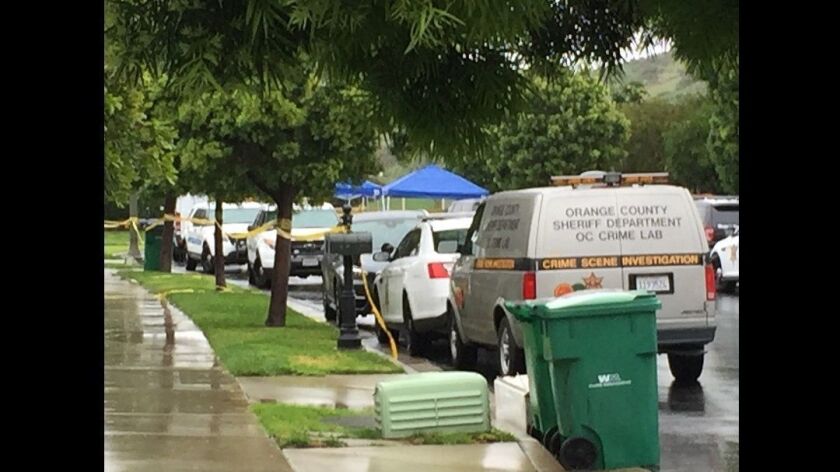 The Newport Beach Police Department said it received a call from Irvine police shortly before 9 p.m. Wednesday requesting a welfare check at 36 Palazzo, which according to RealtyTrac has five bedrooms and measures more than 5,000 square feet.
The call came after Irvine police spoke with a man in the emergency room of Irvine Medical Center. When Newport Beach police arrived at the house, they found three people — two women and a man — dead. Authorities did not release details about the circumstances or manner of the deaths.
Detectives are conducting a homicide investigation but said it appeared all the people involved "were known to each other and there is no ongoing threat," police wrote in a statement.
The man from the emergency room, later identified as Nicholson, was detained for further investigation and later was taken to county jail, police said.
Anyone with information about the case is asked to call (949) 644-3762.
Homicides are rare in Newport Beach, though this was the second case in the past four months involving multiple deaths. In October, a man and a woman died in a presumed murder-suicide at their home in Corona del Mar.
The city had five homicides between 2014 and 2018, according to Police Department records.
Daniel Langhorne is a contributor to Times Community News. Los Angeles Times staff writers Hannah Fry and Brittney Mejia contributed to this report.
---