'I'm going to be Duffy:' Marshall Duffield takes the Newport mayor post with a focus on the harbor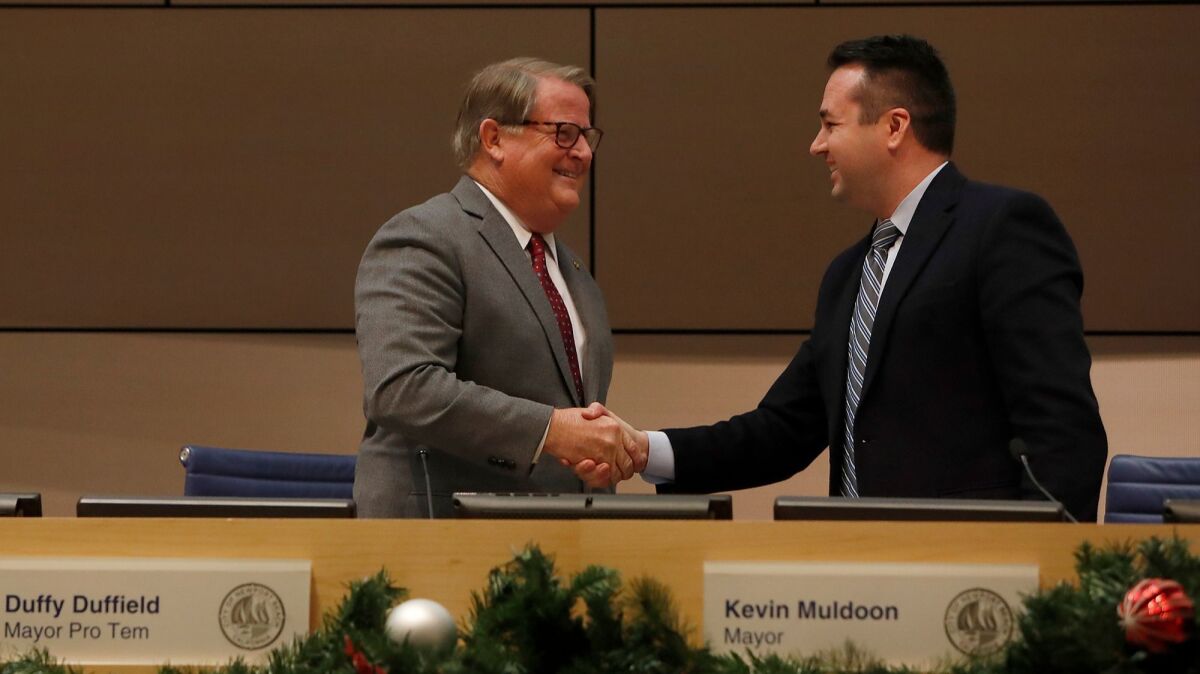 Marshall "Duffy" Duffield is the new mayor of Newport Beach.
His City Council colleagues easily confirmed Duffield, who was mayor pro tem the past year, for the post. He will serve through 2018.
Councilman Will O'Neill was named mayor pro tem.
Newport Beach council members choose the mayor and mayor pro tem from among themselves for the one-year, largely ceremonial posts. The mayor pro tem performs mayoral duties in the mayor's absence and is the presumptive next mayor after the pro tem term.
Duffield was elected to the council in 2014, O'Neill in 2016.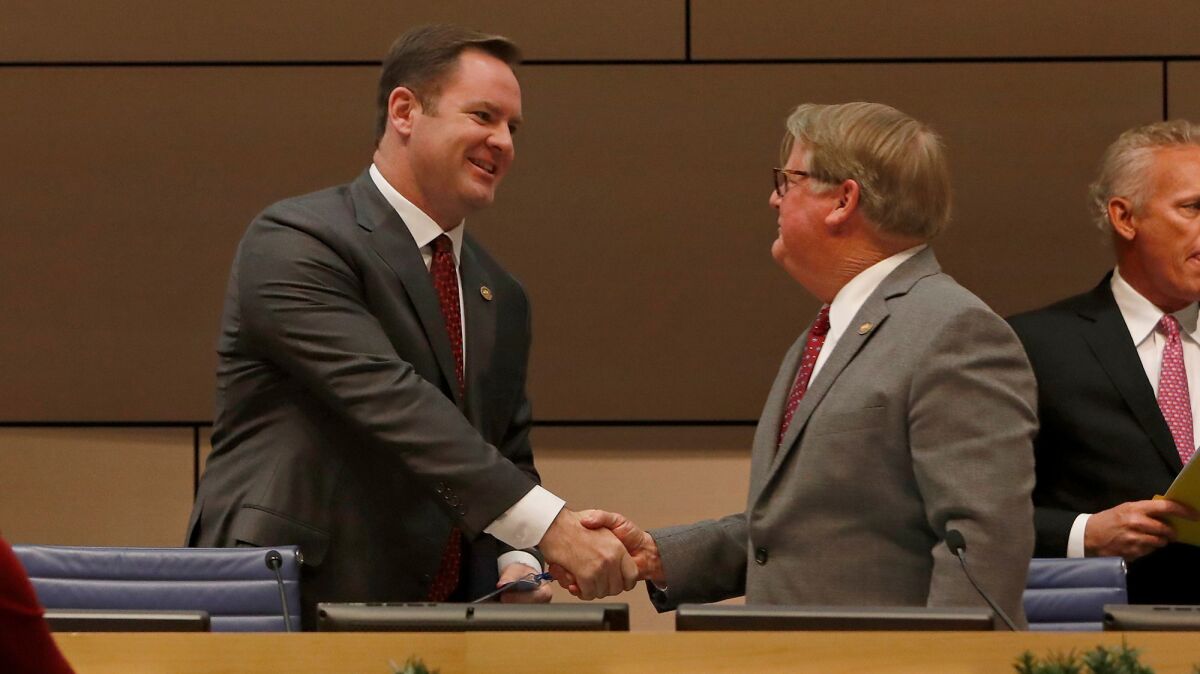 Duffield, a lifelong Newport Beach resident and founder of Duffy Electric Boat Co., praised outgoing Mayor Kevin Muldoon with a self-deprecating nod to his own folksy manner.
"For someone his age [38], he's so sage and wise and very professional — a lot of integrity. And he got a lot of good things done," said Duffield, 66. "I'm not sure that's gonna be the case with me. I'm not going to be as professional. I'm not going to be as sage. I'm going to be Duffy."
In a swipe at detractors who think Duffield and his colleagues are controlled by local political power brokers, Duffield went prop comic for a few minutes by setting a vintage red desktop telephone by his dais microphone as "my direct line to my puppet master and Newport team boss, Bob McCaffrey."
To titters from the audience, he also hauled out phones for political consultant Dave Ellis, environmental activists and development watchdogs Susan Skinner and her parents, Nancy and Jack, and the California Fair Political Practices Commission.
After a brief call from McCaffrey via a cellphone on speaker — and assuring everyone it was a gag — Duffield struck a more conventional tone.
He said the city is in good shape, with strong commissions and committees and healthy finances.
He promised a continued focus on Newport Harbor by continuing to enforce city codes, promoting it through the city's recently hired on-water ambassadors, cleaning up the water and dredging sediment, and even replacing the lifeguards' propeller-driven ocean rescue boat with a waterjet-driven craft.
He also pitched a report card system to help review all development projects, along the water and inland, and evaluate their intended objectives.
"Had we done this on the harbor, our harbor would be in a lot better shape in terms of public access," he said. "We have sadly lost a lot of our waterfront — i.e., the Rhine channel — to condos, and hopefully we can do something to stop that."
Twitter: @Daily_PilotHD
All the latest on Orange County from Orange County.
Get our free TimesOC newsletter.
You may occasionally receive promotional content from the Daily Pilot.