Costa Mesa officials call proposal for mobile needle exchange a potential 'magnet for drug users'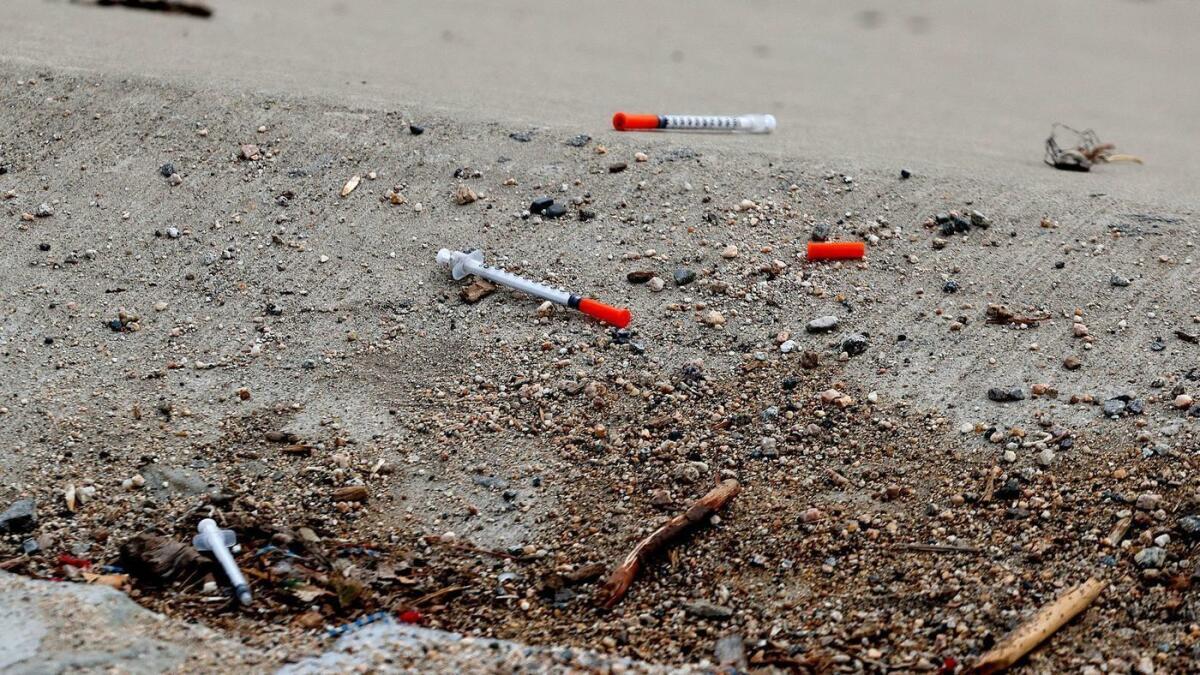 Police and city officials expressed opposition Tuesday to a proposed mobile needle exchange service in Costa Mesa's Westside, saying the program could attract drug users and undermine the recovery of residents in sober-living homes.
The Orange County Needle Exchange Program, a nonprofit that seeks to provide drug users with clean needles to help prevent the spread of diseases such as HIV and Hepatitis C, submitted an application in March to the California Department of Public Health to hand out needles and other supplies from a van in a largely industrial and commercial area in Costa Mesa.
"This program could be a magnet for drug users in other cities where a needle exchange program does not exist, thus drawing more drug users to Costa Mesa," police Capt. Bryan Glass wrote to the state health agency Tuesday in a memo opposing the application.
The van would operate in locations bordered by West 18th Street, West 16th Street, Monrovia Avenue and the Armstrong Petroleum building from 10 a.m. to 5 p.m. daily, according to the program's proposal.
Mobile services also would be set up in Santa Ana, Anaheim and Orange, if approved by the state.
Glass' memo raised concern about the exchange being near some homes and an elementary school and about the possibility of discarded needles ending up in public areas, creating a "health risk to residents and visitors."
He also raised the possibility of unintentionally undermining "the successful recovery of those living within the sober-living community" by exposing them to "an inevitable migration of individuals suffering from addiction coming to Costa Mesa seeking free needles."
The needle exchange doesn't need approval of the cities where it proposes to operate. However, state health officials will consult with local law enforcement and health officers, according to the Department of Public Health.
Costa Mesa City Council members also voiced their opposition to the program during their meeting Tuesday night.
Mayor Sandy Genis noted that several mobile home parks and apartment buildings are in and around the area where the program would operate.
"I certainly oppose it," she said.
Councilwoman Katrina Foley agreed and said misinformation on social media has led some people to incorrectly think the city is behind the initiative.
Neither "the city of Costa Mesa nor anybody on this dais has proposed any kind of needle exchange program," Foley said. "That's a myth that's being spread on the internet."
The needle exchange program — the only one of its kind in Orange County — was operating at the Santa Ana Civic Center until city officials denied the group's permit application in mid-January, citing an increased number of discarded syringes in the area.
Dallas Augustine, a board member for the needle exchange, said last month that the group is seeking to expand its hours to give people more opportunity to dispose of their used syringes. That would help combat the litter issue that led to complaints in Santa Ana, she said.
According to its proposal, the group would conduct walk-throughs in the planned locations to gather discarded syringes. There also be would a phone hotline and an email address for people to report finding used needles.
"That way we can be directly informed and act on it," Augustine said. "In the past, we weren't informed of where the needles were being found, so we were doing our best to do needle cleanup sweeps of where we thought they would be."
The Department of Public Health is accepting public comments about the proposal until June 25 at sepapplication@cdph.ca.gov.
Staff writers Luke Money and Ben Brazil contributed to this report.
Twitter: @HannahFryTCN
All the latest on Orange County from Orange County.
Get our free TimesOC newsletter.
You may occasionally receive promotional content from the Daily Pilot.