Homeless population grows at Newport Beach bus station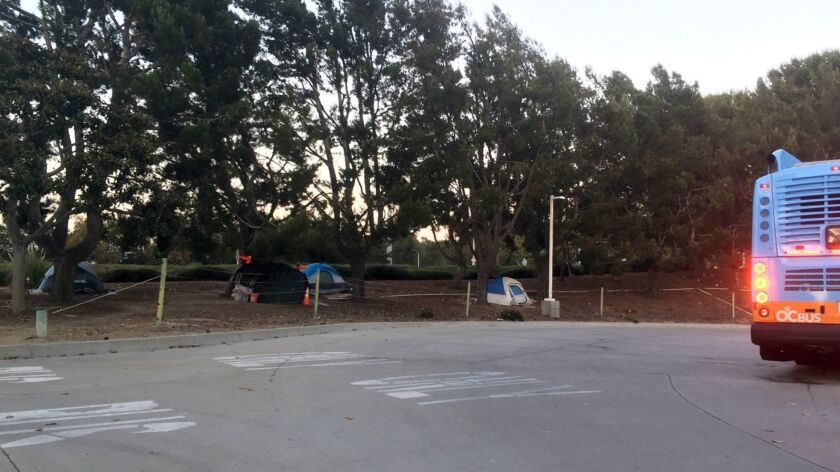 More homeless people are pitching tents at the public bus station in Newport Beach, and local residents, the Orange County Transportation Authority and people who have been living on the streets long-term have noticed.
Resident Ruth Sanchez Kobayashi stopped by the Newport Transportation Center at San Joaquin Hills Road and MacArthur Boulevard this week, as she does monthly, to count tents. On Tuesday, she counted 10.
"It is growing exponentially," she told the City Council that evening, appealing for a solution.
She told of a family member who recently found the cap of a hypodermic needle at the nearby dog park, and a neighbor whose housekeeper no longer uses the bus station because she feels unsafe.
"I would encourage you to do something creative about taking that magnet away," Sanchez Kobayashi said.
Hoag Hospital makes $3-million commitment toward potential homeless shelter as part of agreement with Newport Beach »
Resident Barbie George said she has been homeless herself and understands the desire for a compassionate response. But she said she felt the need to monitor her teenage daughter's surfing lessons because of the homeless people who gather on the beach.
"I wanted the best for my children, the best for my family, and it's really disheartening," George said.
A man who goes by the name "Ghost" maintains a camp under a structure closest to where the bus for Route 55 comes in from Santa Ana. He said he's been there for two years, pushed to sleeping in the open after a tough divorce and the recession led to him losing his home in Costa Mesa. He said he's trapped by the push-pull of not being able to get a job without an address and vice versa.
He said he doesn't want this life — he wants a job and a home.
Ghost, 58, said the influx of homeless people at the bus station has happened over the past two months or so "because they got kicked out of every other city they've been in."
His belongings are stacked behind an armchair that provides a view of the sun setting behind Bloomingdale's at the Fashion Island mall less than a mile away. He keeps his bedroll and tent tightly at his side and unfurls them at night, taking them down during the day since the bus station is a place of business.
The station is a high-activity transfer center with several ramadas (shelters with no walls), restrooms and a tree-shaded slope. Most of the tents are on the dirt slope. Others are under the ramadas. Furniture and other personal belongings sit outside. One tent is decorated with wilted Mylar balloons.
Ghost and a friend who identified himself only as Daniel look out for each other and their belongings under the same ramada. Daniel, 30, has been homeless on and off in Orange County for seven years.
The number of people in the county living without permanent shelter jumped to about 7,000 in the most recent biennial census, taken over two days in January.
Newport Beach has long had homeless people — though a small fraction of the county's total — most visibly at the bus station and near the two municipal piers. Newport saw its recorded homeless population rise to 64 this year from 39 in 2017.
OCTA spokesman Eric Carpenter said the transportation authority, which runs the Newport bus station, first met with city officials nearly three years ago to discuss homeless people congregating at the depot.
OCTA has removed concrete benches that obscured views, and it contracts with the Orange County Sheriff's Department to patrol the station, which serves an average of 700 passengers a day.
"The issue of encampments in public spaces and homeless is one that every city in the county is working to address, and there isn't one single agency responsible," Carpenter said. "Nearly every public agency in the county is impacted, and resolving issues requires a collaborative effort. OCTA is no exception."
Ghost said affluent Newport Beach residents don't want to see him and others living at the bus station.
However, he said, "what they want they're not going to get."
---
All the latest on Orange County from Orange County.
Get our free TimesOC newsletter.
You may occasionally receive promotional content from the Daily Pilot.