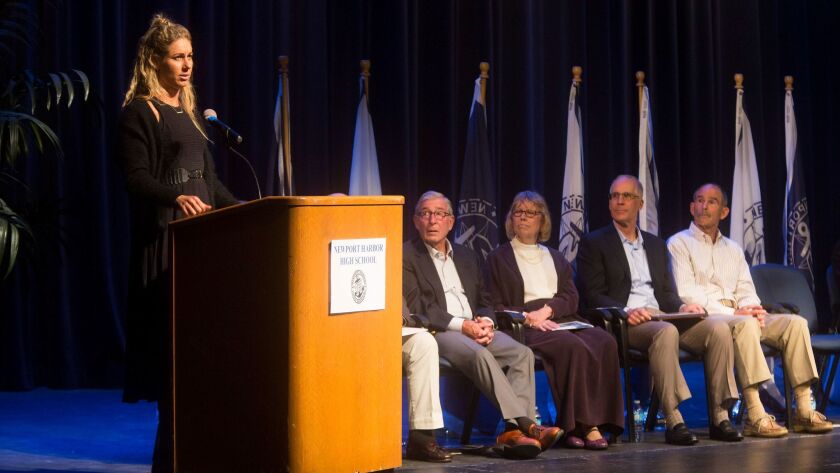 Olympic and pro beach volleyball player April Ross, rock drummer Tris Imboden and former Costa Mesa Police Chief Tom Gazsi were among 15 new inductees into the Newport Harbor High School Hall of Fame during a ceremony Thursday evening.
The Newport Harbor High School Alumni Assn. inducted 10 alumni and five faculty members at the event in the school's Robert B. Wentz Theater.
Ross, Class of 2000, won a silver medal at the 2012 Olympics and bronze in 2016.
Imboden, Class of 1969, is the lead drummer for Chicago and was recently inducted into the Rock & Roll Hall of Fame.
Gazsi, Class of 1979, is a former Newport Beach police officer and Costa Mesa police chief and currently is chief of the Port of Los Angeles police.
Other inductees this year are:
Don Cantrell, Class of 1950, journalist who worked at the Daily Pilot and Orange County Register and as a public relations professional for Cypress College
America Arias, Class of 2005, Emmy-winning news producer
Dr. Ingrid Buhler Pisetsky, Class of 1963, psychiatrist
Jerome Keithley, Class of 1934, former mayor of Stockton and city manager of Palo Alto, Oakland and Glendale
Roderick MacMillian, Class of 1945, local Boys & Girls Club athletic director and former board president for the Newport-Mesa Unified School District
John Shirley, Class of 1942, World War II veteran and former mayor of Livermore
Tod White, Class of 1955, philanthropist
Margot Cunningham, English teacher from 1963 to 1998
Bob Hailey, biology teacher from 1960 to 1996 and a track and field coach
Betty Orbach, English teacher from 1963 to 1988 and a former synchronized swimming star
Dudley Gene Smith, chemistry teacher from 1956 to 1992
Arthur Worden, vocational arts teacher from 1931 to 1952
Twitter: @vegapriscella
---