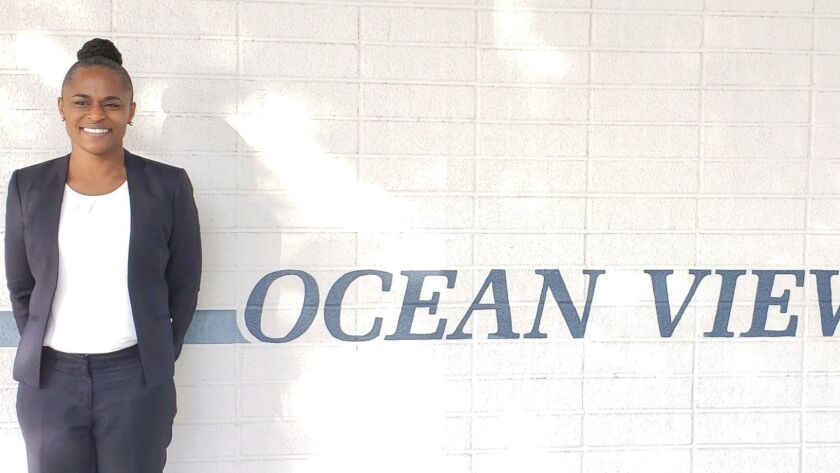 Vista View and Spring View middle schools will welcome new administrators next school year.
The Ocean View School District announced it has hired Rasheedah Gates as principal at Vista View in Fountain Valley and Cheri Daniels as assistant principal at Spring View in Huntington Beach. Both will start with the 2019-20 school year.
Gates and Daniels were approved unanimously during a school board closed session Tuesday.
"I am very honored and excited to join the Ocean View family and officially stand here as principal of Vista View. A Falcon, officially, so thank you," Gates said after her appointment was announced.
"I couldn't be more excited for the opportunity to do what's needed and wanted for staff and students and parents and to join such a distinguished team that I can learn from at the district office and colleagues that I know I will meet and really value working with at different school sites," she said. "I can't wait to get onsite and hit the ground running."
In an interview Friday, Gates said her first steps would be listening, learning and hearing from teachers, parents and students.
Gates previously worked in the Duarte Unified School District as an elementary school teacher, a teaching and learning coach and an assistant principal for sixth- through eighth-graders at Royal Oaks STEAM Academy. She also has worked with students in Language Learner, Advancement Via Individual Determination, Gifted and Talented Education and Positive Behavioral Interventions and Supports programs.
She has a doctorate in educational leadership from Azusa Pacific University.
Gates will succeed former principal Scott Mooney, who left to become director of federal and state programs with the Montebello Unified School District.
Daniels was not at Tuesday's meeting and did not immediately respond to a request for comment Friday. She has been an assistant principal in the West Covina and Irvine unified school districts and taught middle school science in the Newport-Mesa Unified School District.
She will succeed former assistant principal Jessica Haag, who was named principal of Circle View Elementary School in January. Julie Nichols has been serving as interim assistant principal.
"Middle school is such an important time in a child's development," Ocean View Supt. Carol Hansen said in a statement. "We are thrilled to welcome these two educators and feel fortunate that our students at Vista and Spring View schools will benefit from their expertise."
---