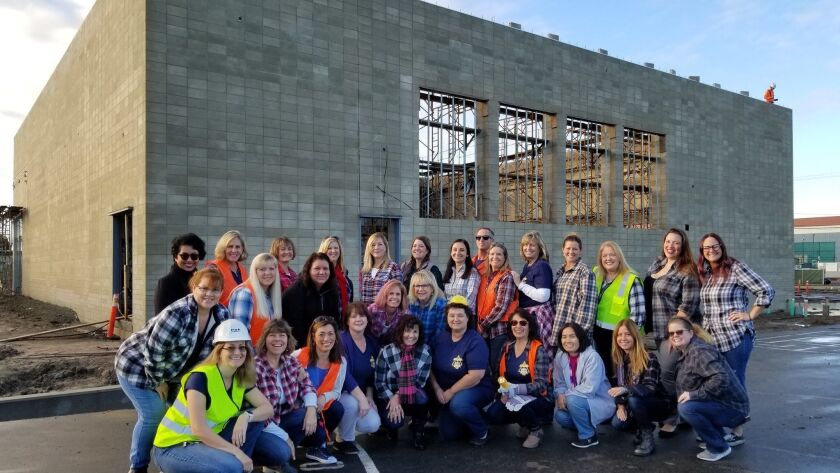 A new gym at Oak View Elementary School in Huntington Beach is taking shape as construction continues toward a projected May opening.
Ocean View School District trustees Tuesday approved a completion notice for demolition and earthwork done by Crew Inc. With the foundation laid, Ledesma & Meyer Construction Co. has begun erecting the walls of the 11,000-square-foot gym.
"We are all excited about using the new gym during the 2019-20 school year," said Oak View Elementary Principal Jenna Landero. "It will offer our students many opportunities, such as indoor physical education classes, as well as schoolwide assemblies and community programs and events."
The long-awaited project follows a settlement the district reached with Rainbow Environmental Services in 2016 after three years of litigation. Ocean View alleged that dust and odors from the company's waste transfer station at 17121 Nichols Lane were making students at nearby schools sick. Oak View Elementary and Oak View Preschool are directly across from the transfer station.
As part of the settlement, Rainbow provided the district with $4 million for the gym project.
"Everything's going pretty well, and we plan to have a grand opening when it's completed," said Gina Clayton-Tarvin, vice president of the board of trustees.
Air filtration systems approved
Also Tuesday, the board approved an agreement with the South Coast Air Quality Management District to provide air filtration systems at Oak View Elementary and Oak View Preschool.
As another manifestation of the settlement agreement with Rainbow, the AQMD will provide the installation and five years of maintenance for the systems at no charge to the district.
Clayton-Tarvin said this came about after the AQMD issued an abatement order against Rainbow, saying it was not in compliance with air quality regulations.
The AQMD fined Rainbow about $250,000, Clayton-Tarvin said, and Rainbow asked that the money be directed toward school improvements.
"It's 2019 and we're finally getting it done," Clayton-Tarvin said.
The AQMD recently implemented air filtration programs in schools in San Bernardino, Long Beach and Los Angeles, among other places, according to the agreement. The program involves a competitive process to retain an air filtration system contractor to oversee the installation and maintenance.
Administrators appointed
Kristi Hickman, who served as principal of Circle View Elementary School, has transitioned into an expanded role as the Ocean View district's teaching and learning coordinator.
Jessica Haag has taken over Hickman's role at Circle View after serving as assistant principal at Spring View Middle School.
Both appointments were approved by the board of trustees Tuesday.
Hickman, a school administrator in Ocean View since 1995, will coordinate a variety of programs offered by the district, including preschool, transitional kindergarten, English Learners and Gifted and Talented Education.
Haag began at Circle View as a student and later began her education career there as a GATE teacher in 2005. A Teacher of the Year in 2015, she was appointed assistant principal at Spring View last fall.
Twitter @CharityNLindsey
---