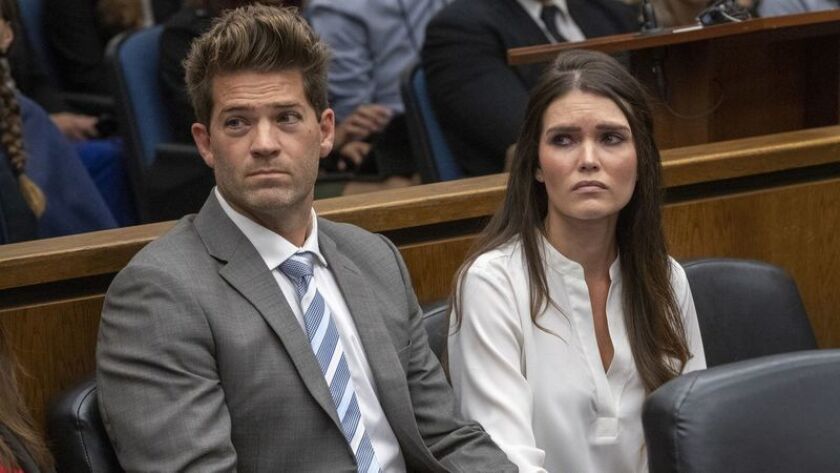 An Orange County Superior Court judge agreed Tuesday to a woman's request to pause her civil lawsuit against a Newport Beach surgeon who she alleges drugged and raped her in 2016.
The plaintiff asked Judge Walter Schwarm to stay proceedings in the suit until the doctor's related criminal case concludes.
Attorneys representing Dr. Grant Robicheaux, his girlfriend, Cerissa Riley, and a couple who partly own the Newport Beach home where the assault allegedly occurred argued that they have the right to depose the plaintiff and other witnesses to mount a defense, adding that the motion to stay the case amounted to a ruse by the plaintiff's attorney to wait and see what evidence becomes public during the criminal proceeding.
"We can't have a situation where someone can sue and then not allow discovery because of Marsy's Law," said Robicheaux's attorney Thomas Ferlauto.
Plaintiff's attorney Alexis Bastedo said her client is asserting her rights under Marsy's Law, which allows alleged victims in California to refuse defendants' requests for interviews or pretrial testimony.
"I don't find the assertion of constitutional rights to be a ruse," Schwarm said. "The constitution of the state of California and U.S. Constitution, these documents are important to us."
The plaintiff in the lawsuit says she was in her mid-30s when she was introduced to Robicheaux and Riley through a mutual acquaintance at a Halloween party in 2016. Prosecutors allege the couple drugged the woman's drink with GHB and raped her in the bedroom of their home.
Civil cases brought against criminal defendants by alleged victims typically wait until after the criminal proceedings conclude. But the plaintiff in the case against Robicheaux and Riley filed her lawsuit last year to beat a filing deadline under the statute of limitations.
Robicheaux and Riley were accused last year of drugging and sexually assaulting several women. They are charged with 17 felony counts, including five counts of rape.
They have denied all accusations of nonconsensual sex.
Katharine Spaniac, an attorney representing homeowners William and Jennifer Robicheaux Ward, requested that the judge further examine her clients' ability to at least request documents and other evidence from the plaintiff because they are not a part of the criminal case. The documents could be vital in defending her clients against the plaintiff's claims of $12.2 million in damages, she said.
Schwarm asked attorneys on both sides to provide additional briefings on the matter and return April 30.
Daniel Langhorne is a contributor to Times Community News.
---