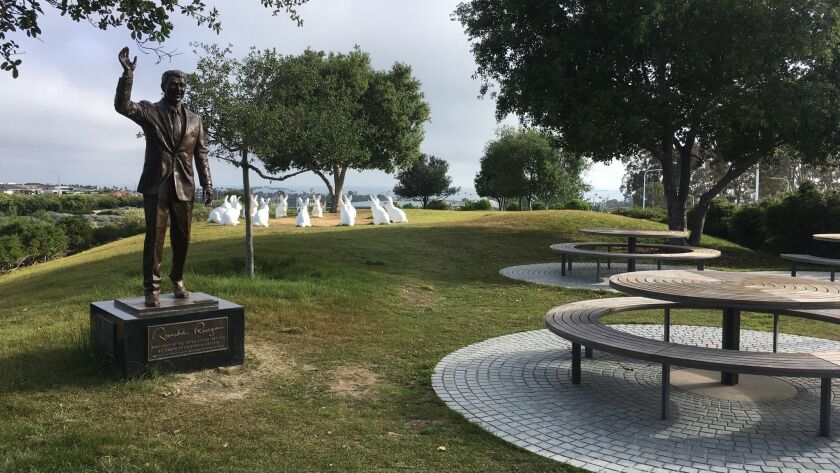 Ronald Reagan may be moving to the left.
Just his statue, that is, in a relocation intended to make it easier to see the life-size bronze image of the conservative icon and 40th president in Newport Beach's Civic Center Park.
The city-owned figure has stood on the grass near the corner of San Miguel Drive and Avocado Avenue for the past two years, adjacent to another high-profile installation, the so-called Bunnyhenge, a circular arrangement of oversize concrete rabbits.
But unlike its neighbors, the Reagan statue hasn't taken well to grass. The Newport Beach Arts Commission wants to put the figure in a location more appropriate for getting a closer look, with a hardscape under its granite base, easier access to walking paths and better lighting.
Newport Library Services Director Tim Hetherton, whose department includes cultural arts, said staff members in the public works and arts departments suggested removing one of the picnic tables a few feet away, to the statue's left, and putting the statue in its place.
The tables sit beside the park's paved trail atop round patches of silvery tiles, which would give the statue a contrasting and more durable base.
The statue also would be tilted toward the sun, cleaned and repaired.
Hetherton said it's a cost-effective and attractive solution, and the commissioners expressed enthusiasm Thursday night.
The Reagan statue is a few feet off the trail, requiring viewers to walk across the turf for a closer look. The afternoon sun is at the statue's back, obscuring the lifelike details in Reagan's face, and grass that hasn't worn away near the statue grows shaggily over the plaques on the base because landscapers are hesitant to trim the lawn and damage the base.
The base cracked when it was transplanted from its previous location in Bonita Canyon Sports Park. The City Council voted in 2017 to move the statue as a condition of continued funding for Civic Center Park's sculpture garden.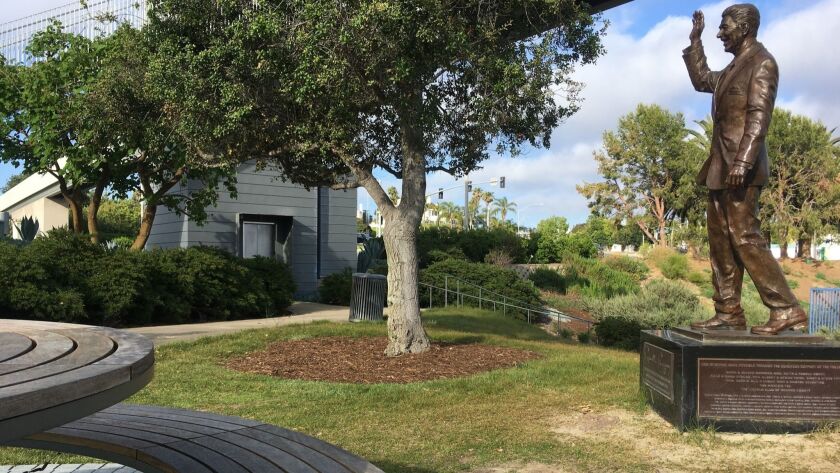 Arts Commission Chairwoman Arlene Greer said the statue currently isn't in the right place and moreover has been marred by bird droppings.
"They must be Democrat birds," Hetherton joked.
Vice Chairwoman Michelle Bendetti said placing the statue on a spot "a little more dramatic will give it more of a finished, meant-to-be-there look."
Commissioner Ritch LeGrand wondered if the statue could get an even higher-profile site, possibly by the flagpole at the City Hall driveway.
"If there was ever a statue and a flag that seemed to be hand in glove, it would be President Reagan and the flag," LeGrand said.
The commission will vote on a repair and moving plan after it scouts potential locations.
---