2 local students win $40,000 scholarships for STEM interests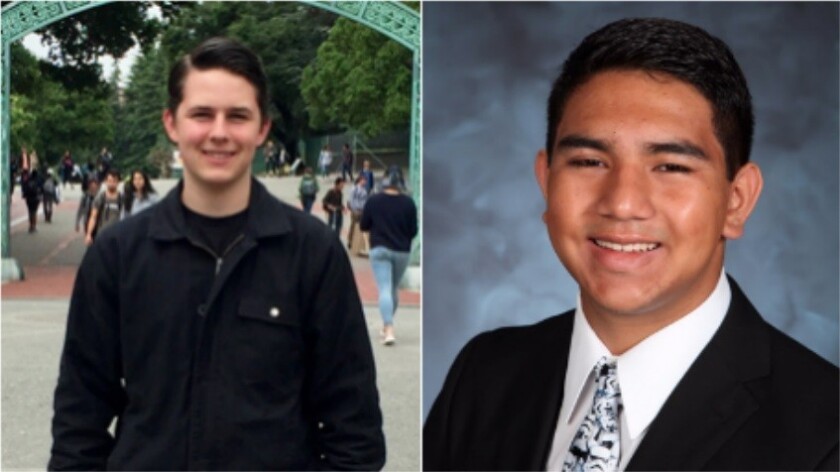 Two local high school seniors passionate about science, technology, engineering and math will follow their college dreams in the fall with the help of $40,000 scholarships for STEM education.
Evan Corriere of Marina High School in Huntington Beach and Jose A La Torre of Newport Harbor High School in Newport Beach are beneficiaries of the Edison Scholars Program, an initiative of Edison International that since 2006 has promoted STEM education for "minority, low-income and under-represented students."
The program, funded by Edison International shareholders, awards each recipient $40,000 to be used for STEM education at an accredited four-year college or university. The scholarships are paid over four years.
Pedro Pizarro, president and chief executive of Edison International, said in a statement that this year's 30 recipients in California, "through their pursuit of science, technology, engineering and math … will make important contributions to our communities and society. We are proud to support them."
Corriere, 18, said he is passionate about problem-solving through computer science. He took a class on the subject, which ignited his love for programming.
"With computer science, it's like a mix of art and what I've learned — you have to memorize how things work but also be efficient and creative-minded because you have to think of a solution to get from point A to B," he said. "It's a way of mixing the things I already liked about math and science, but with an aspect of creativity. … I feel like I've only scratched the surface."
At Marina High, Corriere takes several Advanced Placement classes and is involved in the National Honor Society, California Scholarship Federation and Academic WorldQuest team.
"When it comes to academics, it's never been forced on me. I've always loved to do homework. … Since I was little, I was always asking for math work for my birthday," he said.
I'm so proud of him. This scholarship makes a huge difference in [his] being able to go to school.
Tina Corriere, mother of Marina High School student Evan Corriere
He said his motivation comes from his hard-working mother, Tina, and three siblings, Elizabeth, Ethan and Scarlett.
"Evan has worked hard for everything he's earned and puts everything he has into it," said Tina Corriere, a single mom who is a nurse at Hoag Hospital in Newport Beach. "I'm so proud of him. This scholarship makes a huge difference in [his] being able to go to school."
Evan Corriere plans to attend UC Berkeley in the fall, studying computer science and participating in school Hackathon programming challenges. He also hopes to attend graduate school.
His advice for other college-bound students?
"Focus on what you're most interested in and what you care about," he said. "If you're not doing something you love, then you won't thrive. For me, doing computer science excites me because it's something I care about."
A La Torre, who lives in Costa Mesa, heard about the Edison scholarship through his involvement in the Orange County Hispanic Education Endowment Fund.
He said the flood of college and scholarship applications can feel burdensome at times, but the hustle is worth it.
"My parents are immigrants from Guadalajara and Jalisco [Mexico]. They raised me with the notion that education is my way into a better life … and that's always been the plan — do whatever it takes to get into a good college," said A La Torre, 18. "That's what makes me tick. I want to make my parents proud."
Along with his passion for engineering, A La Torre is involved in the school marching band, Core Club, National Honor Society, BRIDGES social justice club, the track team, Associated Student Body and California Scholarship Federation and co-founded the Latinos Unidos student cultural club.
"What am I not involved with?" he said.
He said he wants to pursue engineering to help build safe, sturdy homes and buildings for those in need.
"It would be cool to drive down the street, see a bridge or building and say that has my name on it," he said.
Math has always been A La Torre's favorite and strongest subject, and he takes a special interest in physics. "Anything that gives me an insight to the world around me helps me understand its process," he said.
He said he is choosing between UC Berkeley and Bowdoin College in Brunswick, Maine, and hopes to later attain a master's degree in engineering.
"He almost doesn't sleep — he studies all day, works so hard and puts a lot of love into it. And he always thinks about his family," said his mother, Liliana.
"I don't have any words to describe how proud of [Jose] I am. … I'm excited to see how far he goes," said his father, Manny.
A La Torre's advice for other students is to "try everything once and figure out the details later."
"A friend told me once, 'You'll have time to sleep when you're dead,' " he said with a laugh. "As I've seen, there's no set path to getting into college and getting ahead, but if you have a passion and you pursue it, that's about as good as it can get."
ALLYSON ESCOBAR is a contributor to Times Community News.
---
All the latest on Orange County from Orange County.
Get our free TimesOC newsletter.
You may occasionally receive promotional content from the Daily Pilot.