Area school districts see gains in vaccination rates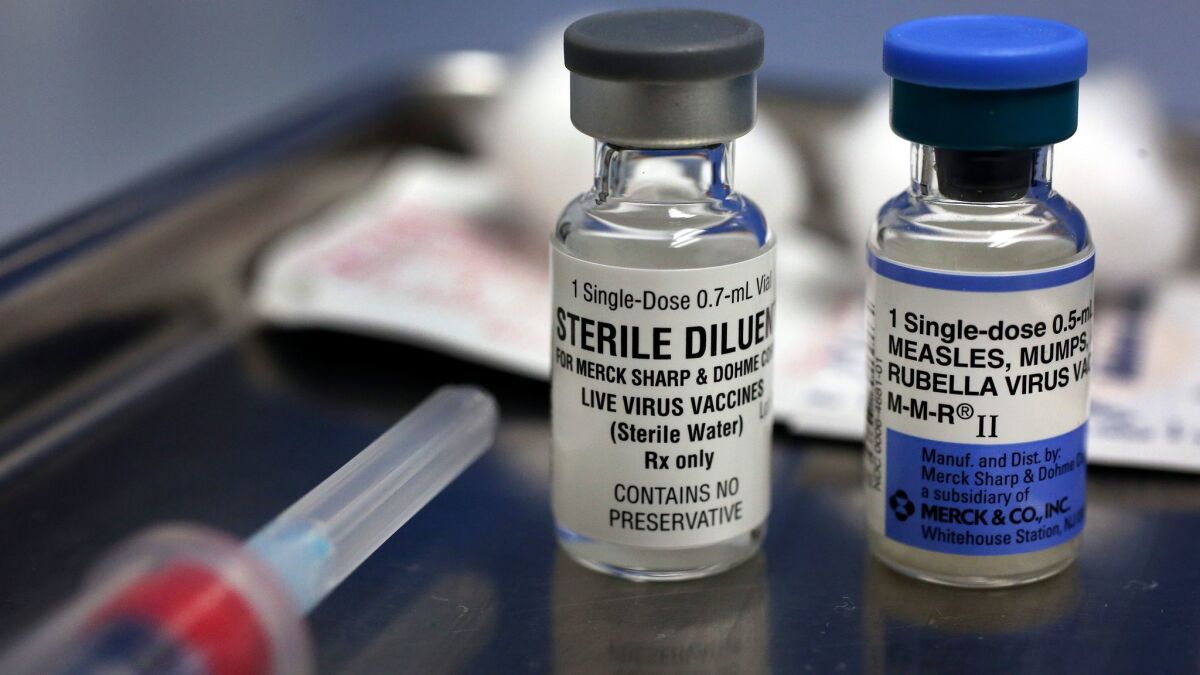 Area school districts made gains in the rates of vaccinated students because of a change in state law that eliminated personal exemptions as a reason not to immunize children, according to an Orange County Grand Jury report released earlier this week.
"Each district planned well in advance of the change and acted early and successfully in their efforts," said the report, which listed year-by-year vaccination rates for 24 school districts in the county dating to the 2013-14 school year.
"Districts that already had high percentages continued to achieve those results by relying on tried-and-true methods. Districts that started with lower percentages made use of trained staff, direct mail and a variety of outreach methods to educate parents about [Senate Bill] 277, and significantly increased their numbers of vaccinated students."
The law, which took effect on July 1, 2016, requires all children enrolled in day-care facilities and public or private schools in California to be fully vaccinated against several communicable diseases including diphtheria, hepatitis B, Haemophilus influenza type B, measles, mumps and pertussis, according to the report.
Students entering kindergarten and seventh grade are now required to have up-to-date vaccinations. Medical exemptions are still allowed and require a physician to provide the school district with a letter certifying certain medical concerns.
Fountain Valley School District had the largest percentage of area students vaccinated with 97.4% in the 2016-17 school year, an increase from 93.6% in 2015-16, the report said. The percentages correlate to enrolled kindergarten students.
Ocean View School District had 95.9% vaccinated kindergarten students in 2016-17 compared with 92.2% in the prior year. Newport-Mesa Unified School District had 94.8% vaccinated students, an increase from 85.6% in the 2015-16 year.
Huntington Beach City School District had 93% vaccinated students in 2016-17, an increase from 85.3% in 2015-16. Laguna Beach Unified School District had 86.5% of vaccinated students, an increase from 81.2% in 2015-16.
The U.S. Centers for Disease Control and Prevention's recommended herd immunity rate is 92%-94%, according to the Grand Jury report.
Under the law, personal belief exemptions submitted before Jan. 1, 2016, remain valid until a student reaches seventh grade, according to a Laguna Beach Unified release.
Laguna Beach Unified has 241 students with grandfathered personal exemptions.
The report noted that the number of enrolled kindergarten students countywide countered a prediction of some people that public school enrollment would decline because of parents placing their children in home schooling to avoid the new law.
The California Department of Public Health reported that 42,389 students enrolled in kindergarten in 2016-17, an increase from 42,007 in 2015-16.
To read the full report, visit ocgrandjury.org.
Twitter: @AldertonBryce
---
All the latest on Orange County from Orange County.
Get our free TimesOC newsletter.
You may occasionally receive promotional content from the Daily Pilot.