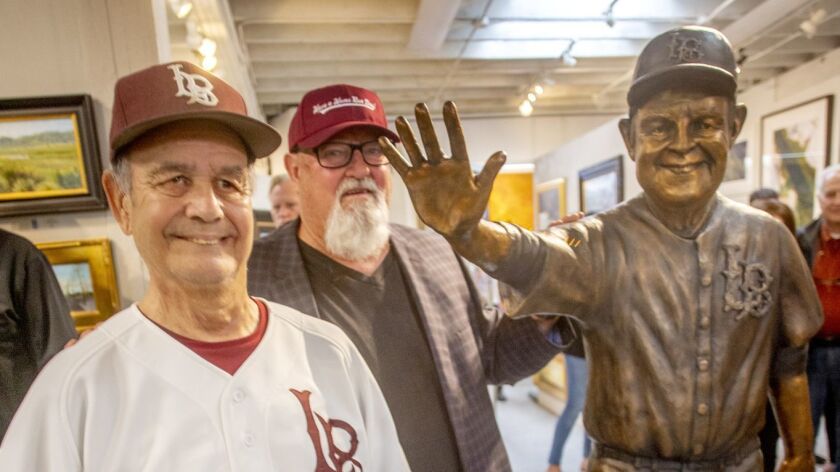 If you've ever been to a Laguna Beach High School baseball game, chances are a man in a baseball uniform waved hello with a hearty "Have a home run day!"
That's Skipper Carrillo, a Laguna Beach baseball legend.
His slogan and wave will live on in perpetuity, thanks to a statue sculpted by local artist Randy Morgan that was unveiled Sunday at the Forest & Ocean Gallery.
"He's so happy and he's so full of no agenda and … he's like a true spirit," Morgan said. "He's the beloved guy of Laguna Beach."
Morgan's statue is a life-size figure of Carrillo dressed in a characteristic "LB" uniform and cap, with sneakered feet, a toothy smile and a hand tossed up in a wave. A plaque at the base reads "Have a home run day!"
"His mantra … that he throws as a blessing to everyone in town, that makes everyone happy, was the natural pose choice," Morgan said. "I feel that's more spiritual and I feel he's a spiritual being."
Carrillo, 80, who lives above the Laguna Beach High baseball field named after him, said he's "very honored" by the statue.
"Like the most valuable player," he said.
Carrillo, who is known for his love of baseball terminology — he calls his friends "teammates" and his home "the ballpark" — said "Have a home run day" is his personal slogan.
"Like some people will say 'Have a nice day,' I say 'Have a home run day.' That's part of my language," he said. "My dad gave me a language of my own because sometimes I don't understand the grown-up talk.
"And if it wouldn't have been for my dad, I wouldn't be involved in athletics. So I give my dad, 'the coach,' a lot of credit."
Carrillo has volunteered for Laguna Beach High and Little League baseball teams for more than 50 years in various capacities, including as an umpire and a scorekeeper. He is now the high school team's batboy, innings announcer and loudest cheerleader.
"He gives an inspirational speech almost every home game," said Laguna Beach High coach Jeff Sears. "He's in our dugout. He's a part of us."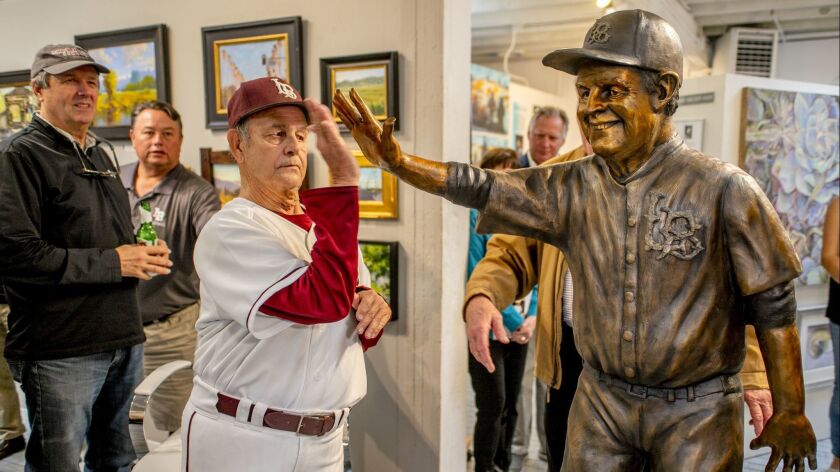 Sears said Carrillo gives every player a hug on the way in, as well as a nickname inspired by the baseball world. Sears, for instance, is "Mike Schmidt," named for the Hall of Fame third baseman for the Philadelphia Phillies.
Sears, who first met Carrillo in 2008, said the statue is "well-deserved."
"He's earned it. He is this town," said Sears, who has coached the Laguna team for about six years. "If there was ever a Mr. Laguna, he would be, because if you ask people about Laguna Beach, Skipper's name would be in the first sentence probably."
Gene Crain — "Babe Ruth" to Carrillo — and his wife, Diane, met Carrillo 38 years ago when he was umpiring when their son David was playing in Little League. Carrillo became like family to them. When David went on to the University of Nebraska to play baseball, the Crains brought Carrillo to more than 50 college games.
Diane Crain, whom Carrillo calls "Ms. Entertainment Center," remembers a grocery trip in Laguna Beach when she first realized "how special he was."
"I took a cart and I said, 'Skipper, you get your things and I'll go and get mine.' ... I went off and I filled my cart up to the max. And Skipper was still at the front door with his basket," she recalled with a laugh. "Everybody stopped him [and] wanted to talk to him."
"Nobody ever met Skipper that didn't just love him," Gene Crain added.
Morgan said he worked to capture Carrillo's spirit in the statue's eyes, which are crinkled into his "infectious smile." "I'm really satisfied," Morgan said.
Morgan said the idea for a statue popped into his head about five years ago when he bumped into Carrillo at Adolfo's Mexican restaurant in town. Fundraising for the project began in fits and starts.
The artist tried to get the statue placed at the high school baseball field, which the school named after Carrillo in 1987. But Morgan said he was prevented by a California Coastal Commission rule forbidding statues of people on public property.
"This Coastal Commission rule … was really what the curveball was. It's pretty easy to raise money for a guy like Skipper," Morgan said.
Gary Arthur, who wrote a song for Carrillo called "Have a Home Run Day," donated a plot outside his Health in Balance chiropractic office at the corner of Glenneyre Street and Park Avenue, Morgan said.
Last year, Morgan, Forest & Ocean Gallery owner Ludo Leideritz and three other friends of Carrillo's created a trust fund to install the figure. Morgan crafted the sculpture for free in three months.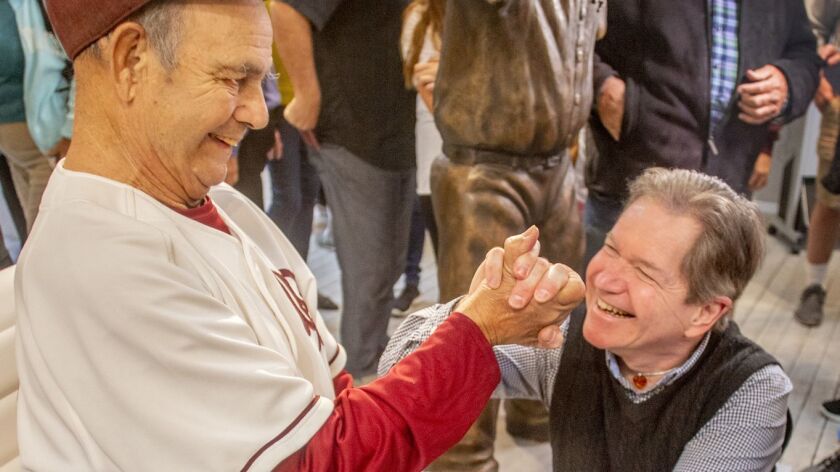 The trust is continuing to raise funds for the statue's installation and maintenance through donations and sales of baseball caps and bumper stickers inscribed with Carrillo's slogan. The figure will stay at the Forest & Ocean Gallery at 480 Ocean Ave. until the trust has enough money to install it at its permanent home. The projected date is opening day for the Laguna Beach High School baseball team in February.
"I'm just overwhelmed," said Alicia Rowe, Carrillo's 87-year-old sister. "I'm so amazed and so grateful. I mean, the people of Laguna Beach must be the kindest in the world, because where else would Skipper have such status and such affection and love from so many people?"
Carrillo echoed his sister's thoughts.
"Laguna Beach is No. 1 in my books," he said. "Major-league quality."
---