Public's help is needed to solve sober-living home issues, officials say at Costa Mesa meeting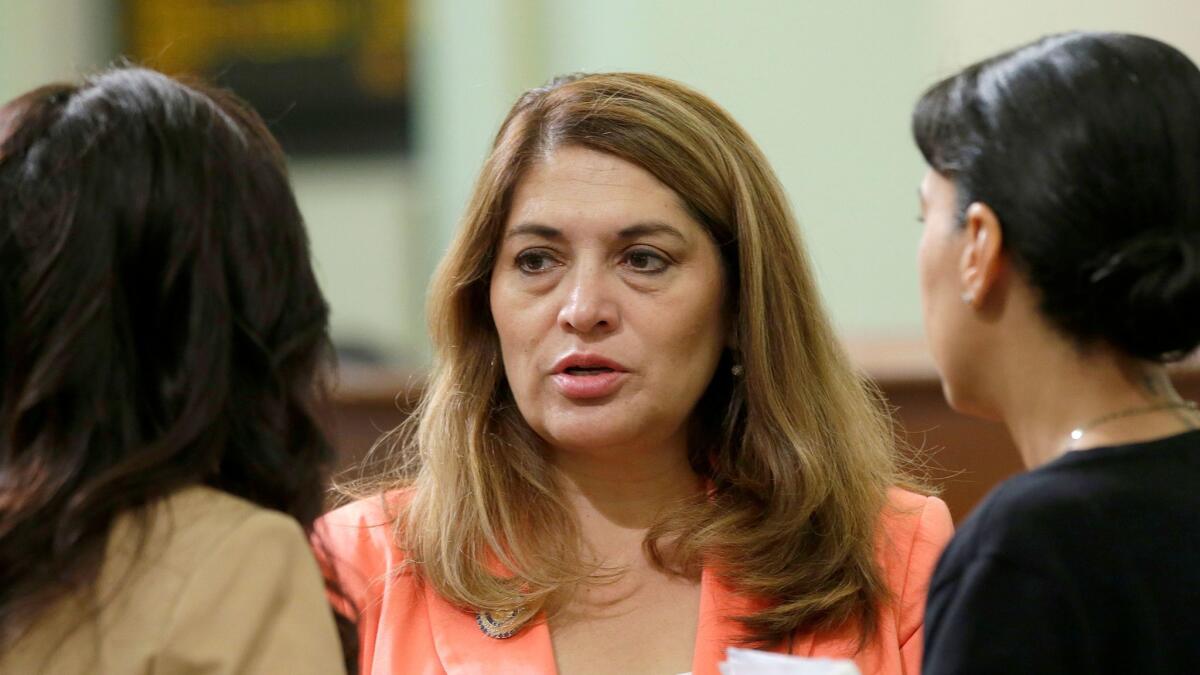 As a community meeting to discuss sober-living homes drew to a close in Costa Mesa on Monday, two messages from elected officials became clear.
One: There is no easy way to solve all the issues surrounding such facilities, and many obstacles can stymie even incremental progress.
Two: Residents throughout the state need to mobilize and demand action for that to change.
During the 2½-hour meeting at the Costa Mesa Senior Center, presented by state Assemblywoman Sharon Quirk-Silva (D-Fullerton) and the Assn. of California Cities — Orange County, officials touted one current effort as a step in the right direction.
Quirk-Silva's Assembly Bill 572 would require the state Department of Health Care Services to place an investigator in Costa Mesa to look into complaints against licensed treatment and recovery facilities for adult alcoholism or drug abuse.
The department's 16 investigators currently are headquartered in Sacramento.
"There are complaints and we want them resolved," Quirk-Silva told Monday's crowd of about 100. "But those complaints are being heard in Sacramento and they're not being heard in a timely manner."
The bill sailed through the Assembly without a dissenting vote earlier this year. However, it's been tied up in the state Senate Health Committee as that panel's chairman — Sen. Ed Hernandez (D-West Covina) — hasn't brought it up for a hearing.
Costa Mesa Mayor Katrina Foley urged supporters of the legislation to contact Hernandez and other members of the committee to "make sure they know that this community cares."
"We want something done," Foley said. "We need the help of state elected officials to help resolve this for us in our local communities and help us to gain back some local control."
Quirk-Silva and Assemblyman Matthew Harper (R-Huntington Beach) said another issue at the state level is that, while problems with the sober-living industry are pronounced in Orange County, other areas of the state have been largely unaffected, so some legislators don't see the issue as pressing.
"It's going to take a citizen movement to capture the attention of the Legislature to really achieve long-term reform over this issue," Harper said. "It's not going to just take one or two bills to be able to truly address this issue within Costa Mesa and within Orange County."
For years, Costa Mesa residents have complained about the proliferation of local sober-living homes. Such facilities have been blamed for increased crime and noise, additional parking and traffic problems and harm to overall quality of life.
Another major issue, Foley said, is that some sober-living operators will evict, or "curb," their residents without any kind of support.
Some of those residents, particularly those brought in from out of state, end up homeless.
"Basically, it's human trafficking for drug addicts and they are then being kicked out once their insurance expires or if they go off the program and now they're on our streets," Foley said.
Costa Mesa has adopted a series of regulations aimed at stemming the proliferation of sober-living facilities and addressing their effects. Under those rules, such facilities — including existing ones — must apply for permits from the city to operate in town. Some operators need conditional use permits from the Planning Commission that can be considered by the City Council on appeal. Thus far, the council has rejected all conditional use permit applications it has considered.
Orange County Deputy District Attorney Hope Callahan, who works in the insurance fraud unit, said her office has prosecuted some sober-living operators on allegations of fraudulent billing practices.
"We are also very aware that there are some bad actors among many good providers who take advantage of the population of addiction to bill insurance companies millions of dollars and are pocketing the profits for their own personal gain," Callahan said. "This is organized crime."
Despite Costa Mesa's regulations, cities' options are limited because recovering alcoholics and drug addicts are considered disabled under state and federal law.
A sober-living home that's licensed through the state and has six or fewer residents, for instance, is essentially exempt from Costa Mesa's rules, such as a requirement that such facilities be at least 650 feet from one another in residential areas.
Still, officials at Monday's meeting said they're committed to finding solutions.
"We have to work on enforcement, we have to work on licensing, we have to work on addressing what works, what doesn't work," Quirk-Silva said. "These are not simplistic issues."
For more information about Costa Mesa's sober-living home regulations or to see how to report issues or file complaints, visit costamesaca.gov/index.aspx?page=2116.
Twitter @LukeMMoney
---
UPDATES:
3:30 p.m.: This article was updated with a website for more information or to report issues.
This article was originally published at 2:25 p.m.
All the latest on Orange County from Orange County.
Get our free TimesOC newsletter.
You may occasionally receive promotional content from the Daily Pilot.