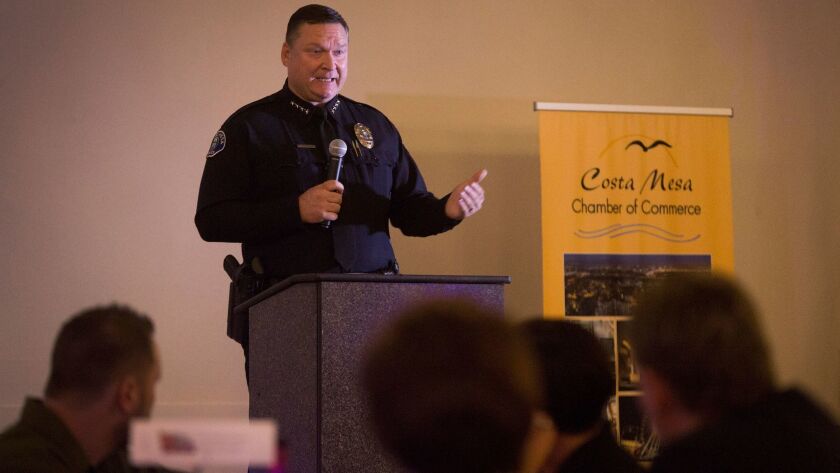 Costa Mesa Police Chief Rob Sharpnack expects his department to return to full staffing by summer, he said Thursday at a dinner honoring police and firefighters.
At the beginning of 2017, Sharpnack said, the agency had 114 sworn officers, 22 short of its target of 136.
The department currently has 124 sworn officers and 11 recruits moving through the academy, Sharpnack said.
Sharpnack said the agency is anticipating having a "fully staffed, fully functional Police Department."
After the staffing target is met, the city will continue to recruit officers to offset attrition caused mostly by retirements, officials said.
Vacancies have been a nagging issue for the Police Department.
In 2011, City Council members voted to cut department staffing through attrition. Officials also delayed hiring to fill anticipated vacancies as some council members pushed to reduce pension benefits for new recruits.
At the end of 2012, the department brought in its first new sworn personnel since 2008.
In recent years, police and human-resources officials ramped up hiring efforts by expediting the testing process for recruits, increasing the number of staff members assigned to recruiting efforts and boosting advertising for applicants.
The city also dedicated a human-resources employee to recruit solely for the Police Department, according to city spokesman Tony Dodero.
"Our recruitment and hiring has been outstanding," without lowering standards, Sharpnack said.
Costa Mesa Fire Chief Dan Stefano discussed his department's staffing at the dinner, where police and fire officials, along with city and business leaders, gathered at Fete the Venue in Costa Mesa. The event was presented by the Costa Mesa Chamber of Commerce.
Ten new firefighters are expected to complete training in March, Stefano said. Costa Mesa Fire and Rescue expects to bring on about 20 new firefighters by year's end, he said.
In addition, the department's fire station on Royal Palm Drive is expected to reopen this year.
The project, on which the city broke ground in March, entails demolishing the former 9,500-square-foot station at Royal Palm and Adams Avenue and building an 11,740-square-foot facility in its place. The estimated cost is $7.8 million.
"We're looking ahead and it's mighty bright," Stefano said.
Twitter: @HannahFryTCN
---