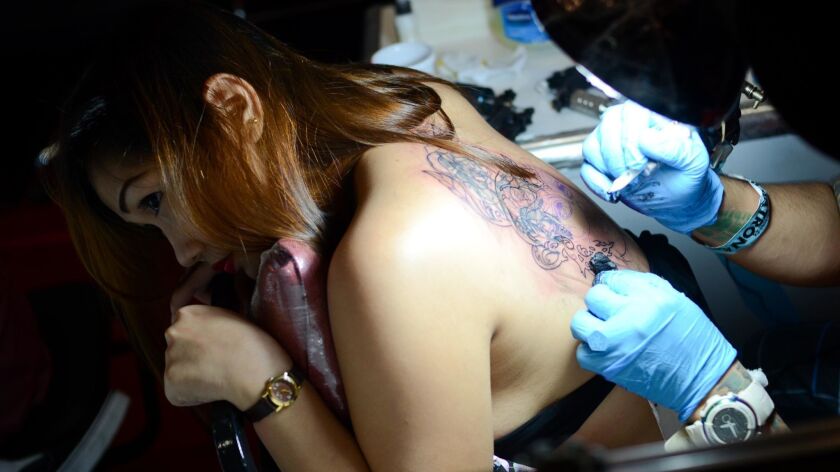 It wasn't easy, and it almost didn't happen. But Corona del Mar is getting a tattoo studio, the Newport Beach Planning Commission decided.
E Art Gallery will operate in an existing space in the basement level of a 1940s-era multi-tenant office building at 2721 E. Coast Hwy. to offer tattoos by appointment only. The 513-square-foot studio, where artist and owner Savaanah Gallegos has drawn and painted on canvas for the past year, also will host occasional art classes.
The saga of E Art Gallery goes back to December, when the commission narrowly rejected Gallegos' application for a permit, against staff recommendation. Commissioners said it would be inconsistent with zoning code, could lead to a proliferation of "personal services," that the site is not physically suitable and that the business may impact nearby residences.
Gallegos appealed to the City Council in February, saying the commission didn't provide evidence for the concerns.
The day of the council meeting, a neighbor in the office building submitted a 17-page letter questioning the physical space, effects on parking and whether live models for classes would be nude, which would require a different type of restrictive permit. The council sent the matter back to the Planning Commission without voting.
Last week, in her third attempt to get the permit, Gallegos told commissioners that tattoos and the act of tattooing are protected under the First Amendment.
"Although I have never claimed this right has been violated, I stated this fact because I am an American citizen and have rights just like everyone else who wanted to open a business in a place where it is zoned," Gallegos told the commission before it voted 4-1 to allow the business.
Commissioner Lee Lowrey, who voted against the permit both times it went before the commission, asked about the constitutionality angle.
"What precludes me … if I wanted to go and open an indoor range in Newport Beach? What trumps? Is it our zoning or my right to have a firearm and to be able to use it in the city?" he asked Assistant City Attorney Yolanda Summerhill. "It's not really a political thing. I'd like to know, because that's a pretty big deal throwing that around."
Summerhill answered that case law protects tattoos as a form of expression.
The U.S. 9th Circuit Court of Appeals has sided with tattoo artists twice in the past 10 years — in Long Beach, where city regulations on studios were heavily restrictive, and in Hermosa Beach, which effectively banned tattoo shops.
E Art Gallery is the sixth tattoo studio in Newport Beach and the only one not on or adjacent to the Balboa Peninsula, which is about four miles from it.
Several neighbors in addition to the letter writer — a lawyer in an upstairs suite — submitted comments opposing Gallegos' application, expressing anxiety about possible effects on property values and children who attend Harbor View Elementary School about a quarter-mile away.
Gallegos said her business would not be an "average tattoo parlor." She said it would have no more than two artists at a time working by appointment only. The space would be largely for her to work on commissioned paintings; tattoos and instruction would be occasional. She said she would not post signs, live models would not be nude and tattoo equipment would be portable and able to be stowed during classes.
"While we talk about tattoo parlors being seedy for the neighborhood, I think that stereotype is an old stereotype," said commission Vice Chairman Erik Weigand, who motioned to approve the permit.
Commissioner Kory Kramer said Corona del Mar doesn't have tattoo establishments but that "the lack of tattoo businesses does not mean that this type of use is not compatible in the neighborhood."
---