UC Irvine medical study gives hope to Orange County mom with ALS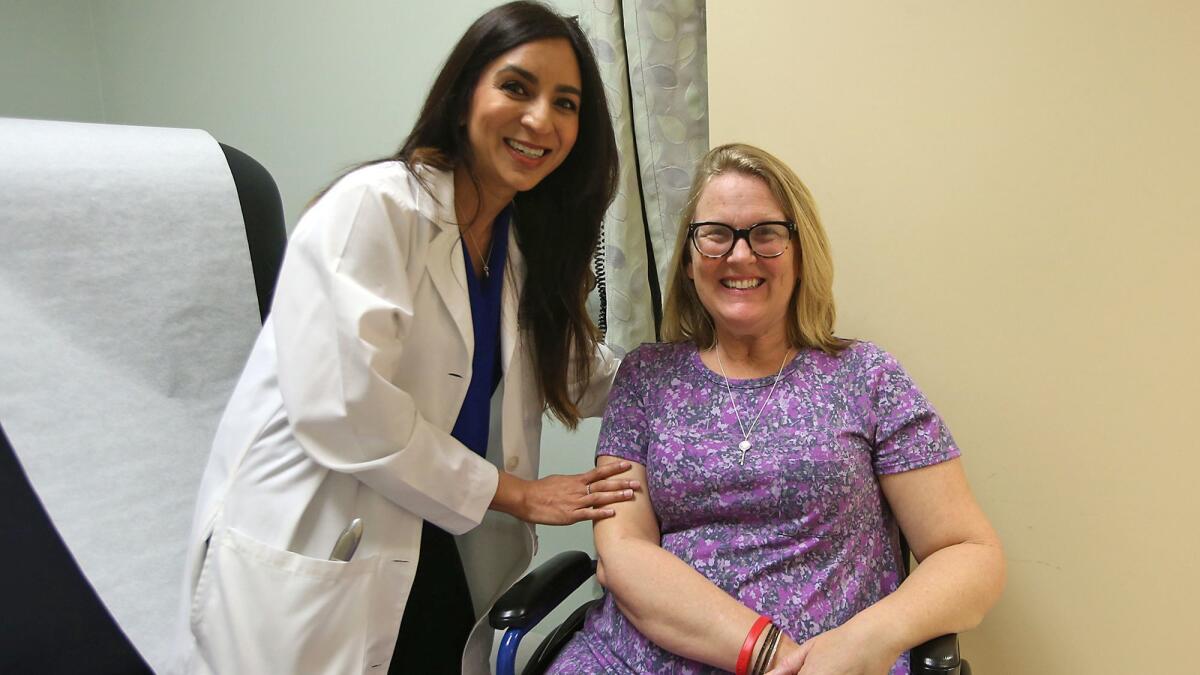 Lisa Wittenberg can recall with photographic detail each moment her body began to fail.
It started with mild back pain in spring 2016, but Wittenberg figured she'd just tweaked something.
She began seeing a physical therapist and stopped working out.
Then in early 2017 came the limp — what the therapist termed "drop foot."
The next several months were filled with doctor visits, nerve tests, a broken leg and further weakening of Wittenberg's limbs. By March of that year, the mother of two could no longer open a pickle jar.
Then on Aug. 28, Wittenberg, 47, of Trabuco Canyon received an official diagnosis: she had amyotrophic lateral sclerosis, also known as ALS or Lou Gehrig's disease.
"It was unbelievable to get that answer," Wittenberg said.
But Wittenberg's knowledge of the disease was minimal, so she had to consult Google, where she found out it's a neurodegenerative disorder in which muscular regions of the body slowly begin to shut down until patients lose the ability to move, speak or swallow. The afflicted usually die within two to five years.
Wittenberg also learned there isn't really a way to treat the disease.
In the wake of the diagnosis, Wittenberg and her husband, Joel, were left confused and craving answers. Wittenberg hadn't so much as broken a bone before the onset of the disease. She now was in a wheelchair.
"I kept feeling like I was going to wake up and it would all be a bad dream," Wittenberg said.
In the midst of all that emotional chaos, Wittenberg did have one point of hope — a medical trial conducted by UC Irvine's Alpha Stem Cell Clinic and Department of Neurology concerning a potential treatment for ALS.
"Me and my family latched onto that clinical trial hook, line and sinker," Wittenberg said.
She focused on this glint of hope when telling her boys, Tommy, 16, and Andrew, 13, about her diagnosis.
"I didn't say it's a cure, but it's a chance to fight," Wittenberg said.
She enrolled in the medical trial in December.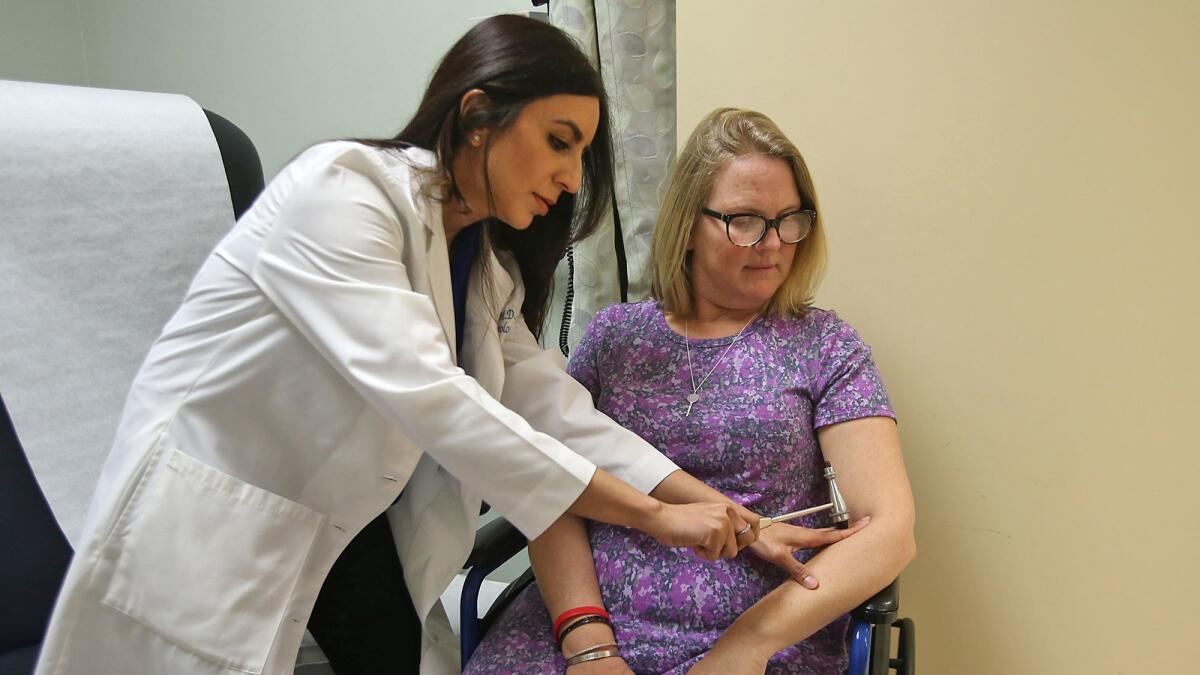 The study extracts patients' stem cells, which will be treated with NurOwn — a cell therapy for the treatment of neurodegenerative diseases — and then injected back into patients' bodies three times over six months.
Dr. Namita Goyal, a UC Irvine Health neurologist and the trial's principal investigator, said the studies' facilitator and creator of NurOwn, biotechnology company Brainstorm Cell Therapeutics, is aiming to enroll 200 patients. One hundred will get a placebo and the rest will get the treatment.
Goyal said the treated stem cells reduce inflammation and are thought to secrete growth factors that promote motor cell regeneration. In a way, they help clean up the bodily environment.
"These motor neurons die because they are in a sick environment," Goyal said. "The treatment tries to rescue the existing motor cells to prevent them from dying."
The study also will be conducted at Massachusetts General Hospital, University of Massachusetts Medical School, Mayo Clinic in Minnesota, California Pacific Medical Center Research Institute and Cedars-Sinai Medical Center in Los Angeles. Each location is recruiting patients.
UC Irvine started treating patients in October. Wittenberg received her first treatment on Feb. 27.
Goyal said they're hoping to finish enrollment by December and complete the study by July 2019.
Goyal said she's excited about the prospects of the treatment because it is the only ongoing ALS stem cell treatment in a phase three study. A drug undergoes a series of testing phases before the Federal Drug Administration approves it for marketing.
According to the FDA, clinical trials generally scale from small phase one studies to larger phase three studies.
Goyal said the phase two study of the treatment — which had 48 patients — showed that the drug might slow the progression of ALS. Patients were only injected with the treatment one time in that study.
Wittenberg said she feels better in some respects but the disease is still progressing. She still can't walk but has some better movement in her legs while seated and the bicep strength in her right arm seems stronger.
Initially, not knowing if she was a placebo recipient tormented Wittenberg, but she learned to tame her thoughts. Goyal also doesn't know if patients received a placebo or the treatment.
"You don't realize how much that's going to mess with you," Wittenberg said. "I came to grips with it being a placebo. If I have a placebo there's nothing I can do about it. But, knowing it's working for somebody else can only be a good thing. It doesn't have to work for me right now, as long as I know it will work for me a year from now."
Despite the inevitable hurdles for Wittenberg, the medical trial has been a deliverance from the despair that plagues so many who receive an ALS diagnosis.
"The timing of everything was not lost on me," Wittenberg said. "Yes, it's devastating and life-altering, but from day one, I had hope. Not a lot of people who get diagnosed with ALS can say that."
People with ALS who want to enroll in the study at UC Irvine may call (949) 824-3990 or email stemcell@uci.edu. Patients must be under 60 and have had symptoms for less than two years. For more information, visit bit.ly/2HbTLDP.
Twitter:@benbrazilpilot
All the latest on Orange County from Orange County.
Get our free TimesOC newsletter.
You may occasionally receive promotional content from the Daily Pilot.