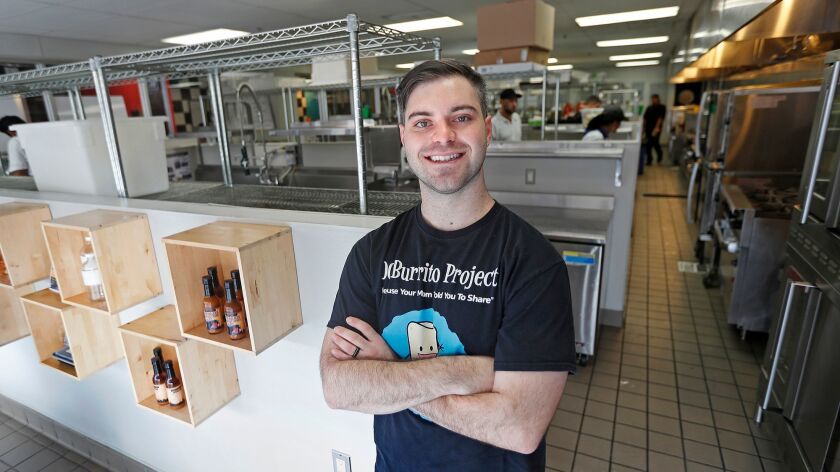 While there are many theories on how to counteract the growing issue of homelessness in Orange County, Garrett Dunbar has employed a particularly unique strategy: burritos.
Dunbar, 27, of Fountain Valley runs Orange County Burrito Project, a nonprofit that uses community outreach and burritos to aid the hundreds of homeless that live in an encampment at the plaza of the Santa Ana Civic Center.
Usually twice a month, a group of volunteers gathers in a kitchen at the Fourth Street Market in Santa Ana and crafts about 200 burritos. Then a larger group that sometimes reaches about 100 volunteers heads over to the plaza to hand out burritos, toiletries and water bottles.
The group passes out about 200 to 600 burritos a month and has eclipsed 7,500 burritos served since its founding in November 2015.
Dunbar started the organization after witnessing the massive encampment at the Civic Center during an internship with the county. At the time, he was attending Whittier Law School in Costa Mesa.
"On my first day showing up to work I saw homeless people lining the walkway," Dunbar said. "I couldn't believe that was happening and that all these buildings housed all of the employees in charge of the county and they just kind of walked to work and saw that every day and weren't fazed by it."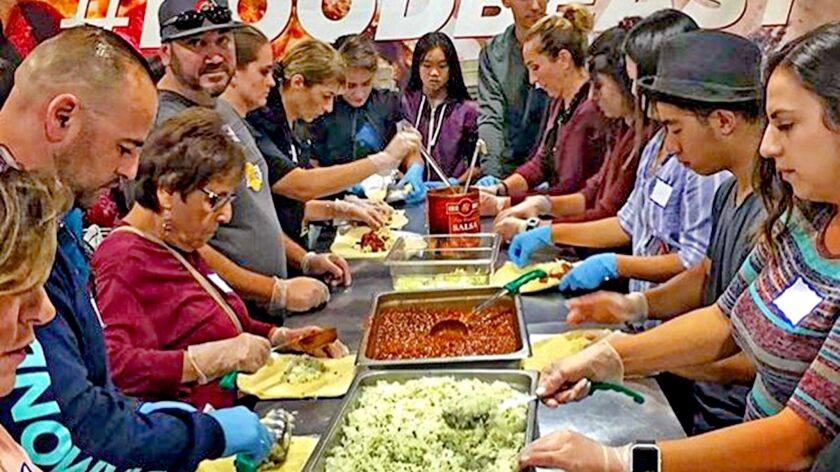 During the early days of the Burrito Project, Dunbar and some of his friends would meet at his apartment and cook. Initially, the burritos were nothing special, just boiled pinto beans, but the recipe has grown in complexity.
Now they use pinto beans, green chiles, tomatoes, onion, garlic, cumin, some chili powder, cayenne and paprika.
"I just let that boil for six to eight hours," Dunbar said. "It's actually pretty good."
The work is done in a large commercial kitchen at the Fourth Street Market with donated time. The only thing the group has to pay for is $20 a month for storage.
"It's great what Garrett does," said Robert Chang, organizer of #HashtagLunchbag Orange County. "He's promoting awareness of the homeless."
Chang's nonprofit mirrors the Burrito Project, except it covers different areas and passes out lunch bags.
Before his enlightenment at the Civic Center, Dunbar became exposed to homelessness while attending UCLA as an undergraduate. While involved in a program aiding homeless students, a greater empathy and comradeship formed between him and those in need.
"It opened my eyes to the concept that there are people who can be affected by homelessness that are in the same category as me," Dunbar said. "That was something I had never really thought of before.
"You always think that the homeless must be older than I am or there's something different about them. Having that closeness, feeling that here's someone who's homeless who goes to school with me and needs food and lives in the library. That was truly eye-opening."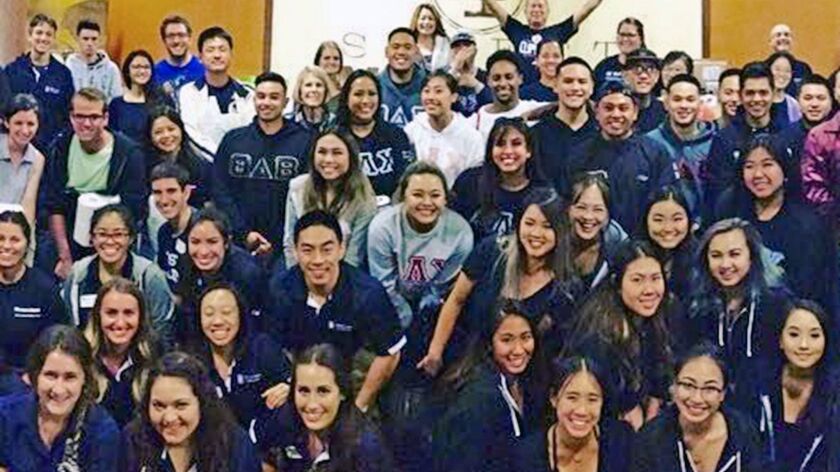 But, Dunbar was destined to attend law school and take the helm of his father's firm, so he went to Whittier, where he attained his juris doctor degree in 2016.
"I thought that was what I was supposed to be doing," Dunbar said. "I thought, this is my path, I don't get to choose."
However, his experiences with the Civic Center and subsequent work with the Burrito Project are leading him in a different direction.
Dunbar works part-time at a firm in Santa Ana that specializes in consumer financial protection and as an outreach coordinator for a nonprofit children's mental health clinic. While he plans on taking the bar exam, he's focusing a lot of his attention on expanding the Burrito Project.
"I am looking to make the Burrito Project my main thing in the future," Dunbar said.
As part of this process, Dunbar will be taking a 12-week intensive course in Los Angeles at Jump Start, which is a fellowship program for individuals who want to work with mentally ill adults.
For more information about the Orange County Burrito Project, visit ocburritoproject.org.
Twitter:@benbrazilpilot
---