Diocese of Orange sees increase in school enrollment, and credits strong academics and arts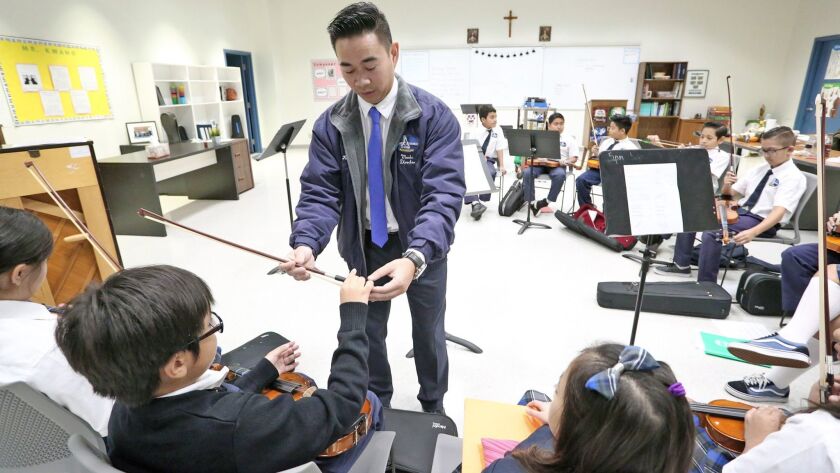 As Catholic schools decline across the country, with rapid school closures and a shrinking student body, the Diocese of Orange is defying the trend.
Nationwide, more than 1,000 Catholic schools have closed since 2006, a 14% decrease, and enrollment has dropped by more than 400,000, a 17% loss, according to data from the National Catholic Education Assn.
But at Christ Cathedral Academy, the diocese's flagship K-8 school located on the Christ Cathedral campus in Garden Grove, the number of students keeps going up year after year.
Enrollment has grown by 18% since the school opened in 2014, and is expected to continue its increase this year, according to Ryan Lilyengren, the diocese's director of communications.
"I don't think you'd see that anywhere else," he said.
One reason for this, explained Lilyengren, is that the diocese — which has nearly 19,000 students in 41 schools from preschool to high school — has to compete with other high-quality schools in Orange County, both private and public, by offering a combination of strong academics, athletics, music, art and technology.
"We have to be better than your comparable options," he said, noting that 99% of the diocese's graduates are admitted to a four-year college. "The story of Catholic schools, where all the kids in the parish just come over, you open the door and all the kids who go to Mass every Sunday are ready to enroll — it doesn't work like that anymore."
Catholic schools in the diocese were the first in Southern California to introduce a one-to-one technology program that offers each student an iPad or Chromebook.
At Christ Cathedral Academy, which has 351 students, kindergartners receive an iPad mini to use through third grade, and then receive a full-size iPad in fourth grade. These devices are used to access a digital library, and also to customize learning to fit the student's level.
Several schools also have STEM labs equipped with design software and 3D printers.
At Christ Cathedral Academy, another draw is the fine arts and music program, which includes painting, drawing, orchestra, choir, and this spring will also include dance in the school's new ballet studio.
Students in the choir not only have the opportunity to sing at Mass, but also at local events such as the tree lighting ceremony in Orange, and even internationally.
This year students traveled to Rome to perform for Pope Francis.
"It's amazing what they can do if you give them an opportunity and expose them to it," said Debbie Vallas, principal of Christ Cathedral Academy. "You don't know if they're a musician, or an artist, or a computer whiz unless you give them a chance."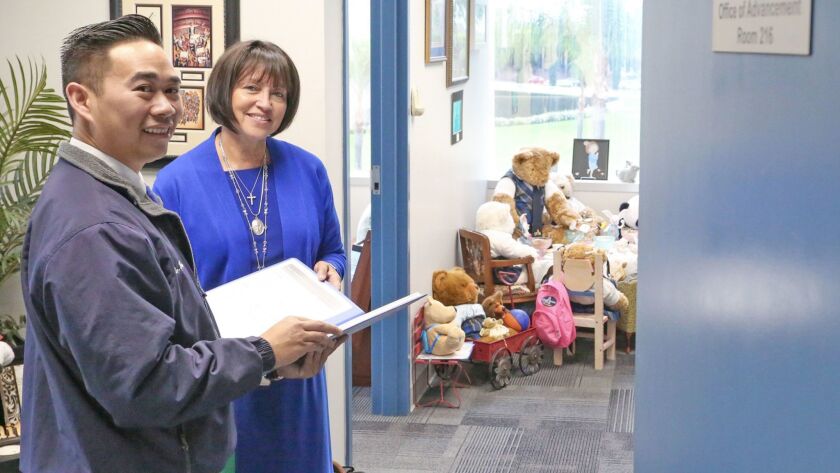 Kwang Nguyen, music director for Christ Cathedral Academy, said the arts help to develop the whole child and expand their horizons.
"They're able to discover what they're good at," he said. "Some kids will say, 'Mr. Kwang, I can't sing.' I say, 'Well, that's my job.' That's the kind of vision we have — we try to discover their hidden talent."
But for many families, what sets the diocese's schools apart is the religious education, community building and values-driven environment, which at Christ Cathedral Academy means attending Mass together every Friday morning and a catechism class that allows students to learn the Bible and Catholic rituals through hands-on activities and materials.
"There are studies telling us that if you get a child into one of our schools, it tends to evangelize the whole family," said Lilyengren. "If the kid is in school, then the family also goes to Mass and does activities with the parish. It's the most potent force to draw in people's relationship with the Church — and it's always been like that."
Because of this faith-based mission, the Diocese works to provide tuition assistance to ensure that Catholic education is accessible to all — not just for those who can afford it.
"One mission of Catholic schools is to take immigrant communities and help them up the socioeconomic ladder," said Lilyengren. "We did that very successfully with the Irish, and we want to do that in the Hispanic community now."
In Santa Ana, for instance, three Catholic schools known as the Marian Alliance — St. Anne School, St. Joseph School and School of Our Lady — offer tuition assistance to 80% of its student body, which is a Latino majority.
"Our focus is sustaining faith and community, not making money," said Lilyengren, noting that the Orange Catholic Foundation provides nearly $2.3 million in tuition assistance to Catholic elementary school students each year.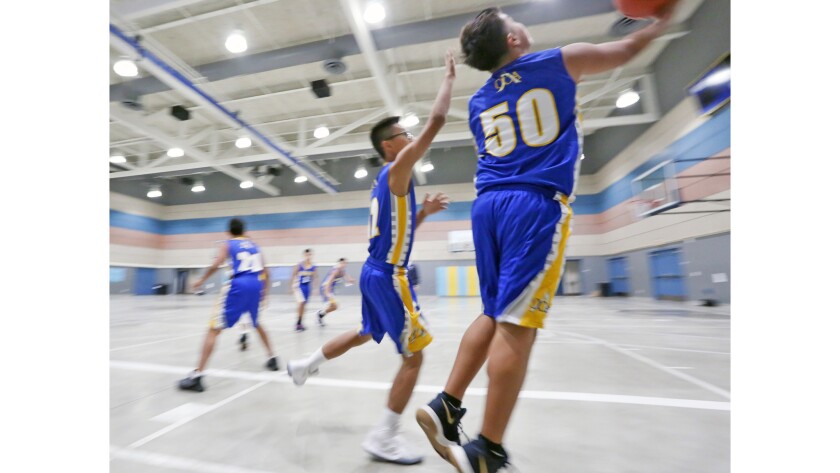 Martin Lopez, a graduate of St. Anne School and Mater Dei High School in Santa Ana, said it was only through tuition assistance that he was able to attend both schools. Through this education, he said, he was able to graduate from Chapman University, and go on to work as a senior sales manager at Disneyland Resort.
"It molded me," said Lopez, 26. "At most schools, sometimes I feel like we get bogged down by the logistical things — you need to learn this, you need to do that to graduate. But Mater Dei and St. Anne taught us to be true leaders in our community, and about giving back — those are the messages they built in us since we were little.
"I always attribute my education to who I am today."
Caitlin Yoshiko Kandil is a contributor to Times Community News.
---
All the latest on Orange County from Orange County.
Get our free TimesOC newsletter.
You may occasionally receive promotional content from the Daily Pilot.