Dessen jazz trio explores the sounds of science by improvising with software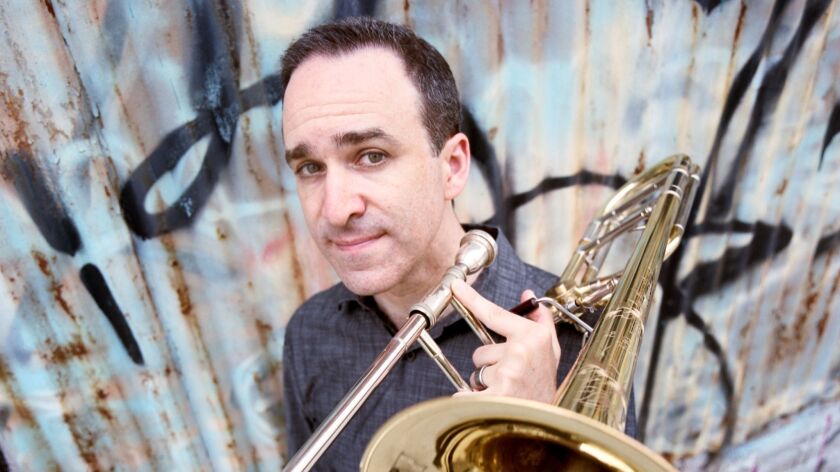 While jazz has no boundaries, it does border every other musical form and has produced countless crossover genres.
On its technology front, a handful of pioneering composers and musicians are now partnering with computers and software to discover new sounds and improvisational structures.
Among them is trombonist, composer and UC Irvine professor Michael Dessen.
On Oct. 26 at the Irvine Barclay Theatre, his trio will split the bill with Nicole Mitchell for two sets of music that is both accessible and trailblazing.
For the opening set, pianist Joshua White and Mitchell, a composer, fellow UCI professor and "Flutist of the Year" in the past six Downbeat Critics Polls, will join Dessen's trio for the premiere of a quintet he wrote for this event and these artists.
For the second set, Dessen will join Mitchell and the large ensemble she assembled for the West Coast premiere of her "When Life's Door Opens."
While purely acoustic, Dessen's trio, including bassist Christopher Tordini and drummer Dan Weiss, continues to explore the artistic potential of technology through live electronics, telematics and networked scores.
On three previous recordings and the upcoming "Somewhere in the Upstream," a Dessen composition dedicated to his late mentor Yusef Lateef, the trio has been gradually assimilating work done by innovators such as Anthony Davis and George Lewis, with whom Dessen also studied.
"This music is not about the technology," Dessen said. "It's about sound and music and expression. The use of computers and technology is not about highlighting their capacity. They're just building on the same kind of things that we do in the acoustic tradition."
To do that, Dessen created software that can play on its own while he can improvise with it.
"We're dipping into this stream of possibilities going by," Dessen said. "Software can be made to listen and react, so that in a way the score itself can become an improviser."
"It's a gray area where I set up the computer to do things that are based on certain logic that I'll mediate," Dessen said. "I'll choose what comes out and what doesn't in real time or I'll modulate it in different ways as it's coming out."
"When Life's Door Opens" was written for a chamber orchestra and premiered in Chicago, Mitchell's base before moving back to California.
She lived in Anaheim from the age of 8 until she graduated high school. After time in San Diego and New Orleans, she moved to Chicago, where most of her development happened as an artist, she said.
She structured the piece as an exploration of human experience rather than technology.
"It's about making choices and taking chances," she said. "Sometimes making a choice that you really believe in doesn't offer any promises or rewards, but if you follow your heart, you will go that route anyway."
That message is expressed through three different voices that "navigate the terrain of music drenched in experimental funk, blues, swing and free improv."
The pre-recorded voice of New York-based vocalist Kiran Ahluwalia will represent "wisdom," with live performances by Aquilla Sadalla of Chicago's Assn. for the Advancement of Creative Musicians and Calvin Gantt representing "realness" and "struggle."
She and Dessen also work together as two of six core faculty participating in Integrated Composition, Improvisation, and Technology (ICIT) —a Master of Arts/PhD program offered by UCI's Music Department.
"The ICIT grad program was right up my alley," said Mitchell, whose Black Earth Ensemble remains active in Chicago. "There are very few university programs that are so visionary and open-minded."
"If you really take the world of jazz seriously there's a lot of work you have to do as an acoustic musician just to get fluent with the language," Dessen said. "That develops a foundation that you then can use to communicate with and work with people who come from that tradition."
"I see a lot of people building on that now with different approaches to technology and doing a lot of different things with computers," Dessen said. "I'm trying to be part of that conversation."
If You Go
What: Michael Dessen Trio & Nicole Mitchell
When: 8 p.m. Oct. 26
Where: Irvine Barclay Theatre, 4242 Campus Drive
Cost: Tickets are $14 to $30
Information: (949) 854-4646 or thebarclay.org.
CRISTOFER GROSS is a contributor to Times Community News.
---
All the latest on Orange County from Orange County.
Get our free TimesOC newsletter.
You may occasionally receive promotional content from the Daily Pilot.