Navy uniform from raid that took down Osama bin Laden is on display at Nixon Library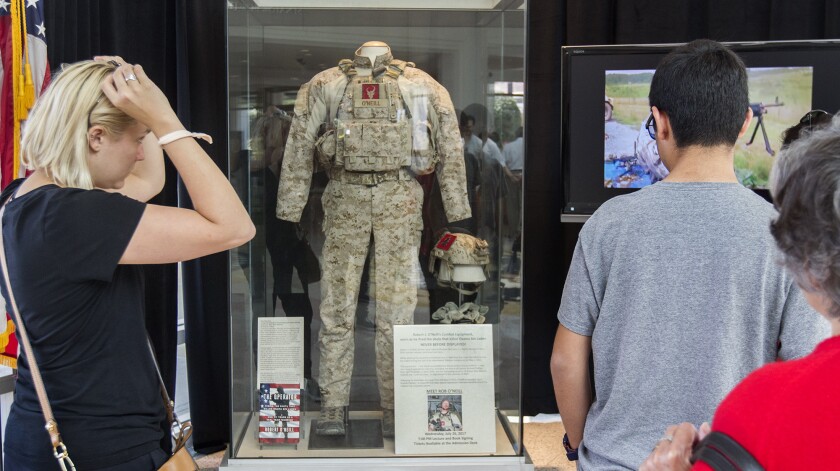 In its first public display, the uniform belonging to Robert J. O'Neill — a former U.S. Navy SEAL who served in the SEAL Team 6 raid that killed Al Qaeda leader Osama bin Laden in 2011 — will be exhibited in the Richard Nixon Presidential Library and Museum in Yorba Linda until July 31.
The uniform O'Neill wore during the raid includes his boots, helmet, gloves, pants and long-sleeved top with front and side pockets for different gadgets, like pens and a small notepad.
The presidential library obtained the gear after one of its employees met O'Neill at an event earlier this year, said Nixon Foundation communications director Joe Lopez.
"She [the employee] asked him if he wanted to speak at the library," Lopez said. "We later called him to ask if he had anything of his we could put on display. I thought maybe we'd get a helmet or his boots, but he gave us everything he had."
The display also presents a copy of O'Neill's newly released book, "The Operator," which he will discuss at a lecture in the Nixon Library's East Room from 7 to 8 p.m. July 26.
O'Neill's book recounts his childhood in Butte, Mont., his decision to join the SEALs and his 400-mission career, from which he earned two Silver Stars and four Bronze Stars.
His lecture at the Nixon Library will also include a book signing.
"To have the uniform that I wore on display at the Nixon Library is truly an honor," O'Neill wrote in a statement given to Lopez. "It symbolizes the sacrifice, perseverance, teamwork and dedication to mission success of everyone involved."
After O'Neill left the military in 2012, he became a motivational and leadership speaker and co-founded Your Grateful Nation, a nonprofit dedicated to helping special operations veterans transition from the military into new careers.
O'Neill was first referred to in a 2013 Esquire magazine article as the anonymous "shooter" who was credited with firing the fatal shots that killed bin Laden. His identity was revealed in October 2014.
But a book titled "No Easy Day" written by former SEAL Team 6 member Matt Bissonnette described a different account of the raid, raising questions of whose shots actually killed bin Laden.
In November 2014, O'Neill told CNN it no longer mattered if he was the one who killed bin Laden and that "the team got him."
"The only ones that know are the SEALs that ran that mission," Lopez said. "It's a historic mission. To have [O'Neill] be a part of it and to hear his account is a unique opportunity for the people who are going to attend the [lecture] event."
A video presentation from Your Grateful Nation that includes interviews with veterans plays on a screen next to the uniform display at the Nixon Library.
"The humbling experience of working side-by-side with these warriors is what led me to form Your Grateful Nation so that Special Forces operators can apply their unique skills and expertise from the battlefield in the private sector," O'Neill wrote in his statement.
The display of O'Neill's uniform in the lobby of the Nixon Library is free for visitors to view.
"For us, it's so great to provide this display because we have a community that's very supportive of the military," Lopez said. "This gear will end up in a museum someday. But for us to be the first to display, it is pretty special."
If You Go
What: Display of Robert J. O'Neill's combat equipment
When: Lecture featuring O'Neill will take place from 7 to 8 p.m. July 26 at the Nixon Library. The presidential library's regular hours are 10 a.m. to 5 p.m. Mondays through Saturdays and 11 a.m. to 5 p.m. Sundays.
Where: Richard Nixon Presidential Library and Museum, 18001 Yorba Linda Blvd., Yorba Linda
Cost: Lecture admission is $30. Library admission is $16 for adults and $12 for seniors.
Information: (714) 993-5075 and nixonfoundation.org
Twitter: @AlexandraChan10
---
All the latest on Orange County from Orange County.
Get our free TimesOC newsletter.
You may occasionally receive promotional content from the Daily Pilot.