Man who overcame homelessness now has a seat on the board helping others
William Odell is a resurrected man.
For eight years he lived on the streets of Orange County, all but invisible.
By day, he slept near the ocean in Huntington Beach. Nights were spent riding a bus to nowhere in particular and at 24 Hour Fitness, where he showered, swam and exercised.
Odell, 54, once had a home in Westminster — which he shared with his wife, Stephanie — and a respectable job as an educator at the Santee Education Complex in Los Angeles.
But each disappeared.
Stephanie died in 2008, sending Odell into a frenzied emotional spiral that exacerbated his bipolar disorder. Odell lost his job and home, joining thousands of other homeless people in Orange County.
With no avenue to medical treatment, Odell was at the mercy of his disorder throughout his destitute years. He tried to maintain whatever self-respect he could by wearing clean clothes and keeping off the sidewalks with his rigid schedule.
"I did whatever I could to maintain my dignity," Odell said. "I didn't want to stick out."
Then in 2016 Odell connected with American Family Housing, a Midway City-based nonprofit that provides housing and support services for the homeless in Orange, Los Angeles and San Bernardino counties.
He was set up in a home in Westminster — where he remains — and given treatment for his disorder. Now back in the light of normality, Odell is adjusting to his new life.
"It's odd because you go from being homeless for so long, then all of a sudden, you have a home," Odell said. "You go from being invisible to becoming normal again. It's an odd feeling."
Recently, Odell landed a role on the nonprofit's board of directors. Having his opinion matter feels strange, he said.
Milo Peinemann, chief executive of American Family Housing, said Odell provides in-depth knowledge of the tribulations the homeless face.
"It's important to have somebody that has had that lived experience," Peinemann said. "At a very basic level, if you have been there and done that, then you have a very different perspective. It really helps us focus on our mission."
As part of his role, Odell will attend board and associated committee meetings a few times a year.
Odell said he's fortunate to have a home but hasn't forgotten the streets. He wants to play a role confronting the rampant homelessness problem from which he escaped.
"I'm really hoping my input can help some people," Odell said. "I still have friends who are on the street."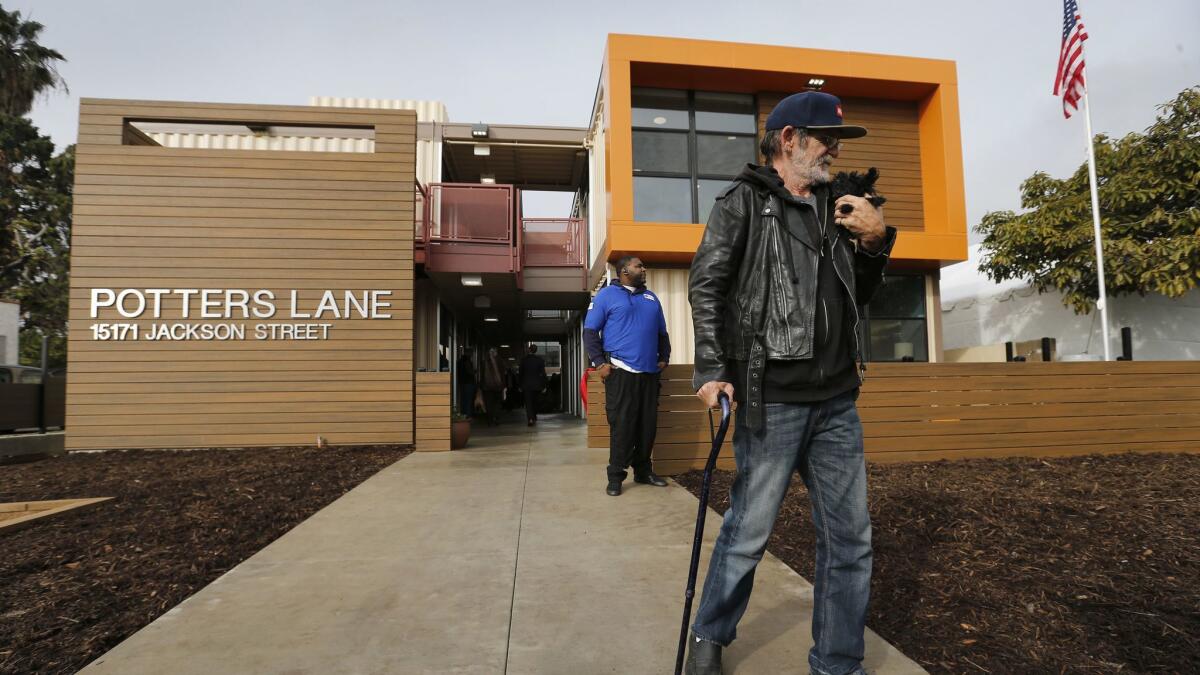 American Family Housing started as a modest project founded in 1985 by accountant Jim Miller. The nonprofit rented a Santa Ana home to the mentally ill and operated a small food distribution center in Westminster.
While the group has grown, it has stayed true to the noble foundations of its founder. American Family Housing operates about 55 housing sites, mostly in southern Los Angeles and northern Orange counties.
Last year, the nonprofit unveiled one of its most substantial projects, the state's first multifamily housing community made from shipping containers. The 16-unit "Potter's Lane" provides housing for 15 formerly homeless veterans and a case manager.
The $6.3-million complex is in Midway City next to the American Family Housing headquarters.
Peinemann called the container site a success.
"This really is a true innovation," Peinemann said. "We are looking to replicate it because of the efficiency and cost savings."
A standard construction scenario requires periods of building and inspections over the course of a project. The shipping containers are built offsite — where inspections are handled — so other work, such as building foundations and utility line installation, can be completed simultaneously.
It took about six months to build Potter's Lane, a few months less than a standard building, Peinemann said, adding that faster construction schedules mean lower cost for a frugal nonprofit.
Peinemann said the site serves as a reminder of the importance of permanent supportive housing.
"If you give homeless people a lock and key and support them in their struggles, they will take responsibility," he said.
American Family Housing is working to secure two shipping container sites in the city of Los Angeles and another in Orange County.
Odell said housing is the foundation for getting homeless people back on their feet. For Odell, his home is a place where he can finally focus on healing.
"It was like a miracle when I got housing," Odell said. "Now I have some place to lay my head every night. A lot of people take that for granted. I don't."
Twitter:@benbrazilpilot
All the latest on Orange County from Orange County.
Get our free TimesOC newsletter.
You may occasionally receive promotional content from the Daily Pilot.