Orange County naturalist wants to reconnect the public with nature
Hidden amid the sprawling concrete of Orange County are pockets of virgin wilderness to which many residents are oblivious.
Few have hiked the trails of the Cleveland National Forest or trekked the peaks of the Santa Ana Mountains, where chaparral and knobcone pine stretch across the hillsides, and mule deer and bobcats roam.
Naturalist Joel Robinson sees it as his duty to reconnect Orange County residents with the natural terrains that have become alienated from the public's collective psyche.
His nonprofit, Naturalist For You, has been leading people on guided hikes through the natural ecosystems of the county since 2006.
Comprised of 26 volunteer tour guides, the nonprofit leads treks through portions of the Cleveland National Forest, the Santa Ana Mountains and many other locations. Outdoor educational activities also are held in other parts of Southern California.
"There is a disconnect between O.C. residents and the nature hidden throughout the county," said Robinson, 40, of Silverado.
He believes this disconnect can be gauged based on the land management and development policies of the county.
"You can see the design of new homes and malls," Robinson said. "Urban infrastructures continue to degrade natural landscapes."
Robinson said the tendency for people to eliminate nature from their daily life is rooted in fear, largely of the unknown.
Unlabeled foods and untrained animals dwell in the folds of nature. People gravitate to zoos for their nature consumption, devoid of risk and mystery, where everything is controlled.
Robinson said this fearful view of nature is just a symptom of lacking knowledge and familiarity, so his organization helps educate people on the abundant food sources and potential dangers of the local environment.
For Robinson, his mission has been paved by years of self-discovery and analysis.
He grew up in west Orange, where his first house, off of Orangewood Avenue and State College Boulevard, was a paradise for him.
The house was flanked by citrus orchards where chickens, raccoons and toads prowled. Kids ran around unsupervised. This was his first experience interacting with the natural environment, a period that still sticks in his mind as one of the happiest times of his life.
In 1987, while he was still a young child, Robinson's family had to move to east Orange when a coal company bought out the neighborhood. The paradise was gone, replaced by a typical suburban cul-de-sac, where kids rarely ventured outside.
"That new environment changed me," he said.
Television and video games played a more prominent role in his life. He typically stayed inside and his mood changed.
He was no longer the contented kid from the house in the orange groves.
Some years later, Robinson started spending time in Santiago Oaks Regional Park, finding communion with the chirping birds and sweet smells of orange trees — a refuge from the sprawl. He recognized a need to orient his life to nature.
Since then he's worked as a naturalist with the U.S. Forest Service, Audubon Society, The Nature Conservancy, The Wildlands Conservancy, Ojai Valley Land Conservancy, Los Padres Forest Assn., city of Santa Ana, city of Lake Forest, and Orange County Department of Education.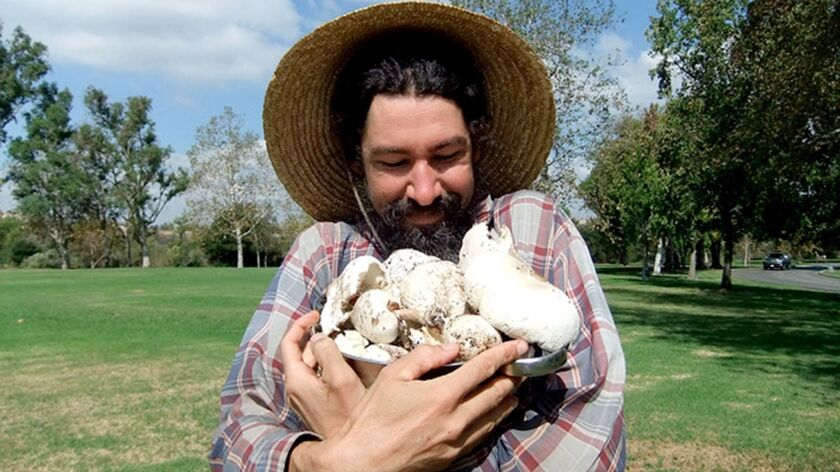 Robinson now lives a "simple" life in Silverado with his wife, Leslie, and daughter, Sydney.
Dwelling in a rustic cabin-like home, Robinson splits his time heading the nonprofit and foraging and hunting for food for his family. Leslie works as a teacher's aide at Linda Vista Elementary School and they both home school Sydney.
"I have been stripping conveniences for a long time," Robinson said. "I sleep outside every day. We cook all our meals on a fire, if it needs cooking. So I collect the twigs and everything. We forage for a good percentage of our food. I will even hunt squirrel every now and then."
Robinson sometimes eats bugs if need be, though they aren't always readily available due to the aridity of where he lives. Sydney and Leslie prefer foliage.
Robinson believes that people have lost their way. Like him, nature played a prominent role in daily life for early peoples, but along the way, people segregated themselves from it, to their mental and physical detriment. They are now in the process of rediscovery, and possibly, reconnection.
Robinson said he'd been searching all these years for the bliss he'd felt as a child running through the orange groves. Now stripped of most of the materials of the modern household, Robinson has found his way back.
"My happiness is through the roof," he said. "We are trying to live the adventure rather than watch it on a screen."
He's hoping his organization can help others achieve the same level of contentment.
Naturalist For You events are free, though the group requests an optional $10 donation. For more information, visit naturalist-for-you.org.
Twitter:@benbrazilpilot
---
All the latest on Orange County from Orange County.
Get our free TimesOC newsletter.
You may occasionally receive promotional content from the Daily Pilot.