In the Pipeline: Monument to brotherhood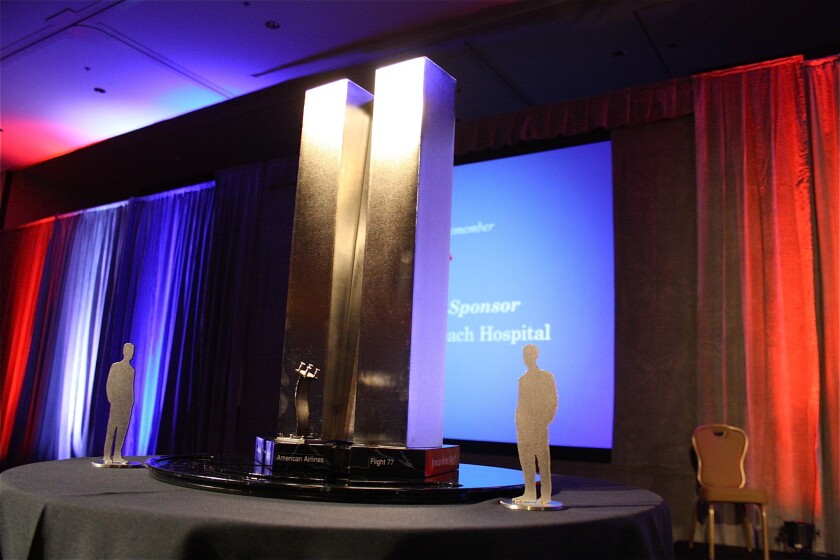 The twin towers will soon stand in Huntington Beach.
With a little luck and a lot more money, this Sept. 11 will see the unveiling of a remarkable sculpture in front of City Hall. It will feature metallic, exact scale replicas of the World Trade Center towers each standing 9 feet tall.
Created by the renowned local metal artist Patrick Vogel, a small-scale replica of it was on display last Sunday night at the Hyatt Regency where the Building to Remember Gala took place. Building to Remember was formed to help fund the memorial and the event on Saturday went a long way in helping to raise the $200,000 needed to complete the project.
The event was more than just a fundraiser. It was a celebration of heroes, and a chance to reflect and shed tears as we heard the words of officers who were in the thick of everything the day the world changed.
Retired Capt. Kevin Devlin of the New York City Fire Department spoke about what it was like when a group of officers from Huntington Beach traveled to New York City to not just donate money they raised, but also to get involved in the recovery efforts. More on that in a moment.
We heard from Arlene Howard, mother of Officer George Howard who was killed trying to help a fellow officer that day. The 89-year-old matriarch with the tough New York accent talked about her "little boy" who was lost that day, a man who had demonstrated equally heroic efforts when the World Trade Center was bombed back in 1993.
You may remember when she presented President George Bush with her son's shield. The President used that shield as a symbol to represent all of the men and women who died trying to save others. The president thought so much of Arlene Howard that they became good friends, and she described to this day how Bush stays in touch with her (he also sent a letter that was read at the event).
George Howard's son, Chris Howard, a New York City firefighter got up and spoke about his father. Fighting back tears, he described in wonderful detail his love and admiration for his dad and how sorry he was that he wouldn't be here in four months to watch he and his fiancé get married.
About a year and a half ago for this column, I spoke with motor officer Bobby Frahm, who has been with the Huntington Beach Police Department since 1992. Back then he described to me the deep bonds of brotherhood that were created after he and a group of his fellow officers raised $90,000 which they brought to New York to split between NYPD, the Fire Department and the Port Authority. Frahm also told me about how the friendships grew and how soon, New York City cops were coming to Huntington Beach to visit, take part in our parades, and vacation with the friends they made in New York.
That gets me back to Devlin's comments about what he witnessed once our guys showed up in New York. He told the packed ballroom how thankful he was for the money delivered by HBPD. But he added that when our officers insisted that they be allowed to help at Ground Zero, he wasn't sure that the West Coast cops would be able to deal with the hell they were sure to be confronted with.
That said, after one of Devlin's men needed help recovering the body of a dead woman, HBPD jumped into action and spent hours doing what they were trained to do. Devlin said he'd never been so impressed by what he witnessed that day. Thus began this beautiful relationship between NYPD and HBPD.
"My son now has all of these cousins in Huntington Beach," Devlin said.
On display near the stage were pieces of rubble and twisted metal from Ground Zero along with a flag that had been flown over the site. As brutal as these reminders were, the warmth, respect and love the officers feel for each other set the mood for the night. There were many tears during the speeches, but as Chris Howard reminded us, 9/11 was also the largest human rescue event in modern history. So yes the dead were mourned, but the bravery was celebrated.
A stunning piece of jewelry representing the twin towers and designed by Nouha Hreishof Noal Jewelry Design was auctioned off as were many other items and opportunities. A lot of money was raised, about half of what is needed to fund the $200,000 project.
This is where we come in. I realize things are very difficult right now what with a sagging economy, brutal gas prices and the rising costs of just about everything. But if you had perhaps $5, $10 or $20 it would make a huge difference to this project.
After seeing what this stunning monument will look like meeting the people involved and learning what a firsthand teaching tool it will be for generations to come, I wanted to make you aware of how you can be a part of it. If you would like to contribute to this truly special project you can do so by visiting buildingtoremember.com where you can print out a donation form or even contribute via PayPal.
Thank you in advance for your consideration and thank you as well to the Building to Remember committee who have invested much time and energy to make this a reality, along with all that sponsored the event. Of course, thanks barely seems enough to all of the HBPD officers that worked at Ground Zero. We are very proud of you guys.
This Sept. 11 I hope we will all be together, standing in the shadow of these towers here in Huntington Beach. The celebration will be bittersweet, but just think of the legacy we all will have helped create.
CHRIS EPTING is the author of 19 books, including the new "Baseball in Orange County," from Arcadia Publishing. You can chat with him on Twitter @chrisepting or follow his column at https://www.facebook.com/hbindependent.
---
All the latest on Orange County from Orange County.
Get our free TimesOC newsletter.
You may occasionally receive promotional content from the Daily Pilot.