Decision to stay or move on could be a complex one for college athletes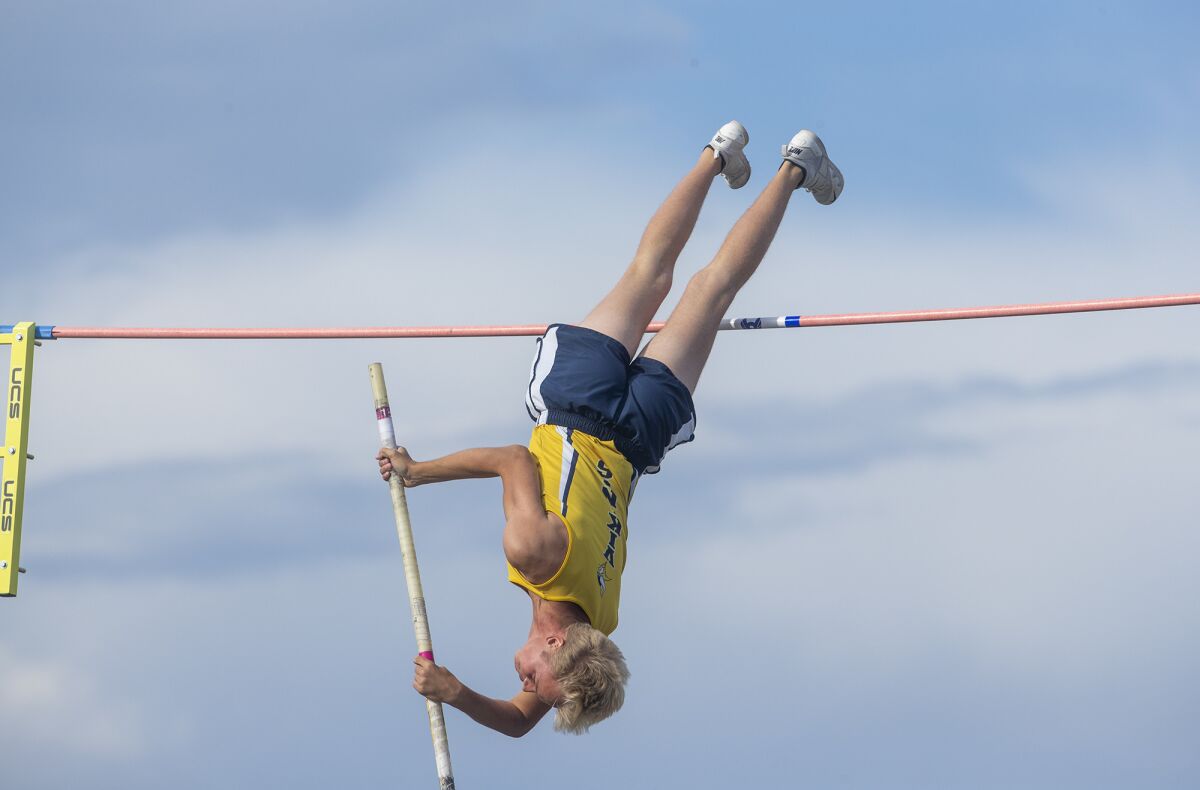 The NCAA Division I Council voted on Monday to give schools the ability to extend an additional season of eligibility to athletes that participated in spring sports.
Eligibility relief became a focus after the spring sports season was cut short due to the coronavirus pandemic.
It gives athletes the option to come back for an additional season, but it might be more of a decision for many college students than it would have appeared to be on the surface.
Pole vaulting has been the longtime passion for one well-known track and field family in the area. Kevin Magula, who has coached the vertical field event for 31 seasons, has seen the mood in his house take a somber turn since the cancellation of the season in mid-March.
He has two sons who qualified for the CIF State track and field championships as pole vaulters at Marina High. Michael Magula was in his junior season at Long Beach State, and Skyler Magula had just started as a freshman at Cal.
"You just cut the rope and they can't jump anymore," Kevin Magula said. "They've got a lot of mixed emotions. They want to abide by the rules and stay safe, but they also don't want to lose the training and the passion for jumping. They've been doing it for so long that that's all they really know. That's all I know."
Stanford softball player Kristina Inouye, a Huntington Beach High graduate, was among the college athletes forced to come home after campus closures ensued due to concerns over the coronavirus pandemic.
Affected athletes must grapple with the question of whether it is worth it to put their life on hold while taking advantage of the extra year of competition.
Michael Magula, an Academic All-Big West Conference honoree in 2019, had been on track to graduate in three years with a degree in communication studies.
"That was the plan from my sophomore year, and then I decided that collegiate track is a once-in-a-lifetime opportunity," he said. "You don't just get to do that. The amount of people that get to do that is so little that I wanted to stay for a fourth year, so I started stretching out my classes this last semester and then this semester so that I could be competing in track for four years.
"Now, I lose this whole season, and there is no possible way for me to push it to a fifth year, unless I get a minor or another major. At that point, it just seems like putting off my future. You can't stay in college forever."
Stories examining the impact the spread of the coronavirus has had on the NBA, NHL, MLB, the NCAA tournament and the rest of the sports world.
Pole vault can be particularly difficult to train for, especially with campus closures and "stay-at-home" orders in effect. Michael felt that he had been jumping the best of his collegiate career after the Beach Opener on March 7, where he cleared 4.98 meters (roughly 16 feet, four inches). He was crushed when he learned from another Big West pole vaulter that the season had been suspended on March 12.
"I just couldn't avoid it," he said. "I just started crying. You work so hard for years on something, and then it finally comes together, and you lose it within a week."
Skyler Magula, a two-time CIF Southern Section divisional champion in 2018 and 2019, feels that seasons could be lost, regardless of eligibility relief, due to the desire of many to move into post-college life.
"They're just not going to use that eligibility," said Skyler, who is majoring in computer science. "They're already planning on moving on and going on with their lives. Most people won't completely derail their life. Some people may have jobs lined up or are ready to get out of school, so it's definitely a very interesting thing.
"I feel like the NCAA handled it pretty decently with the whole blanket waiver. I know that helps out."
The Council increased the roster limit in baseball for athletes impacted by the coronavirus, although UC Irvine baseball coach Ben Orloff said that there were still unanswered questions in the immediate aftermath of the vote.
"The answer that we have is that they're giving everybody eligibility back," said Orloff, whose Anteaters ended the COVID-19-shortened season with an 8-7 record. "There are still a lot of answers that we don't have in terms of what do those kids now have to do academically to be eligible if they want to come back? What roster size? Where is the money situation?
"There are a lot of other answers that we don't know, but we know that they're giving everybody eligibility back."
The decision voted on by the Council did not include eligibility relief for winter sports, which did not come as a surprise to UC Irvine men's basketball coach Russell Turner. The Anteaters won the Big West regular-season title by three games over both Cal State Northridge and UC Santa Barbara, but the conference tournament and the NCAA Tournament were canceled on March 12.
The UCI men's basketball team was scheduled to take on Long Beach State in the Big West Tournament at Honda Center on Thursday. Now the remainder of the college basketball season has been canceled over concerns of the spread of the coronavirus.
"I think the NCAA got that right," Turner said. "I think the NCAA probably got it right that they're offering this additional year of eligibility to the spring sports kids, but what I hope is that not that many kids will use it because there is more to life than sports.
"As important as what we do is to us, … it would be hard to postpone your life for a whole year to come back to play another year of your sport."
::
Support our sports coverage by becoming a digital subscriber.
For more sports stories, visit latimes.com/socal/daily-pilot/sports or follow us on Twitter @DailyPilotSport.
---
All the latest on Orange County from Orange County.
Get our free TimesOC newsletter.
You may occasionally receive promotional content from the Daily Pilot.