Huntington Beach's Jake Vogel selected by Dodgers in MLB Draft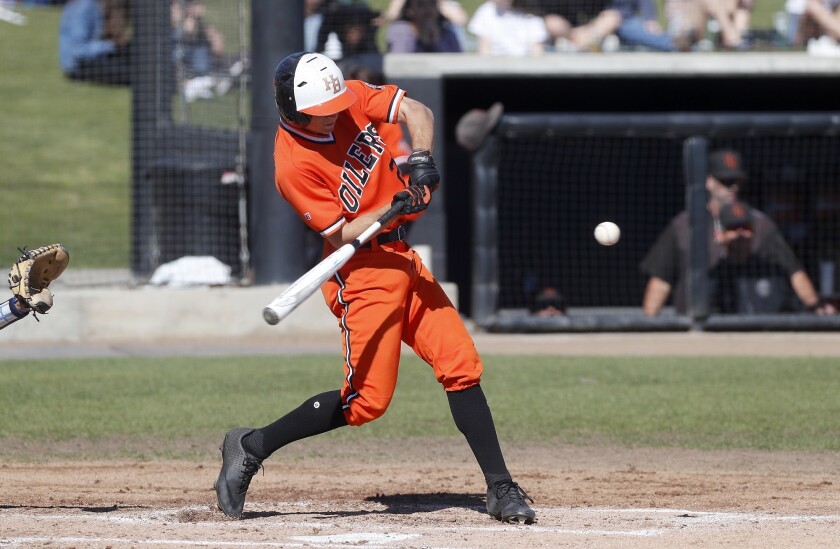 Huntington Beach High School baseball coach Benji Medure can remember being a Dodgers fan from the time he was a small child, watching games and listening to the voice of Vin Scully on a little television in his grandma's kitchen as early as age 2.
Medure experienced a thrill unlike any other when Jake Vogel, the standout center fielder for the Oilers, was selected by the Dodgers in the third round (100th overall) in the Major League Baseball Draft on Thursday.
"I've been a huge fan," Medure said. "But [I have] never had a player, one of my players, play in their organization, so this is a first."
Vogel, who graduated from Huntington Beach on Wednesday, has a decision to make, as he has committed to play college baseball at UCLA.
On the decision facing Vogel, Medure said that while he feels Vogel is ready to play professional baseball, either choice would be a good option. He added that playing for a college program like UCLA under head coach John Savage is also "worth its weight in gold."
For his high school career, the speedy Vogel posted a .350 batting average with 12 home runs, 12 triples and 22 doubles in 74 varsity games. He scored 59 runs, had 43 runs batted in, and reeled off 31 stolen bases.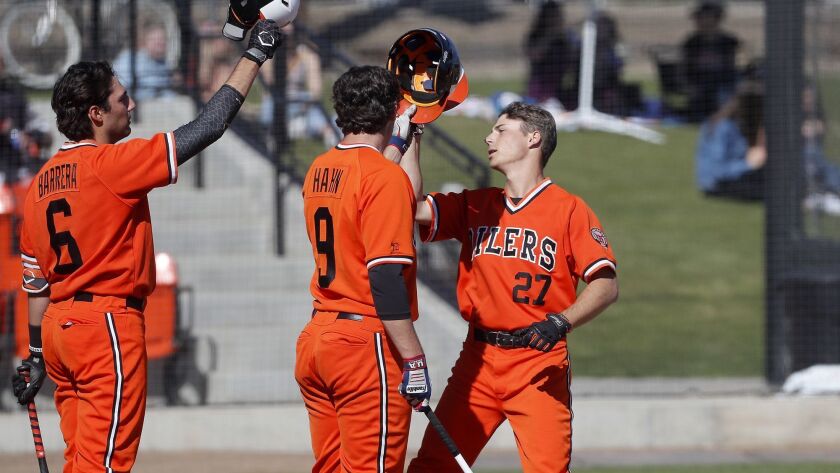 Vogel was named a 2020 Perfect Game All-American and was selected to participate in the Area Code Games in 2019. He earned All-CIF Southern Section Division 1 honors in 2019. He was also a repeat selection to the Daily Pilot Baseball Dream Team as a junior.
It was his sophomore season when Vogel became Huntington Beach's starting center fielder and leadoff hitter, but he was also called up for the playoffs as a freshman. In 2019, he helped Huntington Beach advance to the Division 1 semifinals, hitting a game-winning home run at Aliso Niguel in the quarterfinals.
More than 700 graduates are honored during a drive-through ceremony at Huntington Beach High School on Wednesday.
The coronavirus pandemic canceled the majority of the high school and college baseball seasons this year, and the MLB Draft was shortened to just five rounds.
In a small sample size as a senior, Vogel made the impression he might have hoped to for scouts. He hit for the cycle in his last game in a 16-4 win against a previously unbeaten Laguna Beach team.
Medure noted that Vogel's hot streak at the plate started the game before.
"We played Corona del Mar the Friday before that," Medure said. "He was three for four, and he missed the cycle by a double, so he was seven for his last eight, and he almost hit for two cycles, was his final sendoff in high school. That's pretty cool. That is about as good as you can end your career right there."
Huntington Beach recently had Nick Pratto (Kansas City Royals, 14th overall) and Hagen Danner (Toronto Blue Jays, 61st overall) selected out of high school in the same draft in 2017.
::
Support our sports coverage by becoming a digital subscriber.
For more sports stories, visit latimes.com/socal/daily-pilot/sports or follow us on Twitter @DailyPilotSport.
---
All the latest on Orange County from Orange County.
Get our free TimesOC newsletter.
You may occasionally receive promotional content from the Daily Pilot.