Youth sports continue to deal with coronavirus pandemic as Orange County cases rise
The Premier Girls Fastpitch Nationals have been canceled because of the coronavirus pandemic.
National championships for the travel softball organization were set to take place from July 24 to Aug. 9.
The first week, which comprises the 18-and-under and 16-and-under national championships, was called off on July 12, PGF President Dan Hay said. The second week, during which the 14-and-under, 12-and-under, and 10-and-under divisions compete, was canceled July 19.
With the tournament's timing late in the summer, Hay had held out hope that the event would be able to take place.
"I never thought back in March that we would be sitting here in July not being able to play softball," Hay said. "The disease was supposed to calm down and almost go away during the hot-weather months, and it did exactly the opposite.
"The state of California started to open fields up a little bit a month ago, and then when these numbers started to spike, they shut everything back down."
NMUSD was looking for a secondary learning plan that could meet health and safety criteria, while addressing the diverging needs of a diverse student body. Enter the 4x4 model.
Hay added that the PGF Nationals would have been held locally — at Central Park in Huntington Beach, Fountain Valley Sports Park and surrounding venues — for the 11th consecutive year. He said the tournament drew 635 teams last year.
Orange County reported eight coronavirus deaths and 767 new cases of COVID-19, the disease caused by the virus, in the latest numbers released by the county's healthcare agency on Wednesday.
The death toll due to COVID-19 in the county stands at 521, while the total cases seen countywide are at 31,743.
The high school spring sports season was canceled on April 3. Shortly thereafter, a decision was made to not have the Orange County Softball Coaches All-Star Classic.
Huntington Beach High School pitcher Grace Uribe, bound for Texas A&M, was selected as a PGF western regional All-American. Uribe was the Daily Pilot Softball Dream Team Player of the Year as a junior.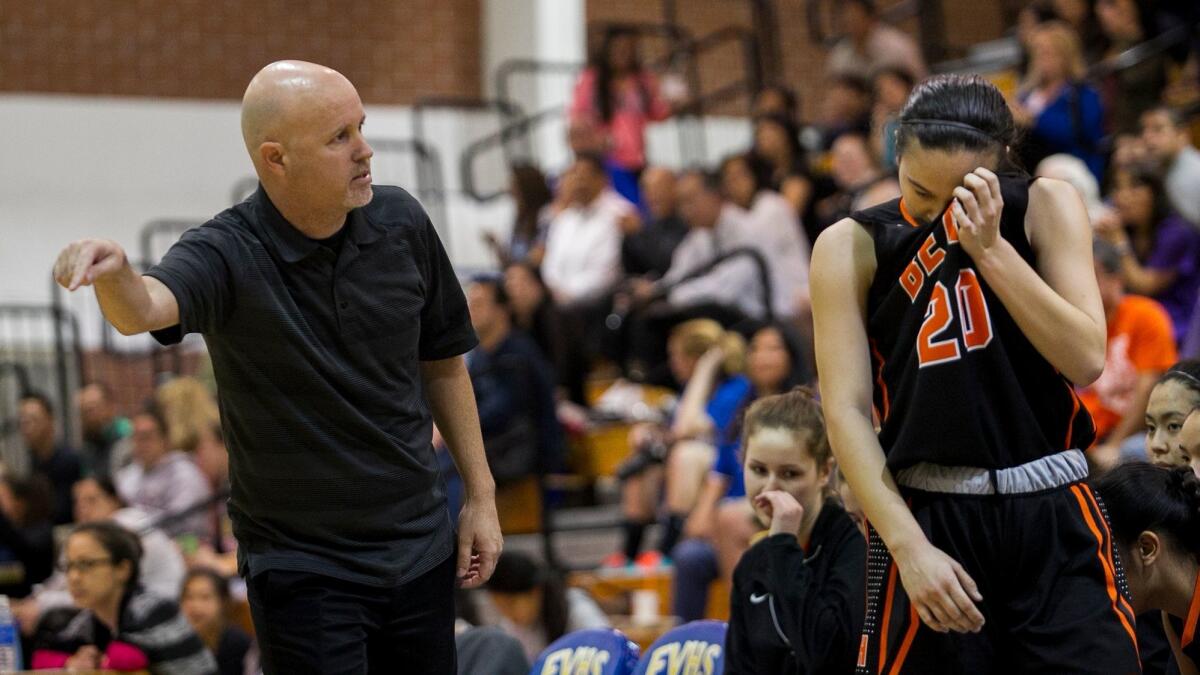 Youth sports across the board have been impacted by the coronavirus. Huntington Beach girls' basketball coach Russell McClurg said that his club team, the HB Waves, has not practiced since March.
Andie Payne, a rising senior center and a Dream Team selection for the Oilers, said she was considering playing club basketball for either the HB Waves or the O.C. Rhythm, but the pandemic has posed a problem for her and others to be seen and recruited by colleges.
"It sucks because the opportunity for colleges to see you is obviously not really an option right now," Payne said. "It's always great to play with other people and different coaches to get different techniques to add to your game."
The Elite Clubs National League, a leading national soccer organization, is set to begin its season on Aug. 1, and competition schedules are based on regions across the country. Clubs under the ECNL banner are advised to follow local guidelines, ECNL spokeswoman Mary Conway said.
Dr. Cristina Fink, the Mental Performance Advisor for the ECNL, noted that while training during the pandemic may not be ideal, there are still ways that athletes and teams can look to improve. She mentioned individual drills, film study and recovery time as things athletes can control now.
"For me, it's a question of how are you focusing on this?" Fink said. "What are some of the things that you can focus on? One of the things that sports gives you is it actually helps you become a little bit more aware of the things that you can't control, how you need to accept them, right?
"You can't control your opponent, and you can't control the ref, but you can control how you respond to what they do. We can't control COVID, but we can control how we respond to it."
Coronavirus by the numbers
An additional 7,530 coronavirus tests were administered within the last day in Orange County, bringing the county's number of tests performed to 374,114.
There were 699 hospitalizations countywide due to the virus as of Wednesday, with 233 of those patients in an intensive care unit. An estimated 16,173 recoveries have been made following bouts with COVID-19.
The federal government on Wednesday reached an agreement with the pharmaceutical group Pfizer for the delivery in December of 100 million doses of a COVID-19 vaccine the company is working on.
Here are the latest cumulative case counts and deaths for select cities:
Santa Ana: 5,958 cases; 137 deaths
Anaheim: 5,462 cases; 127 deaths
Huntington Beach: 1,515 cases; 44 deaths
Irvine: 1,040 cases; eight deaths
Costa Mesa: 1,019 cases; seven deaths
Newport Beach: 734 cases; four deaths
Fountain Valley: 326 cases; eight deaths
Laguna Beach: 116 cases; fewer than five deaths
Updated figures are posted daily at occovid19.ochealthinfo.com/coronavirus-in-oc.
For information on getting tested, visit occovid19.ochealthinfo.com/covid-19-testing.
::
Support our sports coverage by becoming a digital subscriber.
For more sports stories, visit latimes.com/socal/daily-pilot/sports or follow us on Twitter @DailyPilotSport.
All the latest on Orange County from Orange County.
Get our free TimesOC newsletter.
You may occasionally receive promotional content from the Daily Pilot.