Amid a shortage of hygiene products, an Orange County distillery and brewery begin producing hand sanitizer
As the demand for hand sanitizer grows amid an escalating pandemic, an Orange County distillery and brewery are stepping up.
The Blinking Owl Distillery and Network Brewery, both in Santa Ana, recently started producing hundreds of bottles of hand sanitizer.
Alcohol that was once meant to fill shot glasses and beer mugs will now be used by residents and healthcare workers to protect themselves from the deadly coronavirus that has swept across much of the globe, causing many to hole up in their homes and businesses to close indefinitely.
As of Thursday, there were 256 cases of the virus in Orange County.
Robin Christenson, co-owner of the Blinking Owl, said they started thinking about producing hand sanitizer a few weeks ago, but really made it a priority last week, when numbers infected in the county started rising exponentially and county health officials ordered sweeping restrictions on businesses to slow the spread of the virus.
The distillery already had many of the materials that were needed to produce the sanitizer, including a batch of alcohol that was waiting to become gin. The business also has leftover inventory from a large order slated for Europe that was canceled.
"We needed a couple more containers just to store because we are going to be producing as much as we humanly can," Christenson said. "This is a day in the life for us. It's a normal production. Basically the main ingredient in hand sanitizer is high-proof ethyl alcohol. That is the base of vodka. We have this high-proof spirit, and that's what we do on a normal basis.
"We are very much used to proofing, which is decreasing the alcohol content. Normally we just do that with water. Now we are going to be adding glycerin and hydrogen peroxide. That chemistry is just a little bit different but not that much different than our day-to-day operation."
The Blinking Owl is currently working to fill large orders made by the county of Orange, UC Riverside and Orange Coast Memorial Medical Center in Fountain Valley.
Christenson said the county was the first to reach out, asking for bottles to give to the homeless, police, firefighters and healthcare workers. Christenson said they've also been speaking with other hospitals.
The public can pre-order sanitizer on the Blinking Owl website.
"We are trying to prioritize those with the most need," she said.
The challenge for Blinking Owl is its lack of staff. Currently, there's only Christenson, her husband Brian and head distiller Ryan Friesen working on production of the sanitizer. The distillery had to lay off some of its staff earlier in the year after shutting down temporarily due to violating rules of the Department of Alcoholic Beverage and Control.
"The demand is through the roof so we are trying to find people but we don't have time to train," Christenson said. "We are looking for distillers whose distilleries are not producing right now. We are going to try and run our production facility around the clock to get out the demand that is coming in."
Christenson said she's also had to furlough the bar staff due to the closure of the tasting room because of the virus, but she's hoping she can bring them back for labeling and bottling the sanitizer.
"When we started getting the flood of orders, we thought there's no way we can meet these," Christenson said. "There's such a need and we are only going to be able to help a small part. I hope other distilleries turn and do this because it's very overwhelming how much hand sanitizer is needed."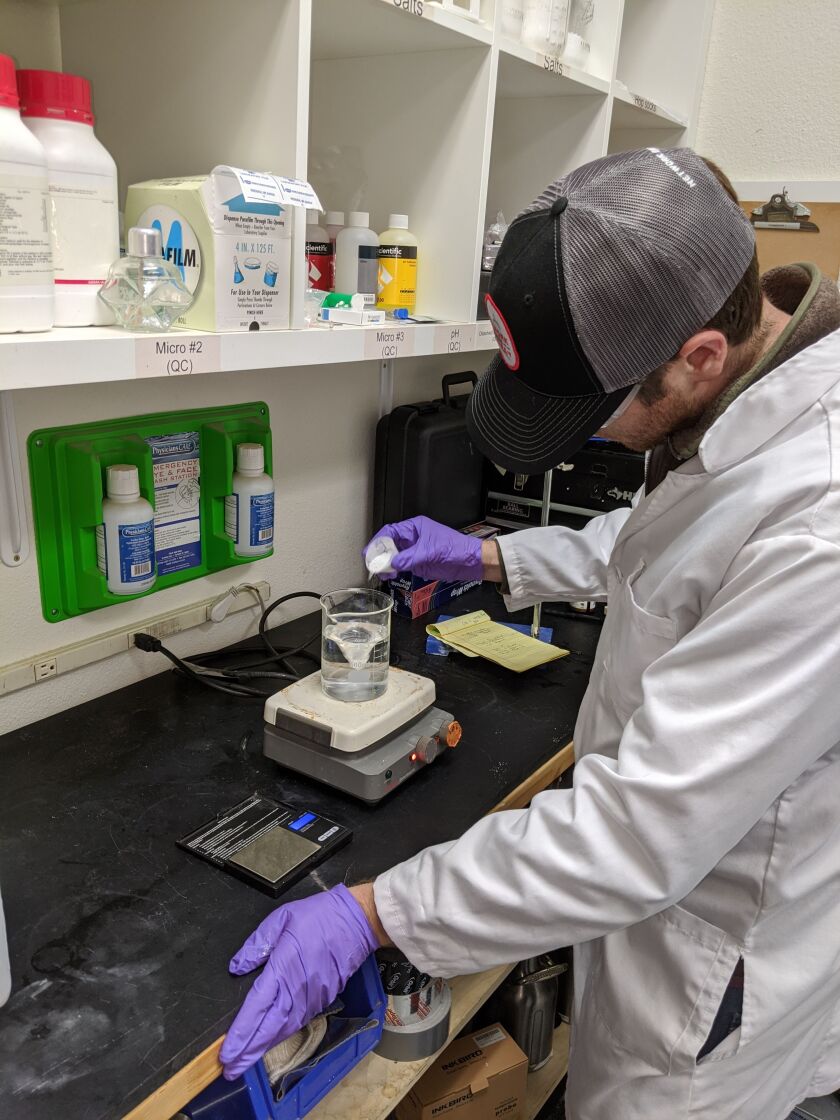 Brian Anderson, owner of Network Brewery, created a hand sanitizer lab in his facility by repurposing expensive equipment generally used for beer health and yeast management.
With a degree in biotechnology and chemistry, Anderson is utilizing his scientific know-how — usually dedicated to creating and maintaining beer — to make hundreds of bottles of hand sanitizer.
Anderson made the change to adapt to the faltering economy.
"First and foremost I needed to take care of my staff and make sure they have some kind of bread on their table," Anderson said.
Anderson, who used to work in the medical device industry, said he will be reaching out to healthcare professionals to supply them with sanitizer.
The public can order hand sanitizer to-go at networkbrewery.com. The brewery is open from 2:30 to 6:30 p.m. Tuesday, Friday and Saturday, and 1:30 to 7:30 p.m. Thursday. It's located at 1824 Carnegie Ave.
---
All the latest on Orange County from Orange County.
Get our free TimesOC newsletter.
You may occasionally receive promotional content from the Daily Pilot.