Costa Mesa Councilman Manuel Chavez says the youth won't accept these injustices against the Black community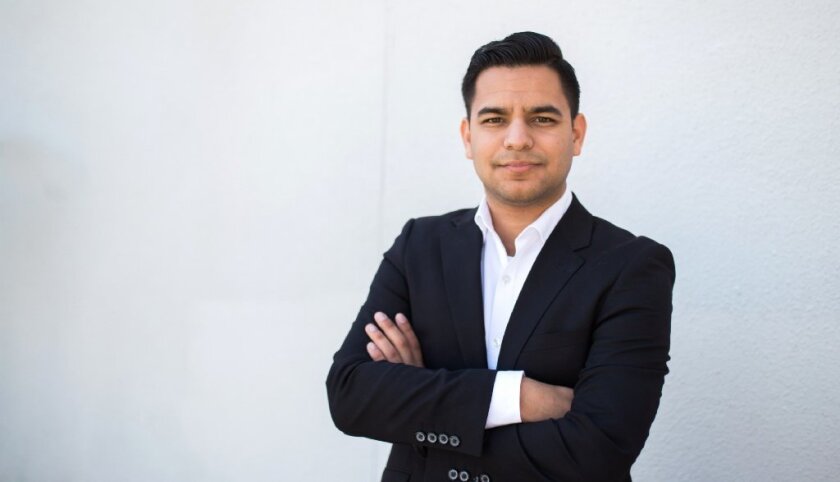 This article is part of an ongoing TimesOC series about young politicians in Orange County. As a new generation is politically activated in the wake of the recent youth-driven protests, young O.C. politicians share insights about their paths in local government.
Councilman Manuel Chavez, the youngest person ever elected to Costa Mesa City Council, was in college when protests erupted after the police shooting of Michael Brown.
Brown's killing spurred national demonstrations, much like the death of George Floyd while Police Officer Derek Chauvin knelt on his neck in Minneapolis.
Chavez said the movement against police brutality has reached a boiling point, causing political leaders all over the country to finally reckon with longstanding injustices.
"The one thing that's different is the next generation will not accept this," said Chavez, 24. "This next generation grew up watching my generation protest in Ferguson, and they are fed up with it. It's them I see pushing for reform. It's them I see going on social media. It's them planning the actual protests. We had one every day last week, a majority of them planned by high school students."
Chavez said the youth have been crucial, the architects of a movement that's made it politically acceptable to now finally address police violence against Black people. They didn't just shift the Overton window, they smashed it to pieces.
Chavez mentioned that his city's own police Chief Bryan Glass spoke for about an hour at this week's City Council meeting, addressing the community's concerns with his department.
"It's something I hadn't seen before — political structures actually taking the time to address concerns that weren't addressed before," Chavez said.
Chavez also feels a sense of solidarity with the youth, seeing similarities with his own struggles. Chavez' win in 2018 was historic for Costa Mesa, as he was the first Latino ever elected to the council.
Much of the movement is now centered on defunding police departments around the country. Chavez said a few have demanded at City Council meetings that Costa Mesa defund their department. There isn't as much outcry in the city because Costa Mesa's police department has a much smaller budget, at about 30% of the city's total, than some other larger cities, Chavez said.
Thousands of protesters have converged in Orange County to speak out about the death of unarmed Black man George Floyd while in the custody of Minneapolis police, as well as other Black men, women and children who have died at the hands of police.
Many cities across the county are currently approving their budgets for the next fiscal year. Costa Mesa approved its budget this week.
"I think that in part is because for those who have had a chance to interact with our police department, the majority of those are good experiences," Chavez said. "But I'm not saying we can't improve."
Chavez said Costa Mesa's police department is a cut above others because they engage in "community policing."
"Thankfully our chief, Glass, is really responsive and open and embraces that community policing model," Chavez said. "For someone who, frankly, just wants to defund everything, I will point to our merit in our department and say, 'Look, I can see where you are coming from, but our model works very well.' I don't think the majority of people in Costa Mesa want the police defunded entirely."
He continued: "A lot of times with these national movements, there is a push to make them national, to make it a blanket-all statement, and as the activists and youth go to their own cities, I think they are going to realize that perhaps the issues of prejudice are not as prevalent in their own department. Or perhaps they are."
Earlier this month, a protest outside South Coast Plaza in Costa Mesa resulted in a series of tense standoffs between protesters and police.
Chavez pointed out that the city had already planned to have implicit bias training for the entire staff prior to the national protests.
As the amount of protests in the county begin to taper off, youth are now faced with what to do next to provoke change.
"In a nutshell, you have to vote," Chavez said. "Get involved with the [city] budget. Because when you talk about making systemic changes, the system is the budget. At City Council, if your comments can even make 1% of a police budget go to parks or libraries, you just made a systemic difference."
Chavez said he will work with young people to help usher in reform in any way he can.
"I stand by them," Chavez said. "If they want to make changes, I will do what I can in my ability to make change."
---
All the latest on Orange County from Orange County.
Get our free TimesOC newsletter, sent three times a week, for the news that matters most to your community.
You may occasionally receive promotional content from the Daily Pilot.