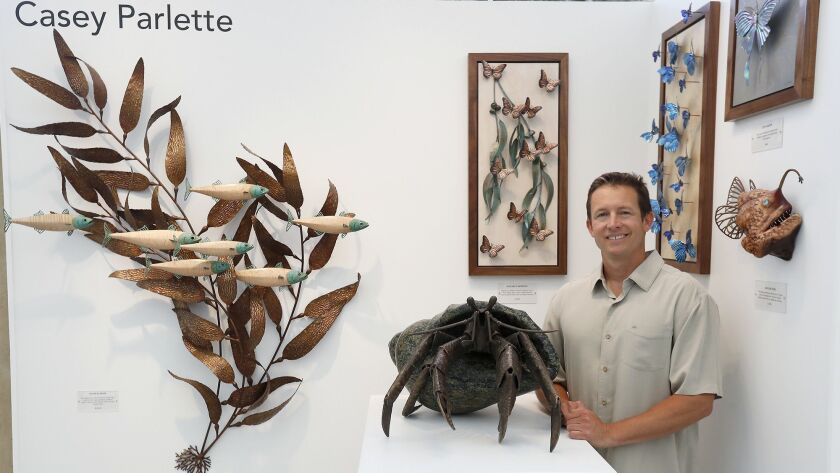 From the depths of the sea to outer space, this year's Festival of Arts in Laguna Beach promises to bring a variety of fine art from 140 Orange County artists.
When the 87-year-old festival opens to the public at noon Friday, visitors will be able to take in hundreds of curated paintings, photographs, jewelry cases, sculptures, prints and other art forms lining the many booths.
The art festival — Laguna Beach's oldest — rounds out a week of openings for the city's premier summer shows, following the Sawdust Art & Craft Festival and Laguna Art-A-Fair, both of which opened last week.
The Pageant of the Masters, the Festival of Arts' long-running production featuring a costumed cast in live re-creations of famous artworks, will open Sunday. This year's theme, "The Time Machine," features art from the ancient and recent past and pieces dealing with concepts of time.
Festival artist Dennis Carrie is keeping that theme with his portraits of Abraham Lincoln, Frederick Douglass and Martin Luther King Jr. Carrie, 71, said he likes to pay homage to historical figures.
"I'm hoping young people come through and say, 'What's that?' " the Irvine-based artist said.
Entering the prestigious festival is a feat for many regional artists. A panel of art experts juries artists from around Orange County for the Festival of Arts.
Painter Anthony Salvo, 59, began dreaming about exhibiting in the festival when he stepped onto its grounds on Laguna Canyon Road as a 16-year-old. His art teacher at Estancia High School in Costa Mesa had entered his woodblock cut print in the 1975 Junior Art Exhibit. As he walked around, Salvo immediately fell in love with the place.
"There's nothing going on in Costa Mesa," he said. "This is the spot. Laguna's the place for art."
After a 25-year career as a graphic designer, Salvo displayed in the festival as an adult for the first time in 2012 with a series of food paintings. For the next several years, he didn't pass the competitive juries. Last year, he made it into the show again with a series of landscape and truck paintings.
In anticipation of this summer's show, Salvo began plotting months ago how he would display his oil paintings. The In-N-Out Burger painting would sit on a table, he decided, beneath "Big American Dream," a painting of a dog standing guard near a vintage truck. He wanted everything to be perfect.
"When I went there when I was 16, I was blown away by the high caliber of art," Salvo said. "It's the best show in the state [and] the country for art shows. … That's the one you want to be in."
This year, he juried students for the same junior art program that he exhibited in more than 40 years ago.
"It was like full circle," he said.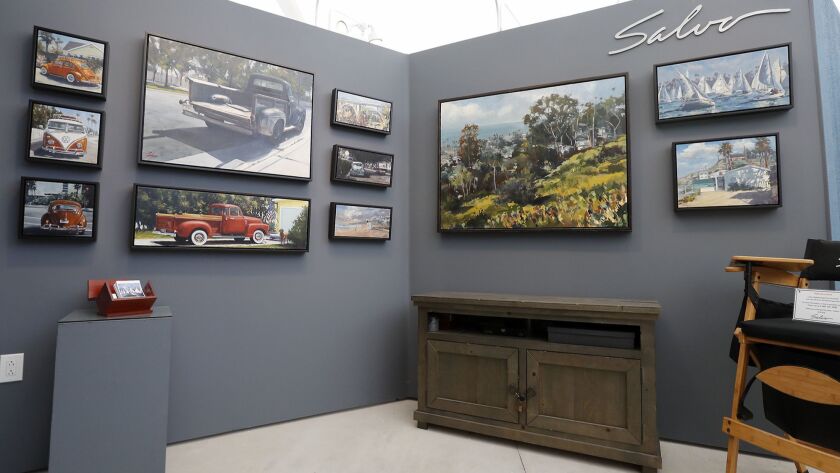 For sculptor Casey Parlette, a 10-year returning exhibitor, this year's show was no sweat — except for the perspiration that broke out on his forehead while lugging a 250-pound crab to his booth. Parlette chiseled the crab's body from a "native Laguna rock" that his friend found. He shaved off 80 pounds of stone and affixed the legs, which he hammered out of bronze, to the body.
When the show is over, Parlette's crab will get a permanent home in town as a public artwork with Laguna Beach's Community Art Project.
Before committing to creating art full time two years ago, Parlette spent 22 years as a lifeguard in Laguna Beach. He also lived in the Peruvian Amazon for nine months and led expeditions to remote areas of the water. On one trip, he discovered a previously unidentified species of fish that was later named "rivulus parlettei" after him.
Though no rivulus parlettei will make an appearance at his summer booth, Parlette promises to show other water creatures, including a wall hanging of wooden fish swimming through bronze reeds.
"Everything I've done is all nature-inspired, because that's what inspires me," he said. "Art's kind of a window into what's going on in somebody's brain — kind of a rare opportunity to see a visual representation of what people like, what they're thinking about."
IF YOU GO
What: Festival of Arts
Where: 650 Laguna Canyon Road, Laguna Beach
When: Friday through Aug. 31; noon to 11:30 p.m. Mondays through Fridays, 10 a.m. to 11:30 p.m. Saturdays and Sundays
Highlights: Works of 140 Orange County artists, art workshops, daily live music, Pageant of the Masters (see below)
Cost: $10 general admission on weekdays, $15 on weekends
Information: foapom.com
—
What: Pageant of the Masters
Where: Festival of Arts, 650 Laguna Canyon Road, Laguna Beach
When: 8:30 p.m. Sunday through Aug. 31
Cost: $15 to $240
Information: (800) 487-3378 or PageantTickets.com
---