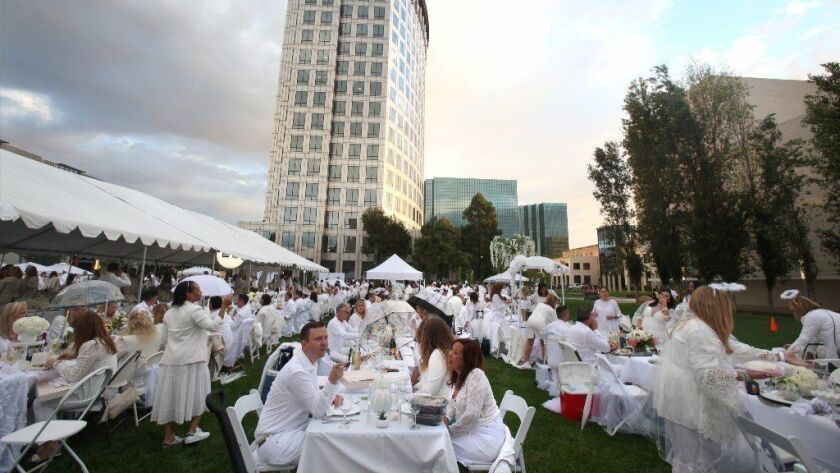 The easiest way to describe Le Dîner en Blanc Orange County is to say it's an impromptu picnic with a strict, all-white dress code. And for the second year in a row, this spectacularly visual event was pulled off in Orange County on Saturday night.
It was a sight to behold: nearly 1,000 people, adorned in white, poured in from all over the county, most of them lugging their own chairs, tables, tablecloths, decorations, food and drink to partake in what's become an international tradition.
There was another layer to it too. Dîner en Blanc's participants, including me, didn't know until the last minute where the dinner would take place. All we knew was to be at our designated pickup points throughout O.C. to board transportation that presumably would take us there.
But before I go into how it played out, a primer.
Just for the heck of it
Dîner en Blanc first took place in 1988. A man named François Pasquier organized it in Bois de Boulogne, a park in Paris. From there, it grew. With local organizers and chapters, Dîner en Blanc now takes place on six continents in more than 70 cities. The 25th anniversary event in Paris drew some 15,000 diners.
Los Angeles has hosted one for the past five years. O.C. is only in its second year. The first took place on the sand in Huntington Beach.
Before the event, I spoke to two organizers: Brenda Springer, who owns a Costa Mesa PR and marketing firm, and Tiffany Brown, CEO of Wow! Events in Huntington Beach.
"It's really about friends with friends, and friends of those friends, coming together and enjoying a location in your city that's a public space," Springer said.
"Guests are actors in their own play," Brown said of why she thinks the event stands out. "Why I'm so passionate about it is because so many other events have a purpose of fundraising or marketing a product. But with this, it's so unique in that it's unexpected … and it's just because."
So what happened?
My Saturday pickup point was at South Coast Plaza. Hundreds gathered there, waiting for buses we thought would transport us away. Several times I had to explain to onlookers what we were doing. I told them it was a special event, something French, involving an impromptu picnic and wearing white.
In effect, I became an unofficial ambassador to an event I hadn't even yet attended. But I overhead a lot of confusion.
"Who died?" someone asked.
"Is this a wedding?" another inquired.
As it turned out, us Costa Mesa people awaited buses that never came. Soon enough, a New Orleans-style jazz band began playing along Bristol Street, beneath the footbridge. It was a kind of a signal, because everyone started walking toward the Segerstrom Center for the Arts.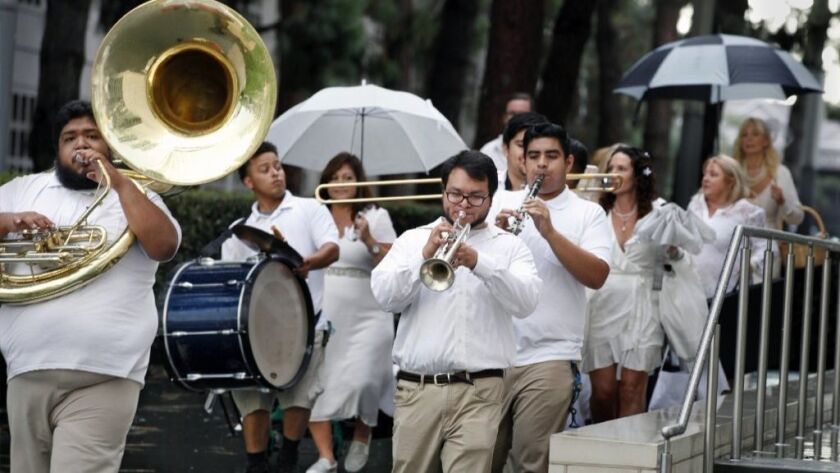 Our parade stopped in the grassy spot just east of the Renée and Henry Segerstrom Concert Hall where the Orange County Museum of Art will be built. Buses for people who weren't already at the Costa Mesa pickup spot rolled in and unloaded.
Even though participants had received wristbands for admission, it didn't seem to matter. No one was checking. If you were decked in all white, you were in.
'Somebody knows'
Throngs of people set up their tables and chairs, and picked up pre-purchased wine. Some were lucky enough to sit under an already-assembled gigantic white tent, though most brought in their own gear. Table decorations included mini Eiffel Towers and trees with hanging white Spanish moss.
The scene was — you guessed it — pretty much all white, down to the white guard rails.
Springer noted to me how Dîner en Blanc doesn't employ an emcee. People basically guide themselves.
"You just know," she said. "If you don't know, somebody knows."
There was a loose schedule though. Notable within it was the ceremonial 6:30 p.m. start of dinner, heralded by hundreds of people waving white napkins in the air.
The remainder of the evening involved plenty of music, food, wine, conversation, dancing, sparklers and cleaning up.
Suzanne Goldstein was one of the group organizers. She loved the camaraderie of the whole spectacle, how it brought so many people together for an enchanted evening.
"Each year the people seem to get nicer and nicer, if that's even possible," she said.
Bradley Zint is a contributor to Times Community News.
---