Vanessa Williams will 'Save the Best for Last' at Segerstrom Concert Hall Pops concert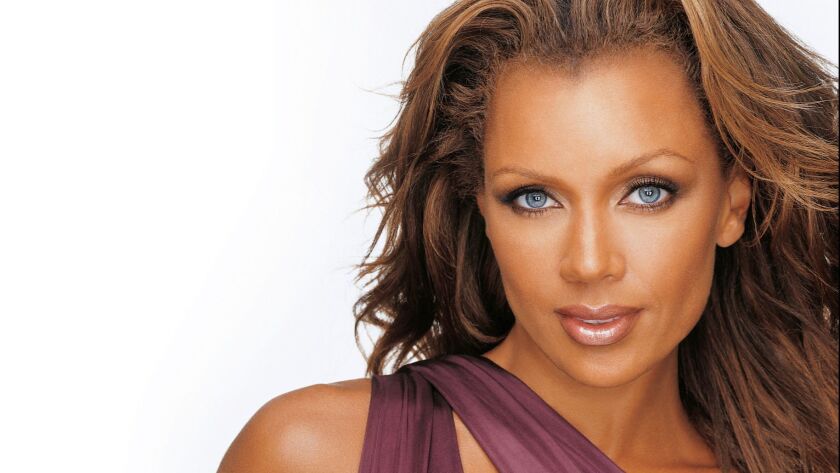 To prime time audiences, Vanessa Williams is best known for "Ugly Betty," "Desperate Housewives," "The Good Wife" and, of course, the Miss America pageant.
But it's her voice that's won her the most professional acclaim — on Broadway, on film soundtracks and on the charts. Her 11 Grammy nominations — and one Tony nomination — eclipse her three Emmy nominations for "Betty." Her 2007 star on the Hollywood Walk of Fame depicts a spinning record, not a motion picture camera.
"Broadway combines everything: a live audience, you get to play a character, you work with an ensemble that's incredible, and you work with a great director," said Williams, 55, who made her Broadway debut in "Kiss of the Spider Woman, first as an understudy to, then replacement of, Chita Rivera in the title role.
"She was one of my idols, and to follow her into the role of this unique and amazing show was both alluring and scary. And it was filled with wonderful dance numbers. I grew up wanting to perform on Broadway, where I definitely feel like I'm home," she said.
So it follows that the Pacific Symphony chose Williams to open its Pops Series Oct. 12 and 13 at the Segerstrom Concert Hall at the Segerstrom Center for the Arts. She knows the Great American Songbook, as well as her way around an orchestra.
"I've been touring with symphonies since 1997," said Williams, who joins the San Francisco Symphony in December. "I get to hear real strings. I love that richness of having an orchestra play your songs."
With the Pacific Symphony and with her band, Williams will sing many of her iconic songs, including "Dreamin'," "Save the Best for Last," "Love Is," "The Way That You Love" and "Colors of the Wind," the 1995 Academy Award winner for Best Song.
"They [at the Oscar ceremony] acknowledged my part in making 'Colors' such a hit," said Williams, who can also be heard singing it during the end credits of Disney's "Pocahontas."
While in Orange County, Williams plans to visit her youngest child, Sasha Fox, who is majoring in film as a freshman at Chapman University in Orange. Another daughter, Jillian Hervey, is a singer-dancer.
"With Sasha gone, I've got an empty nest, so I now have time to do more," Williams said.
Such as recording her ninth and latest studio album, an as-yet-untitled CD of standards.
"These are songs I've sung throughout my life, from high school to now, and therefore reflect my life," she said, adding that the CD should be released sometime next year.
The songs demonstrate Broadway, pop and rhythm 'n' blues influences.
She also wrapped production on a theatrical film, "Bad Hair," and a TV movie, "False Profits."
As if not busy enough, Williams is also heavily involved in charitable causes, notably the Special Olympics.
An unusual project that saw fruition in 2012 was a book Williams, daughter of music educators, co-wrote with her mother, Helen. It's the one with a lengthy subtitle — "You Have No Idea: A Famous Daughter, Her No-nonsense Mother, and How They Survived Pageants, Hollywood, Love, Loss (and Each Other)."
Although it reveals many memories sensitive to Williams, this is not one of those tell-all books that felt therapeutic to write.
"It wasn't therapy because I didn't write it harboring resentment," she explained. "It's a book of our lives, our obstacles, our tragedies. It's not stuck in the past, and it's filled with teachable moments. I've been asked several times to write my memoirs, and I usually turn them down, as I'm still too young.
"Then I thought of asking my mother about doing this as a dual story. So you get my story and my mother's account of that same story, which often differs. It just goes to show you have no idea what goes on behind your back, behind the scenes."
IF YOU GO
Who: Vocalist Vanessa Williams.
What: Pacific Symphony Pops Series Opener, Richard Kaufman, conductor.
When: 8 p.m. Oct. 12-13 p.m.
Where: Renee and Henry Segerstrom Concert Hall, Segerstrom Center for the Arts, 600 Town Center Drive, Costa Mesa.
Cost: Tickets start at $46
Information: (714) 755-5799, pacificsymphony.org.
---
All the latest on Orange County from Orange County.
Get our free TimesOC newsletter.
You may occasionally receive promotional content from the Daily Pilot.