TimesOC: Mater Dei under fire for hazing ritual blamed for brain injury
Good morning and welcome to the TimesOC newsletter.
It's Wednesday, Dec. 1. I'm Ben Brazil, bringing you the latest roundup of Orange County news and events.
The football powerhouse Mater Dei has faced scrutiny after a lawsuit was filed last week alleging that the team engages in hazing that left one player with a traumatic brain injury.
The lawsuit specifically stated that the team takes part in a hazing ritual called "Bodies," in which two players will fight each other until one gives up.
"The unwritten rules involve limiting their punches to the torso area between the shoulders and hips," the complaint reads.
"In an effort to fit in and be perceived as tough amongst teammates, the players sacrifice their physical health, beating each other in a sickening display that is at times videotaped by other players."
Iliana Limón Romero, L.A. Times deputy sports editor, wrote that the complaint says that the player who was eventually injured was beaten during the ritual, suffering nasal fractures in addition to a brain injury that caused slurred speech and cognitive dysfunction.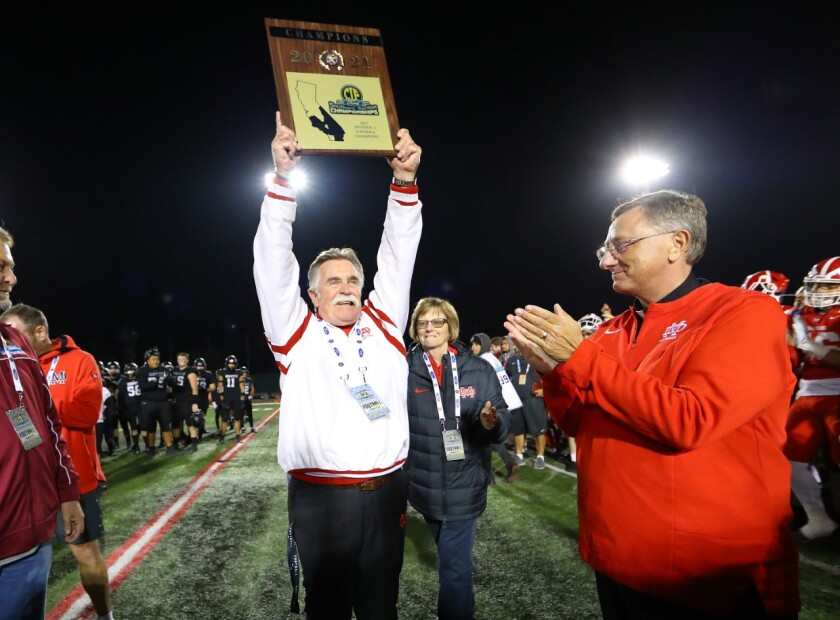 The school and team, specifically Coach Bruce Rollinson, have faced mounting pressure in the wake of the lawsuit. However, the team pulled out another Division 1 football title on Friday and is slated to compete in the CIF state championship Open Division bowl game on Dec. 11.
The California Interscholastic Federation, or CIF, released a statement on Tuesday condemning the school's hazing but making it clear that any investigation is up to the school.
"The CIF condemns hazing and maintains that such conduct has no place in the educational setting," the statement read. "Hazing can be both physically and emotionally harmful, and schools should take the necessary steps to prevent and eliminate it from their school environment. On-campus student misconduct involving a violation of a school's code of conduct and/or state law falls within the responsibility of the school's administration to investigate and address. The CIF will not comment further on the allegations of hazing regarding Mater Dei High School."
Columnist Eric Sondheimer wrote that Orange County Dist. Atty. Todd Spitzer also issued a statement on Tuesday regarding his decision to decline filing charges on the incident.
"Neither player involved in this fight was made to participate against their will," the statement read. "Other players in the locker room were seen milling around, playing on their phones and largely uninterested in the punches being thrown by two of their teammates. The participants knew they were being filmed and they started throwing punches. Some punches landed; others did not, but it is unequivocally clear that both participants attempted to land as many punches as possible.
"There is not a single shred of evidence to show that this was anything other than a mutual combat situation with two willing participants who traded blow for blow, including repeated punches to each other's heads. That does not make it acceptable. But it is not a crime."
MORE NEWS
Almost two months after a massive oil spill off Huntington Beach, fishing can finally resume along the Orange County coastline. The decision came after the California Department of Fish and Wildlife determined that it's safe to eat seafood from the waters. The return of fishing is a relief to the businesses impacted by the oil spill. "We have such a short season for business here," said John Doughty, owner of JD's Big Game Tackle in Newport Beach. "The season typically goes from June to September, maybe into December on a good year. You need those profits to keep you going through the rest of the year." Daily Pilot reporter Lilly Nguyen talked to a whale-watching business with a similar outlook.
After nearly hitting a man with the car he allegedly stole, a Los Angeles man led police on a car chase before he was arrested in Newport Beach. Reporter Lilly Nguyen wrote that police boxed the suspect in with the Newport Beach BearCat, but the suspect refused to leave the vehicle. Eventually, a K-9 was deployed and the suspect was apprehended.
The Orange County coroner's office identified a man this week who was killed while crossing the street in Thanksgiving in Costa Mesa. The driver remained at the scene and cooperated with authorities, though the victim could not be revived with CPR.
How worried should you be by the Omicron variant of the coronavirus? Reporters Luke Money and Rong-Gong Lin II have the story.
LIFE AND LEISURE
Pizza robots may soon come to Orange County. When Stellar Pizza, founded by former SpaceX engineers, launches early next year, it will use possibly the most advanced method for pizza making that we have yet seen. The food truck will serve pizzas assembled by robotic arms!
With Hanukkah beginning this week, the Chabad Center for Jewish Life in Newport Beach celebrated the holiday with an event that included performances from the Moshav Band and the Corona del Mar High School drumline. "It is a holiday that enriches our lives and strengthens our tradition," said Rabbi Reuven Mintz of the Chabad Center for Jewish Life in a statement. "In ancient times, our ancestors rededicated the Temple in Jerusalem."
Laguna Art Museum's Art and Nature showcase is returning for its ninth year to explore the intersection of art and nature. My colleague Andrew Turner wrote about how the exhibit uses sound and sight to immerse people in the natural setting of a cloudscape and lush tropical forest.
SPORTS
The Orange County Breakers tennis team claimed the King Trophy this week after defeating the Springfield Lasers, capping off their 2021 World Team Tennis season. This is the third league title for the Breakers, who usually play their home matches at Palisades Tennis Club in Newport Beach.
Here's a roundup of high school sports from Orange County's coastal cities, including Huntington Beach boys' soccer beating Los Amigos 7-0. Laguna Beach girls' basketball also claimed a commanding 63-22 win over Costa Mesa.
Stay in Touch
If you have a memory or story about Orange County, we would love to read it (please keep your story to 100 words or less).
We want your help in making this the best newsletter it can be. Send any tips or comments to benjamin.brazil@latimes.com or carol.cormaci@latimes.com.
Keep up with community news on our Orange County page. Follow us on Twitter at @timesocofficial.
Did someone forward you this? Sign up here to get the TimesOC newsletter in your inbox, or invite a friend or family member to join.
---
All the latest on Orange County from Orange County.
Get our free TimesOC newsletter.
You may occasionally receive promotional content from the Daily Pilot.