An open space for Latino voices, ideas and experiences to be explored
Good morning. It's Wednesday, May 3. I'm Vince Nguyen, bringing you this week's TimesOC newsletter, with a compilation of the latest local news and events. My colleague, Carol Cormaci, is taking a well-deserved break.
The Counseling Latinos for Equity and Engagement Project at Orange Coast College is a program intended to guide Latino students as they learn about their shared cultural roots and develop the skills to succeed in college and in life.
As our Daily Pilot colleague Sara Cardine writes, since 2016, the CLEEO Project has offered a counseling course — the Chicano/Latino Experience in Higher Education — that focuses on issues of identity, sociology, politics and student experiences.
The program encourages participants to explore where they come from, who they are and where they want to go, according to founder and associate professor of counseling Eric Cuellar.
"I wanted the course to serve as a platform for students to be able to experience a cultural sensitivity and a culturally responsive view," Cuellar told Cardine of the curriculum, which clarifies the "Mestizo perspective," a mixture of backgrounds and beliefs common to Chicano and Latino culture.
"There's a definite focus on critical thinking, emotional intelligence and cross-cultural competency. For Chicanos and Latinas, it incorporates an understanding of our history and our culture, which is one of fusion."
OCC student Nancy Estrada took the course last fall. The 44-year-old Santa Ana resident told Cardine she learned more about her culture and heritage in three months than she had in her entire life.
"My parents never liked to share where we came from. They were too afraid and just tried to grow us into American culture," Estrada said. "[Cuellar] coaches us to believe in ourselves, that we are individuals and we deserve to share in this world with everybody."
Now, there will be more room at the Costa Mesa campus to share such experiences.
On April 25, school officials celebrated the program's expansion and officially made room in the campus' Global Engagement Center for use by the CLEEO project. Father Greg Boyle, Jesuit priest and founder of Los Angeles gang member redirection program Homeboy Industries, was the keynote speaker to celebrate the opening of the space.
Cuellar said appearances by noteworthy figures like Boyle are an important part of the CLEEO Project. Civil rights activist Dolores Huerta, author Victor Villaseñor and actor Pepe Serna are other figures who've graced the campus.
For 23-year-old Alexander Mejia, the program became a lifeline. CLEEO inspired him to change his major from animal science to business administration after doing a lot of soul-searching.
"You could really think about who you want to be, as an individual, instead of the generic 'What's your major?'" said Mejia, who graduated in the winter. "A new perspective is gained, and that's what we really look for in higher education."
MORE NEWS
— All construction bids for a new lecture hall at the Newport Beach Central Library have been rejected by city leaders after the lowest contract exceeded the estimated $14-million cost of the project by more than $3 million. Approval of the Witte Hall construction, which first carried a $13-million price tag, came in November 2021, according to Daily Pilot reporter Lilly Nguyen. The project went out to bid in February and received five offers, the lowest coming from AMG & Associates at $17.1 million. City officials will call for more bids later this year.
— Costa Mesa city leaders are weighing in on the state's plan to turn part of the Fairview Development Center into a regional emergency operations center, sharing concerns about potential impacts to the area and future housing envisioned for the 114-acre site. The proposed center would allow the state to coordinate its response during an emergency or disaster for 11 Southern California counties, the state Office of Emergency Services said. Although the state owns the land and may sell the remaining acreage to a developer, the city has been granted the authority, under Assembly Bill 188, to create a specific plan for the site setting parameters for how the land might be redeveloped and managed. Costa Mesa's housing element indicates Fairview Developmental Center could house up to 2,300 units, which would accommodate nearly 20% of the 11,760 units the city must plan and zone for in the next six years.
— The Huntington Beach Central Library reopened Monday after a large substation transformer box fire forced its closure on April 14. "We're really grateful to be back open," Huntington Beach library and cultural services manager Jessica Framson said. "Our patrons are why we're here, so we're just happy to be able to open our doors to them again." One key feature is missing from the library, however. During the closure, the aquarium was removed, a move recommended by the city's Public Works Department before the outage due to a degraded and rusting structure and some leaking.
— In the latest legislative effort to tackle a worsening shortage of educators across California, a state lawmaker has introduced a bill that would raise salaries for teachers and other school staff by 50% by 2030. As detailed in this Los Angeles Times story by reporter Libor Jany, the proposed measure, AB 938, introduced by Assemblyman Al Muratsuchi (D-Torrance), would create funding targets under the Local Control Funding Formula and would require school employers to report changes in salaries over the next seven years.
— The Anaheim Transportation Network celebrated April 22, Earth Day, by unveiling a new electric fleet of on-demand transit vehicles, inching closer to its goal of becoming a 100% zero-emission service. As TimesOC reporter Sarah Mosqueda writes, the 10-passenger electric vehicles, collectively known as EVE, or Everyone Ventures Everywhere, will travel between the Anaheim region and John Wayne Airport. The vehicles join existing fleets FRAN and ART, already operating in the city as part of ATN's #ElectrifyAnaheim initiative that calls for 100% fleet electrification by 2026.
— On the topic of zero-emission initiatives, California air regulators have adopted two landmark rules setting aggressive zero-emission requirements for fleets of heavier vehicles and locomotives. The California Air Resources Board voted to set an age limit to retire old locomotives while establishing a regulatory framework that requires operators to set aside money to upgrade to cleaner engines and eventually zero-emission power trains. The board also voted on a rule that will speed up the adoption of zero-emission medium- and heavy-duty vehicles in all public and many large private fleets. One provision will require all cargo trucks entering California seaports and rail yards to be zero-emission by 2035.
PUBLIC SAFETY AND COURTS
— Orange County lawmakers are urging state policymakers to take up bills to combat the fentanyl crisis. Assembly Bill 955 would raise the penalty for the possession of fentanyl for sale from between two to four years in jail to a three- to nine-year sentence, while AB 1027 would require social media companies that wind up facilitating untraceable marketplaces for illicit drugs to keep records of communications on their platforms that would be accessible to law enforcement investigating drug dealers. Both proposed bills were introduced by state Assemblywoman Cottie Petrie-Norris, writes Daily Pilot reporter Eric Licas.
— A new landslide formed in San Clemente on Thursday stopped all rail traffic at a spot 2 miles north of where the Orange County Transportation Authority recently suspended passenger trains for almost six months and spent more than $13.7 million to stabilize a different slope. The new trouble spot is below Casa Romantica, a historic property built in the 1920s and now owned by the city of San Clemente and used as a cultural and events center. Passenger rail service was fully restored after the previous landslide less than two weeks ago. No timetable has been set to reopen the tracks.
— A 53-year-old driver of a scooter that traveled against a red light into an intersection died after getting hit by a car in Huntington Beach on Sunday, according to police. Investigators believe a white Royal Alloy Grand Tourer scooter was headed west when it ran a red light and collided with a silver Mercedes-Benz C300, police said in a news release. The 30-year-old driver of the car waited for authorities to respond after the crash, and investigators do not believe he was intoxicated at the time.
— A 41-year-old Garden Grove woman caught up in a crackdown on illegal gambling, extortion and drug trafficking in Santa Ana pleaded guilty Tuesday to a federal conspiracy charge, City News Service reports. According to the defendant's plea agreement, from April 2019 through August 2021, Honganh Thi Pham conspired with three other defendants to operate an illegal gambling business. Phan managed illegal casinos known as "nets" or "slaphouses" in strip malls and homes, including four in Santa Ana, prosecutors said. Pham is scheduled to be sentenced Sept. 25.
— Also from CNS, a woman remained critically injured Tuesday afternoon after a minivan slammed into her apartment in Santa Ana on Monday. As of Tuesday afternoon, authorities are still searching for the suspect involved in the hit-and-run crash, according to the Santa Ana Police Department. Anyone with information is asked to call Investigator Cpl. N. Quinones at (714) 245-8216 or the traffic division at (714) 245-8200.
BUSINESS BUZZ
— As the coronavirus pandemic ravaged businesses across the country, the California Restaurant Foundation started the Restaurants Care resilience fund grant program to help local eateries stay afloat. Fifty-eight restaurants across Orange County received $3,000 in funding through the program in 2022 when the list of eligible establishments grew, reports our Daily Pilot colleague Andrew Turner. Applications for the grant can be submitted online until Sunday, May 7 at restaurantscare.org/resilience, and past recipients will still be considered though priority will go to new applicants. The grants will be $5,000 this time around.
— Alicia Cox and her Prjkt Restaurant Group had plenty of obstacles to go through during the first few years of their 10-year partnership deal with the California State Parks System. The challenges haven't deterred the opening of six of her beach concessions, though, with two more nearing their grand opening. "We want to represent the beach for our locals and our visitors, to take away an experience at the beach that's memorable," Cox told Daily Pilot reporter Matt Szabo. "It has to come with good food, great drinks, good entertainment, this beautiful view and the [merchandise] they can take home." One focus this year will be building a brunch to allow people to eat at the beach earlier in the day. The group's other concession, Pacific Kitchen, will open Memorial Day weekend, and the final establishment, California Fork and Spoon, is slated to open early 2024.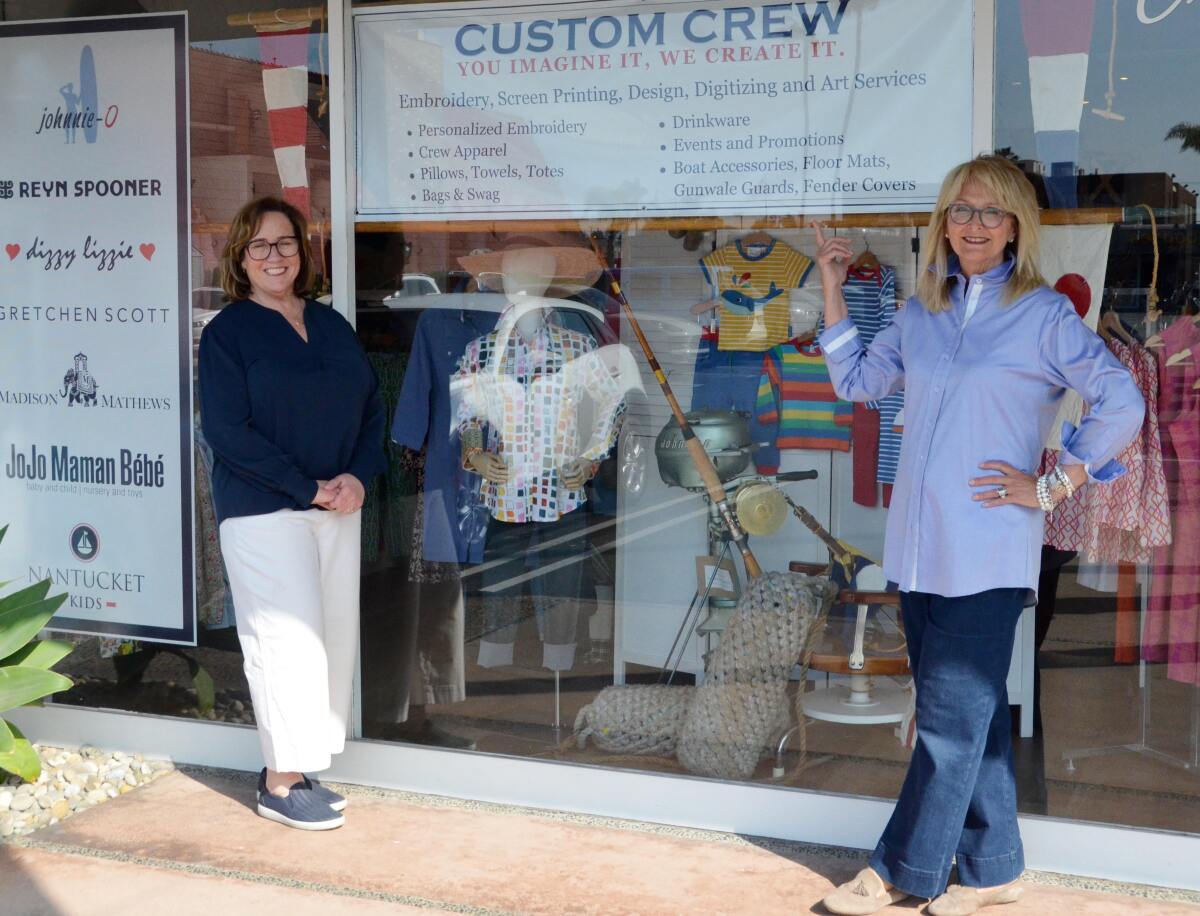 — Love is in the air at a nautical store in Costa Mesa. The Love Letters embroidery business is joining forces with Crews Quarters Newport to offer the nautical community functional and personalized wares. The idea came together when Michele McCormack of Love Letters asked Kathy Hill of Crews Quarters Newport if she would be interested in a co-operative venture to move the home-based embroidery business into the Costa Mesa store. The one-stop shop for all things nautical includes apparel for men, women and children, gifts, boating accessories and custom items.
— Orange County entrepreneur Patty Arvielo is now the namesake for Vanguard University's business school, the first in the country to be named after a Latina. The Costa Mesa campus announced the unveiling of the Patty Arvielo School of Business and Management with a ceremony on campus on April 20. Business is the largest major at the private Christian university. Co-founder and CEO of Tustin-based New American Funding, Arvielo, 58, sits on the board of the Center of Public Leadership at the Harvard Kennedy School and is a 50% partner in WeAllGrow Latina, the most established lifestyle community of Latina women who have made an impact.
LIFE & LEISURE
— A pop-up floral mural created by Laguna Beach High students will be featured in Laguna Beach's First Thursday Art Walk on the Promenade on Forest that begins tomorrow. The mural was put together with found objects such as old doors, rain barrels and a kitchen sink. The resulting structure was painted black and white, and flowers will be placed in blocks of color. About 60 students helped create the mural, which is being partially funded through a grant from SchoolPower, a nonprofit education foundation. The mural will serve as a backdrop for performers on the main stage on the Promenade on Forest and will be on view to the public through Saturday, May 6.
— Stewardship Days was started in March by the Laguna Canyon Foundation and OC Parks to help shape the Laguna Canyon trails after an especially rainy winter. Each weekend through May and June, the program offers volunteers a chance to improve the canyon's pathways while connecting with one of the most biodiverse habitats on earth. Some programs are still accepting volunteers, and those interested can visit lagunacanyon.org/get-involved/volunteer/ for more information.
— The inaugural Va'a California Series started in February and came to its conclusion over the weekend in a 21-mile race from Long Beach to Newport Harbor. The event is meant for outrigger paddlers of V1 canoes, which are rudderless and lack conventional foot pedals. The sport originated from Hawaii and other Polynesian countries before making its way to California in 1959. Fifty-two racers competed, with 19 of them from Tahiti. Steeve Teihotaata of Tahiti finished first in Saturday's event with a time of 2 hours, 48 minutes.
— A mallard duck that had been shot with a mini-crossbow gun and had a dart arrow lodged in its neck that protruded from its cheek has recovered and was released at TeWinkle Park on Friday. The mallard, which underwent two surgeries, was rehabilitating at the Wetlands & Wildlife Care Center in Huntington Beach. The injured mallard was first spotted in Newport Beach on March 25 before a family found it near a Costa Mesa school the next day.
SPORTS
— Former Santa Ana Mater Dei and Alabama quarterback Bryce Young was selected No. 1 overall by the Carolina Panthers in the NFL Draft on Thursday. "Whatever the expectations, I want to take things day by day. But I am super blessed for this organization to take a chance on me," the 2021 Heisman Trophy winner said. As a junior in 2018, Young completed 70% of his passes for 3,846 yards and 39 touchdowns for a 15-1 team. As a senior, he completed 72% of his passes for 4,528 yards and 58 touchdowns for a 12-1 team.
— Gordon Bowley, who spent decades advocating youth sports, died April 17 at the age of 85. Bowley was the president of Costa Mesa United, a nonprofit that provided grants for youth sports programs and facilities in the city. He was diagnosed with colon cancer in November 2021, and it spread to his liver and lungs. A memorial service for Bowley is scheduled for Friday, May 12 at 2 p.m. at St. Andrew's Presbyterian Church, with a reception to follow at Mesa Verde Country Club.
— Corona del Mar junior Niels Hoffmann fell to James MacDonald of University, 6-4, 6-2, in the CIF Singles division title match of the prestigious Ojai Tennis Tournament on Saturday. Hoffmann, a quarterfinalist in the Ojai last year, earned a 6-2, 6-2 victory over Robert Freedman of Torrey Pines in the semifinals earlier in the day. He joins older brother Bjorn, who was a two-time runner-up in 2015 and 2016.
— Talking baseball history is fun for San Juan Capistrano JSerra first baseman Dominic Smaldino. In fact, the 18-year-old, who has been surrounded by baseball royalty all his life, has so many vintage uniforms, gloves, photos and baseball cards in his bedroom, he could start his own museum, writes L.A. Times sportswriter Eric Sondheimer. Smaldino, who has committed to Cal, has been one of JSerra's top players for two seasons, and looks to be an important contributor in this season's CIF Southern Section Division 1 playoffs that begin Thursday. He notched a key hit last season to propel the Lions to their first CIF Southern Section Division 1 championship, defeating Sherman Oaks Notre Dame 3-1 in the title game.
CALENDAR THIS
— Rancho Days Fiesta will celebrate the history of the rancho and Native American cultures with music, dancing and charro horse riding on Saturday, May 6. The free event will take place at Heritage Hill Historical Park from 11 a.m. to 3 p.m. Family-friendly activities include Native American and folklórico dancing, charro horse riding, roping demonstrations and music, as well as crafts and piñata breaking for kids. Heritage Hill Historical Park is located at 25151 Serrano Road, Lake Forest.
— Also on Saturday, May 6, Women For: Orange County will host the Great American Write-In at the Delhi Center on 505 E. Central Ave. in Santa Ana from 9:30 a.m. to 1:30 p.m., the first in-person event since 2019. The annual event invites members of the community to gather to influence policy decisions by penning letters to their legislators. The event provides stationery, blank postcards, pens and postage, but event organizers recommend participants to bring their own return address labels to save time.
— South Coast Repertory will hold its 25th Pacific Playwrights Festival starting Friday, May 5 through Sunday, May 7, featuring two world premiere productions and five staged readings. The festival annually presents seven new plays in full productions, staged readings and in-process presentations. The first reading will begin Friday, May 5 at 1 p.m. South Coast Repertory is at 655 Town Center Drive, Costa Mesa.
— The Orange May Parade returns to Historic Old Towne Orange Saturday, May 6. This year's parade theme is Peace, Love & Orange. Originally called the May Festival Parade, the event marked the beginning of the Valencia orange packing season. The ceremony kicks off in front of City Hall at 300 E. Chapman Ave. at 10 a.m.
KEEP IN TOUCH
Thank you for reading today's newsletter. If you have a memory or story about Orange County, we would love to read and share it in this space. Please try to keep your submission to 100 words or less and include your name and current city of residence.
We appreciate your help in making this the best newsletter it can be. Please send news tips, your memory of life in O.C. (photos welcome!) or comments to carol.cormaci@latimes.com or vincent.nguyen@latimes.com.

All the latest on Orange County from Orange County.
Get our free TimesOC newsletter.
You may occasionally receive promotional content from the Daily Pilot.