Costa Mesa's Gordon Bowley remembered as a big-hearted advocate for youth sports
Gordon Bowley, who spent decades championing youth sports in Costa Mesa, has died.
Bowley passed away on April 17. He was diagnosed with colon cancer in November 2021 and it spread to his liver and lungs, said his daughter, Cara Jones.
He was 85 years old.
Bowley was the president of Costa Mesa United, a nonprofit that provided grants for youth sports programs and facilities in the city. He also chaired the Youth Sports Council.
"Even when he first started getting sick, he was still going out there and doing stuff," said Costa Mesa United board member Jose De La Jara. "It's hard not to have him around, because he was just such a constant figure for our youth sports. He was giving to both Costa Mesa and Estancia. His kids went to Estancia, but he really had a good, keen, even keel [spirit]. He was really the ultimate diplomat. He would get stuff done, and do it in a very nice, diplomatic way."
Bowley was born and raised in Manitoba, Canada. He and his longtime wife Carol, who celebrated their 60th wedding anniversary last November, moved to Costa Mesa in 1968.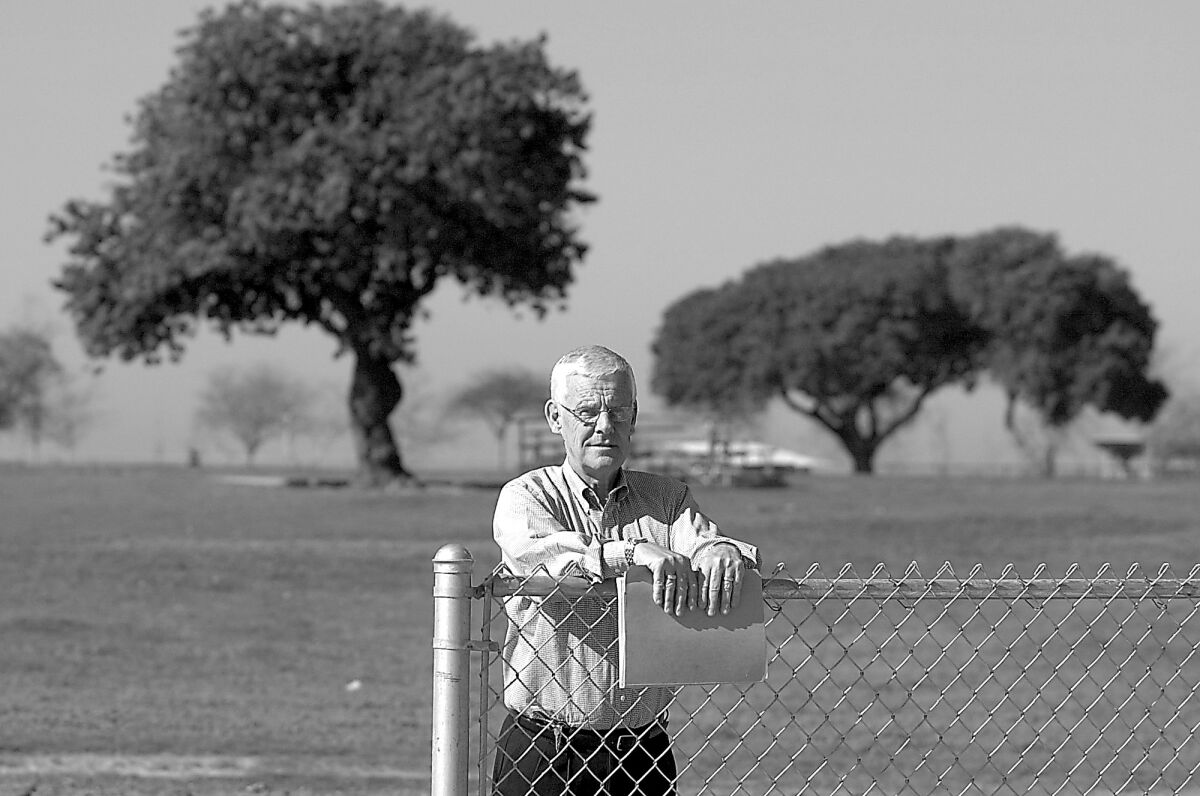 He formerly owned a magnet company called Rainbow Magnetics Inc., but stayed very busy in his retired life.
Often called on to emcee events, Bowley was also heavily involved with a support group for Hoag Hospital called the 552 Club. He was an elder at St. Andrew's Presbyterian Church, and was honored with the Costa Mesa Mayor's Award in 2016.
"Whatever he touched, he was able to make an impact on the community that he so dearly loved," Cara Jones said. "He loved Costa Mesa. It really was his home and where his heart was."
Bowley signed on when the late Jim Scott, in 1991, famously donated the first $100 for what would eventually become Jim Scott Stadium at Estancia. Costa Mesa United, initially founded with the goal of building a football stadium at Estancia High and an aquatics complex at Costa Mesa High, was eventually formed.
In more recent years, Bowley helped found the Mesa Verde Classic golf tournament, which celebrated its 19th year last month and serves as a major fundraiser for Costa Mesa United. Bowley also volunteered at the Jones Cup community golf tournament since its inception in 2000.
Costa Mesa United and Newport Rib Co. combine to produce the All-Sports Cup each year, awarded to the Costa Mesa high school that fares the best in Battle for the Bell games across all sports.
"He had a big heart," said former Costa Mesa Mayor Steve Mensinger, a founding board member of Costa Mesa United, who said he considered Bowley a mentor. "But there's a lot of people with good hearts, and a lot of people don't do anything with it. Gordon did something with it. A lot of people have ideas; Gordon liked to execute … He was the spark plug."
Family was also important to Bowley, who had three children, daughters Cara and Jennifer and a son, Fraser. He also had six grandsons, who were all involved in sports in some capacity.
Jennifer's two children, Ryan and Jake Knapp, were each accomplished golfers at UC Irvine and USC, respectively. Jake continues to play and is currently on the Korn Ferry Tour.
Cara's two oldest sons, Travis and Tyler, were a college swimmer and baseball player respectively. Her third son, Chad, is a sports journalist and her youngest son, Cade, is currently a track and field thrower at Clemson University.
"Sports was a big part of our lives," Cara Jones said, adding that his grandsons affectionately called Bowley "Papa."
"We had dinners every Sunday at my parents' house," she said. "He would hold court with the grandsons, sit out there in the back and they'd have a cigar and a drink. He was arguably one of the funniest people I've ever met. His off-the-cuff wit was unmatched.
"If I'm going to describe my dad in a nutshell, he was unbelievably black and white. There was no gray in his life. Morality, service to the community, faithful to my mom. It was very clear that it was God, family, friends and community. He lived that life."
The Bowleys welcomed their first great-grandchild, Clark, in January. Ryan Knapp and his wife gave their son the middle name of Gordon, the same as Ryan's own middle name.
Gordon Bowley's name will not be forgotten. Jennifer Knapp, herself a board member for Costa Mesa United, has taken over for her father recently in leading the meetings.
"Gordon is more than one person could ever articulate," said Laura Yourex, another Costa Mesa United board member. "He meant so much to so many. Just starting Costa Mesa United was such a labor of love, and that's really how he did everything. He's put a lot of good humans into the world, not just through his family, but through his dedication to helping these kids have access to sports."
A memorial service for Bowley is scheduled for May 12 at 2 p.m. at St. Andrew's Presbyterian Church, Jones said. A reception will follow at Mesa Verde Country Club.
Updates
9:27 a.m. April 27, 2023: This story has been updated with memorial service information for Gordon Bowley.
All the latest on Orange County from Orange County.
Get our free TimesOC newsletter.
You may occasionally receive promotional content from the Daily Pilot.