County abandons bid to have depositions sealed in Newport surgeon's rape case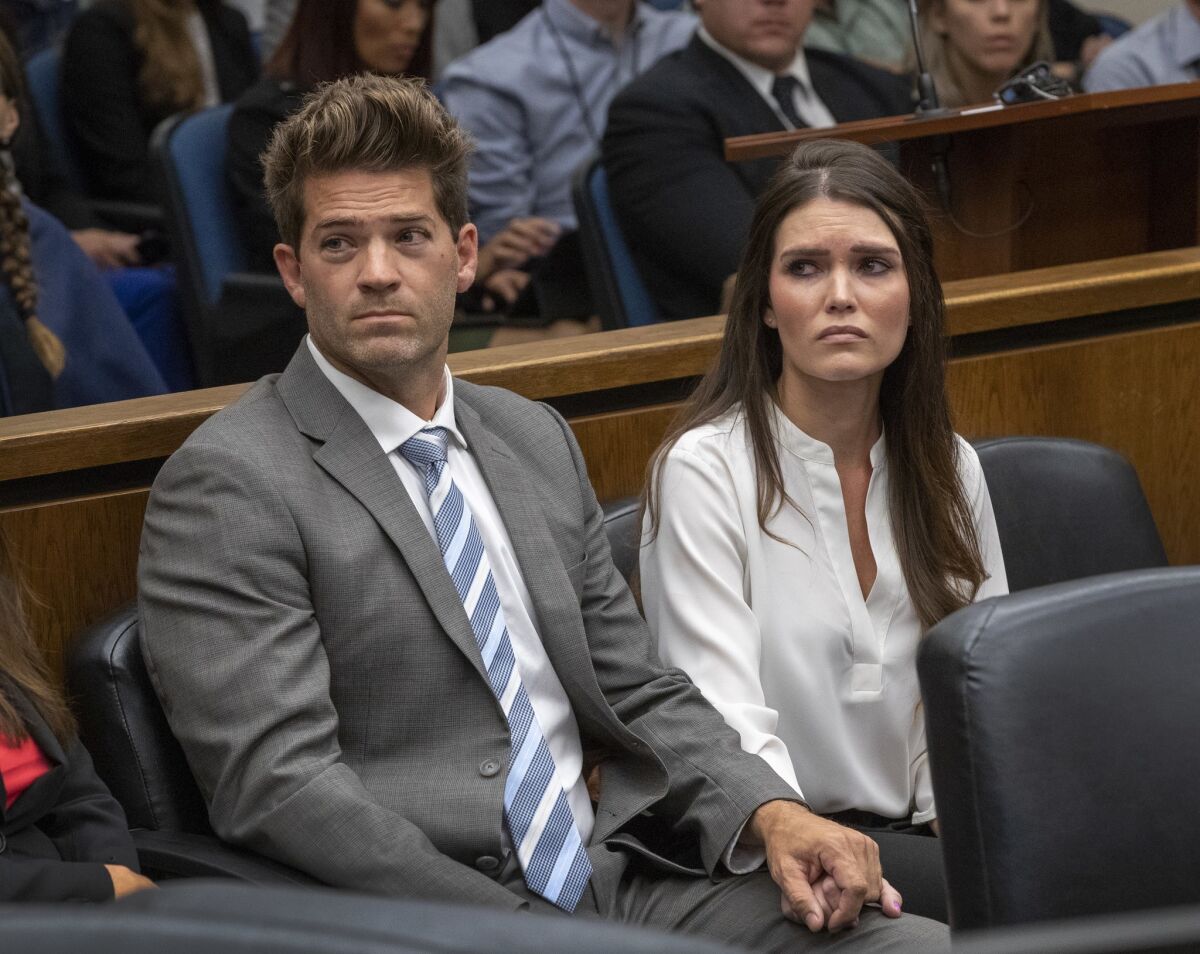 Orange County has withdrawn a motion to have depositions of former district attorney Tony Rackauckas and his chief of staff sealed in a high-profile sexual-assault case involving a Newport Beach doctor and his girlfriend because the usually closely guarded transcripts had already been released to the national news media.
The withdrawal, made last week in Orange County Superior Court, canceled a scheduled hearing Monday. It is another episode in a lurid legal saga in which orthopedic surgeon and one-time reality TV personality Grant Robicheaux and girlfriend Cerissa Riley have been accused of luring and drugging victims and producing videos of many of them being violated.
Their lawyers have alleged their right to a fair trial was trampled by political motivations during a bruising district attorney election campaign in 2018.
Robicheaux and Riley are facing 17 felony charges, including five counts of rape, in connection with assaults that prosecutors allege took place in Robicheaux's Balboa Peninsula home. One of the seven accusers has filed a civil suit.
Robicheaux and Riley have denied all accusations of nonconsensual sex.
The county said it dropped its motion Thursday after learning, through a response from defense attorney Thomas Ferlauto, that transcripts of the depositions had been given to a producer from ABC News.
"While the information contained in the transcripts contained confidential information and should not be disseminated … defendants' release now makes the ... request moot," county counsel Laura Knapp wrote Thursday.
In his response to the county's Oct. 23 request to seal the civil-case depositions by Rackauckas and his chief of staff, Susan Kang Schroeder, Ferlauto said Rackauckas claimed at a September 2018 news conference that there were "a thousand victims of rape on video."
During the news conference, Rackauckas cited "thousands" of videos and photos on Robicheaux's phone, many showing highly intoxicated women, and said prosecutors had a "substantial number" of videos depicting possible victims. "I cannot tell you if it is tens or hundreds; it is certainly more than tens," Rackauckas said.
Rackauckas did not take steps to determine the accuracy of his statements, Ferlauto wrote, and defense investigators found nothing in a forensic examination to back them up.
Two consultants hired by the defense said that of more than 100,000 videos, a "relatively small" portion contained sexual encounters and none showed rape or assault or people who were unconscious or unable to consent, according to statements submitted in court.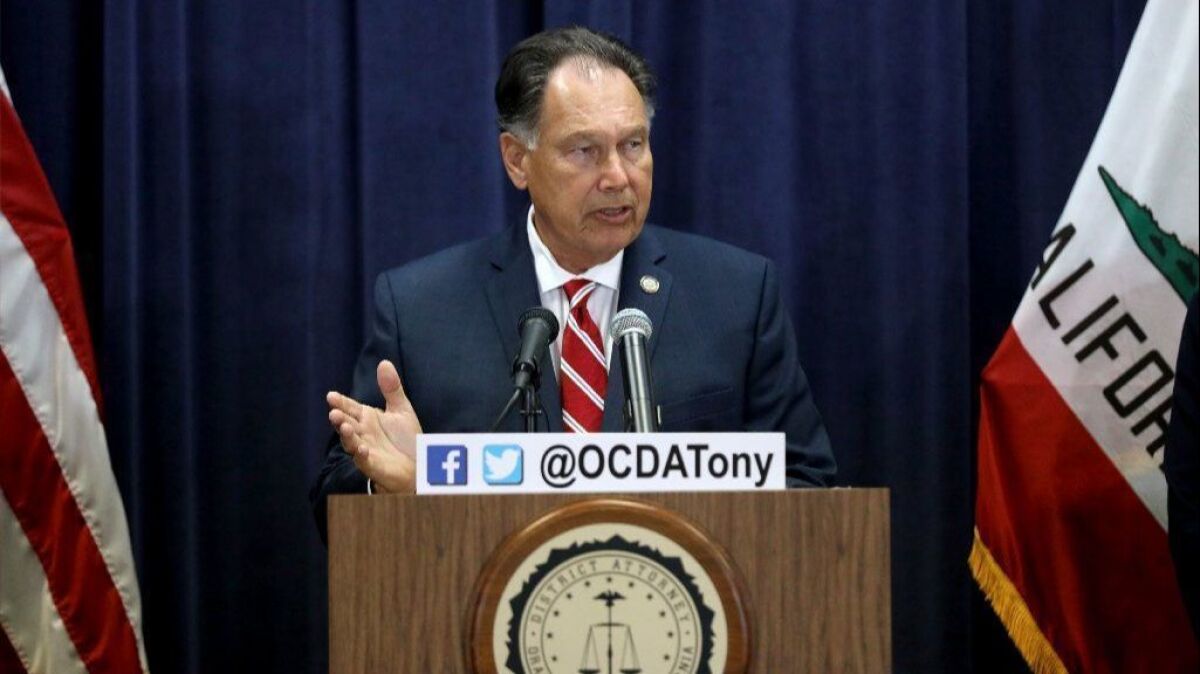 The county's motivation for motioning to seal the transcripts was "to ensure that highly confidential privileged testimony contained in the depositions is not disclosed and the pending prosecution of [the criminal case] is not jeopardized," county attorney Kayla Watson said in court documents.
Ferlauto, however, said "this remedy is not being sought to protect privileged testimony or the integrity of the criminal prosecution. It is being sought to shield the county from embarrassment and scandal based upon the outrageous conduct of two former public servants and their underlings."
Lawyers representing Robicheaux and Riley in their criminal case have said Rackauckas "destroyed the integrity of this case" for political purposes while he was running for reelection last year against then-Orange County Supervisor Todd Spitzer. Spitzer won the election in November.
Defense attorneys and Spitzer have alleged Schroeder played a role in a contempt-of-court request against Spitzer. On Nov. 1, days before the election, one of the seven accusers filed a motion in Superior Court requesting that Spitzer be found in contempt for distributing a then-sealed search warrant and affidavit from the investigation to reporters on Oct. 17, 2018. The woman said Spitzer's action inappropriately interfered with the case. A judge cleared Spitzer because the warrant wasn't sealed at the time he obtained it.
County attorneys did not refer to Ferlauto's comments in their court filings.
But county lawyers argued in April on Rackauckas' behalf that the wording of a reporter's question had "tripped him up" and that Rackauckas' estimate of a thousand or thousands referred to the number of videos, not the number of victims.
The county counsel's office did not immediately respond Tuesday to a request for comment about the allegation against Schroeder.
"This story regarding some make-believe videos was disseminated by the DA's office as a perfect vehicle to gather preelection attention," Ferlauto wrote.
In excerpts from a June deposition appended to Ferlauto's filing, Rackauckas acknowledged the likelihood of keen media interest in the Robicheaux and Riley case:
Q: Did you see this case of a thousand victims, a good-looking doctor, a good-looking girlfriend, as a potential publicity vehicle for you?
A: I certainly expected it to get a lot of publicity, yes.
Q: And did you think that publicity may be helpful to that campaign?
A: Yes.
Q: And that was the thought — you wanted to help your campaign, I assume. You wanted to get reelected?
A: Of course.
In January, criminal lawyers for Robicheaux and Riley claimed Rackauckas had recklessly misrepresented the videos, and they sought access to internal verbal and written communications from Rackauckas' office, saying the communications would form the basis for an argument to have the criminal case dismissed.
Not long after, newly installed DA Spitzer ordered a fresh examination of all evidence.
The judge in the criminal case, who is not presiding in the civil case, denied the defense's request for the communications as "overbroad."
According to more deposition excerpts in Ferlauto's filing last week, Rackauckas said in July that he thought there were about a thousand sexual-assault victims depicted on electronic media taken from Robicheaux's home, based on conversations he had with an investigator and a deputy district attorney. "I just don't know how many," Rackauckas said.
Spitzer said Friday that he had asked the California attorney general's office to take over the criminal case because of Rackauckas' deposition statements.
"Many of the statements in the depositions are disturbing and confirmed to me the validity of all the accusations of impropriety that I levied against the former district attorney and his chief of staff," Spitzer said in a statement.
The state declined to take the case, leaving it in the hands of Spitzer's office.
"Even if it is assumed that the prior district attorney's actions created a conflict of interest, any such conflict will have been resolved by his departure from that position," Senior Assistant Attorney General Julie Garland wrote in a response to the DA's office.
Spitzer said he also has asked the California State Bar to weigh in on the pretrial publicity initiated under Rackauckas.
The State Bar did not respond to the Daily Pilot's request for comment.
---
All the latest on Orange County from Orange County.
Get our free TimesOC newsletter.
You may occasionally receive promotional content from the Daily Pilot.