O.C. doctor accused of multiple rapes can't practice medicine, judge says, and now faces a civil suit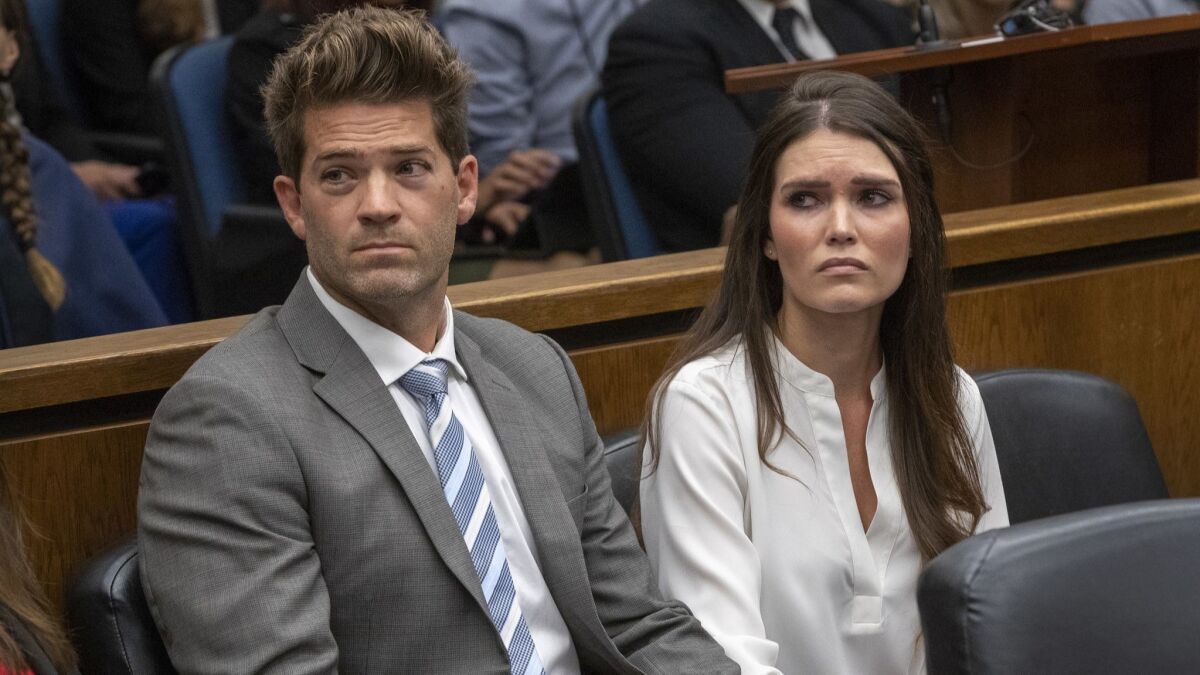 One of seven women a Newport Beach surgeon is charged with drugging and raping filed a civil lawsuit this week against the doctor and his girlfriend, alleging the couple assaulted her in 2016.
The woman is seeking unspecified damages from Dr. Grant Robicheaux, 38, once dubbed Orange County's most eligible bachelor, and his girlfriend Cerissa Riley, 31, based on accusations that they prevented her from leaving their Newport Beach home and touched her without consent, according to court documents.
On Wednesday, Robicheaux and Riley were charged with additional assaults, and Orange County Superior Court Judge Gregory W. Jones also prohibited Robicheaux from practicing medicine as a condition of his bail. That order was affirmed by the Medical Board of California, which restricted his license until after his trial.
The plaintiff in the lawsuit says she was in her mid-30s when she was introduced to the couple through a mutual acquaintance at a Halloween party in 2016. Prosecutors say the couple drugged the woman's drink with GHB and raped her in the bedroom of their home.
The woman told KNBC-TV that she floated in and out of consciousness before she woke up in the couple's bed.
"I thought maybe I was just feeling sick and they had put me to bed, but when I woke up with Grant on top of me, I was definitely very confused," she told the station. "He was getting rough with me, and hard to say, but I just kind of laid there and took it.
The woman said she remembers Cerissa saying, "That's enough, Grant, that's enough. Stop."
Prosecutors said the woman reported the assault to the Orange County district attorney's office after news broke that charges had been filed against the couple in connection with similar incidents.
The Times does not typically identify alleged victims of sex crimes.
Robicheaux and Riley are accused of rape by drugs, kidnapping, oral copulation by anesthesia, assault with intent to commit sexual offenses and other crimes. They face up to 82 years and 63 years in prison, respectively, if convicted. Both are out of custody on $1-million bail, according to court records.
During a court appearance in Newport Beach on Wednesday, Robicheaux was newly charged with sexually assaulting five women, while Riley was accused of being involved with attacks on three women. The pair initially were charged with drugging and raping two women. They have pleaded not guilty.
"We unequivocally deny all allegations of nonconsensual sex and absolutely deny any allegations that we have ever secretly drugged anyone for the purpose of having sex with them," Robicheaux and Riley said in a statement through their attorneys.
Public records and a Hoag Hospital profile identify Robicheaux as a board-certified orthopedic surgeon who received his medical degree from Louisiana State University in 2007 and did his residency at UC Irvine Medical Center in Orange.
The accusations against the surgeon date to 2009. A woman who was in her mid-20s at the time told authorities she began dating Robicheaux after they met at a bar in Newport Beach in September that year. Prosecutors say the doctor raped her at his home after she told him she didn't want to have sex. She told authorities that she knew Robicheaux had weapons and she was afraid of him.
Several of the new charges against the doctor are linked to allegations of incidents that occurred before he began dating Riley, a former teacher.
Prosecutors on Wednesday said the couple preyed on their first victim together in March 2015, raping a woman in her mid-20s who was unable to resist because she was under the influence of "intoxicating and controlled substances."
Authorities began investigating the couple in 2016 after two women separately told Newport Beach police they were taken to Robicheaux's house on 44th Street and assaulted. One woman described the couple as a "Bonnie and Clyde" team who drugged her and forced her to engage in sex acts, according to court documents.
No arrests were made after either incident, but detectives continued to work on the case for two years.
Prosecutors now say Robicheaux and Riley attacked three other women, including the woman who filed the civil lawsuit, during that time.
As part of that investigation, police searched Robicheaux's home in January this year and found a video of at least one of the women being assaulted, authorities said. They also discovered videos and photographs of other potential victims on the couple's phones, some of which were taken at festivals including Burning Man and Splash House, prosecutors said.
The search turned up large quantities of illegal drugs, including GHB, MDMA and cocaine, along with two illegal, unregistered assault rifles, four other firearms and several large-capacity magazines, prosecutors said.
Riley has been a substitute teacher in Fullerton, according to a video in which she appeared that Rackauckas played at a news conference last month. She has held substitute teaching permits since 2014. She received a teaching credential in 2017, but the California Commission on Teacher Credentialing suspended it for "misconduct," according to the agency's website.
In 2014, Robicheaux appeared on the Bravo show "Online Dating Rituals of the American Male," which followed his search for a girlfriend. He was declared Orange County's most eligible bachelor by Orange Coast magazine in 2013 and used the online dating name "InGoodHands."
Twitter: @Hannahnfry
---
The stories shaping California
Get up to speed with our Essential California newsletter, sent six days a week.
You may occasionally receive promotional content from the Los Angeles Times.