Around Town: New Whole Foods coming to Huntington Beach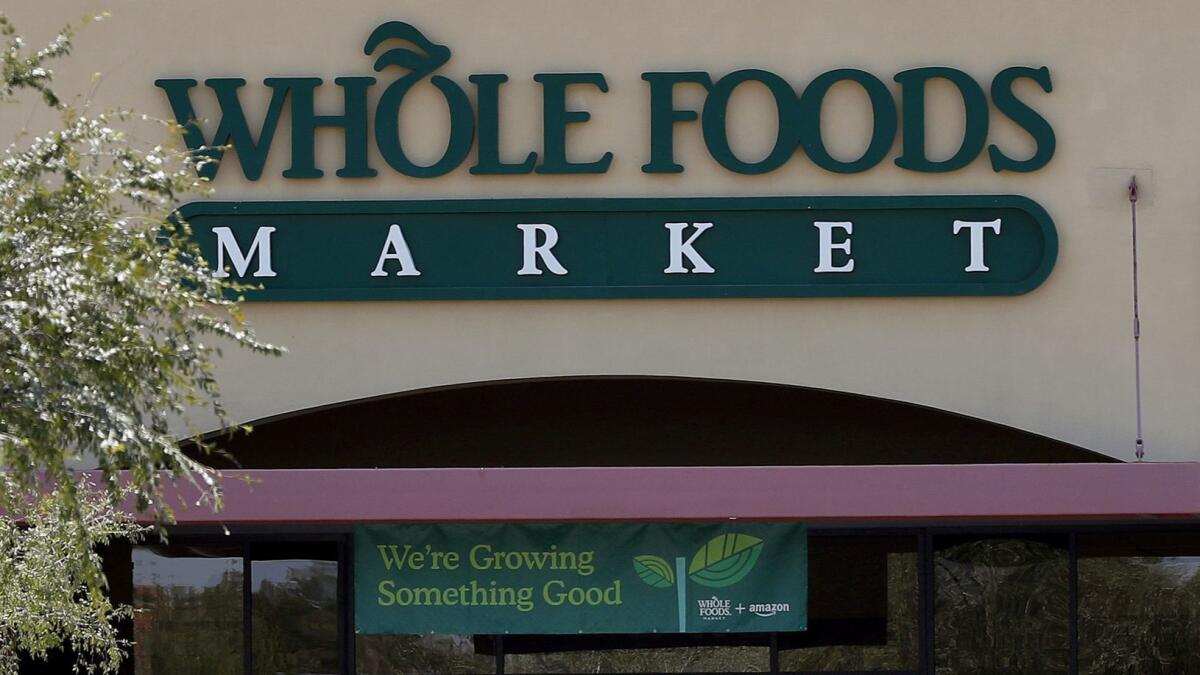 Huntington Beach is getting a second outpost of the popular Whole Foods Market, which is set to open at the northeast corner of Adams Avenue and Brookhurst Street late next year.
The Austin, Texas-based supermarket chain, known for natural and organic foods and household items, plans for the 44,000-square-foot store to be accompanied by an 18,000-square-foot restaurant, a patio and a small tasting area, according to Whole Foods representatives who made the announcement at a Huntington Beach Southeast Area Council Committee meeting Wednesday at City Hall.
The news sparked chatter and applause among community members at the meeting.
Other local Whole Foods locations are at Bella Terra mall at 7881 Edinger Ave. in Huntington Beach, Fashion Island at 415 Newport Center Drive in Newport Beach and 283 Broadway St. in Laguna Beach.
Santa stationed at Fashion Island for photos
Santa Claus has headed south for the winter and is ready for his closeup.
The big man in red will be available for photos at his special holiday house at Fashion Island in Newport Beach from Friday through Christmas Eve.
Children and families can find him on the Atrium Lawn at the shopping center, 401 Newport Center Drive.
Take a walk to the wild side during H.B. wetlands tour
Orange County Coastkeeper and the Sierra Club will host a walking tour of the Huntington Beach wetlands from 9 a.m. to noon Saturday.
The 3-mile tour begins at the corner of Magnolia Street and Banning Avenue. Parking is available along Magnolia. No RSVPs are necessary.
Newport-Mesa district to hold beach cleanup
The Newport-Mesa Unified School District will stage a beach cleanup in Newport Beach Saturday as part of its Kindness Week.
The cleanup will take place around the Balboa Pier from 9 to 11 a.m. A free parking code will be provided for participants.
See what all the buzz is about at O.C. fairgrounds beekeeping class
Centennial Farm at the OC Fair & Event Center will be a hive of activity Saturday during a beekeeping basics class.
The class costs $5 and starts at 1:30 p.m.
Registration is required. For more information or to register, visit ocfair.com/gardenclasses. The Fair & Event Center is at 88 Fair Drive in Costa Mesa.
Class will teach kids how to become Back Bay junior rangers
The Peter and Mary Muth Interpretive Center in Newport Beach is offering a free class to children ages 9 to 12 who are interested in becoming junior rangers.
During the class, which runs from 9 a.m. to noon Saturday, participants will go on a guided hike, complete a short service project and take the junior ranger oath.
For more information, call (949) 923-2290. Registration is required and available at letsgooutside.org. The center is at 2301 University Drive.
Holiday decorating class coming to CdM
Designer Emily Morgan will share some holiday decorating tips Saturday during a free class at Roger's Gardens, 2301 San Joaquin Hills Road in Corona del Mar.
For more information, call (949) 640-5800 or visit rogersgardens.com. The class starts at 9 a.m.
Public safety fair scheduled in Newport
Newport Beach Mayor Diane Dixon and Orange County Supervisor Michelle Steel will team up Saturday to present a community public safety meeting.
Newport Beach police, firefighters and Orange County sheriff's deputies will be present to speak with the public from 10 a.m. to noon at the Civic Center, 100 Civic Center Drive.
Pacific Life plans to lay off dozens of employees in Newport
Newport Beach-based Pacific Life Insurance Co. is planning to lay off dozens of workers as it moves to outsource some technology operations, the Orange County Register reported Tuesday.
A total of 54 employees at the company's headquarters, 700 Newport Center Drive, will be let go as of Dec. 31, according to the newspaper. Those workers will be offered severance packages and other transitional services, the Register reported.
Officials seek input on future of downtown Laguna
Downtown Laguna Beach stakeholders and business owners are invited to fill out a survey to share their thoughts regarding the planned update to the city's downtown specific plan.
The survey will be available through Nov. 27. Answers are confidential, but the results of the survey will be made public.
To take the survey, visit surveymonkey.com/r/dtlagunabeach.
Sherman Library class will teach how to make turkey-themed floral arrangements
Sherman Library & Gardens in Corona del Mar will host a class on Nov. 27 to teach how to make a turkey-themed floral arrangement.
The class runs from 10 a.m. to noon. Registration is $65 for library members and $75 for nonmembers. All supplies are included.
Pre-registration is required. To do so, visit slgardens.org or call (949) 673-2261.
H.B. Thanksgiving event will benefit clean-water efforts
Residents can get a runner's high before lapsing into a food coma during the 10th annual Turkey Wobble at Huntington City Beach.
The Thanksgiving Day event begins at 7 a.m. and includes 5K and 10K courses.
Proceeds will benefit efforts to bring clean water to developing countries.
To register, visit hbturkeywobble.com. For more information, email hbturkeytrot@gmail.com or call (949) 829-2384.
Costa Mesa restaurant to raise money for veterans nonprofit
Tackle Box in Costa Mesa is raising money to donate to Patriots and Paws through Dec. 31.
When a customer mentions the fundraiser, the restaurant will donate a portion of their bill to the Anaheim-based nonprofit, which helps veterans with donations and pairs them with rescued animals.
Tackle Box is located at 3321 Hyland Ave., Suite E.
Newport-Mesa district hires new coordinator of career counseling
The Newport-Mesa Unified School District has hired Lisa Snowden as its new coordinator of career counseling, according to a news release. Her first day will be Dec. 3.
Snowden comes to the district from the Coastline Regional Occupational Program, a career technical education provider based in Costa Mesa. While there, she worked closely with the career technical education programs at Newport-Mesa and the Irvine Unified School District.
She received her bachelor's degree in social ecology from UC Irvine and her master's degree in educational administration and administrative services credential from Cal State Fullerton.
"Ms. Snowden is known as a collaborative educator who has built effective relationships with community and educational partners, which we believe enables her to expand support to students in their pursuit of career goals," Michael Vossen, Newport-Mesa's director of college and career education, said in a statement.
Fountain Valley health fair treats thousands
More than 2,500 medical treatments were provided during an Oct. 27 health fair at Mile Square Regional Park in Fountain Valley.
The fair, hosted by Orange County Supervisor Andrew Do and the Vietnamese Physicians Assn. of Southern California, provided various services — including flu shots, cancer-screening consultations and dental work, according to a news release.
Girls Inc. event raises more than $200K
A recent luncheon put on by Costa Mesa-based Girls Inc. of Orange County raised more than $201,000 for the organization's college-bound program.
The Nov. 6 event took place at the Resort at Pelican Hill in Newport Coast. The funds will be used to pay for college test prep classes, computers, scholarships, application fees and writing coaches.
Newport Dunes hires new general manager
The Newport Dunes Waterfront Resort & Marina in Newport Beach has named Alex Santander as its new general manager.
He has more than 15 years of luxury hospitality leadership experience, according to Newport Dunes. Santander last served as general manager of the Hotel Coral Y Marina in Ensenada, Mexico.
Shalimar Learning Center celebrates 25 years in Costa Mesa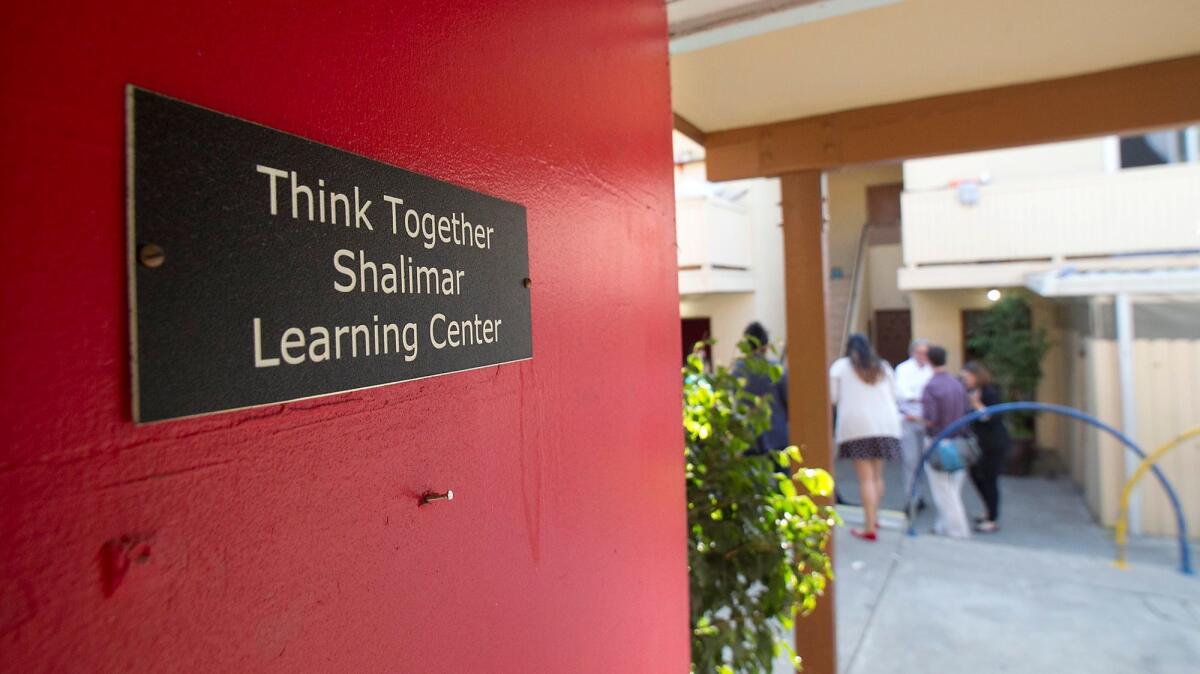 The Shalimar Learning Center in Costa Mesa recently celebrated 25 years of helping children while raising more than $120,000 during a dinner event on Nov. 6.
The center, located at 779 Shalimar Drive, has helped more than 5,000 neighborhood children since its founding in 1994. The event also honored the Pacific Life Foundation, the O'Donnell family and National Charity League for their ongoing support.
"Without the aid of the community, we would not be able to provide educational equity for all kids, fundamentally improving the future for years to come," Randy Barth, founder and chief executive of Think Together, the statewide educational nonprofit that emerged from Shalimar, said in a statement. "We are beyond grateful to our dedicated supporters whose significant gifts and steady engagement have helped Shalimar students and graduates go on to achieve great things."
Clippers honor Costa Mesa teacher
The Los Angeles Clippers recently recognized Early College High School teacher Anne Lawrence through the team's Teacher Appreciation program.
Lawrence works with the Costa Mesa school's Advancement Via Individual Determination, or AVID, program in addition to her regular roles, which include teaching math.
"Mrs. Lawrence is extremely committed to our students, always willing to do what it takes to ensure their success," Early College Principal Dave Martinez said in a news release. "She never ceases to amaze me and we are proud to have her on our team."
Lawrence was recognized during an on-court ceremony Nov. 7 at Staples Center.
Make-A-Wish event in H.B. nets $500,000
Make-A-Wish Orange County and the Inland Empire recently raised more than $500,000 during its Diamonds & Ice Gala in Huntington Beach.
The event at the Waterfront Beach Resort featured live music and a surprise Disney cruise gift for 5-year-old Emma Booth, who has acute lymphoblastic leukemia.
Man honored for philanthropic efforts
Keith Swayne, a board member of the Newport Beach-based Orange County Community Foundation, was recently honored as the Orange County Philanthropist of the Year by the Assn. of Fundraising Professionals.
Other area groups, including the Boys & Girls Clubs of Central Orange Coast and Boys & Girls Club of Laguna Beach, also nominated Swayne — the former chief executive of the food service business Case Swayne Co.
Updates
2:52 p.m. Nov. 21, 2019: This article was originally published at 4:58 p.m. Nov. 20 and has been updated with additional information.
All the latest on Orange County from Orange County.
Get our free TimesOC newsletter.
You may occasionally receive promotional content from the Daily Pilot.