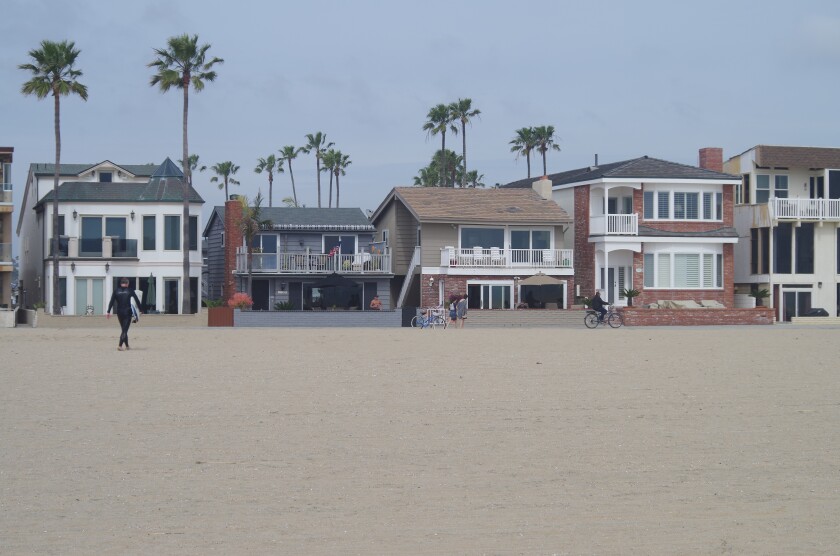 Newport Beach is considering whether to limit the availability of short-term lodging in the city.
In capping the number of permitted homes citywide, allowing them only within a few blocks of the shore and hardening its requirement on parking, the city is more cleaning up around the edges than significantly changing the landscape. Occupancy maximums, however, could significantly reduce crowding.
If adopted, the new regulations would be the first amendments to the city's short-term lodging code since 2013.
Short-term lodging is part of Newport's heritage as a tourist magnet. Traditional property management firms with local brick-and-mortar offices still oversee many homes.
"People who live next to short-term lodging want a lot more restrictions," Newport Community Development Director Seimone Jurjis told the City Council during a Nov. 19 study session. "People who own short-term lodging don't want any restrictions."
It's not yet known when the council will vote on the changes. The more substantive ones include:
Permit cap: 1,600 at any given time. Additional interested homeowners would go on a waiting list. As of Friday, the city had 1,452 active permits, almost entirely on Balboa Peninsula, Balboa Island and in Corona del Mar.
Locations: The city would phase out permits for homes not within the "coastal zone," which is approximately up to the seaward side of Coast Highway. This would only affect about 60 of the 1,452 homes. Homes not immediately near the water would get to keep their permits for up to 10 more years.
Parking: All homes would need at least one off-street space per unit. Those that don't have a driveway, garage or carport for parking would lose their permit, although most homes on the registry offer parking, Jurjis said.
Maximum occupancy: Like hotel rooms, short-term lodges would be held to two guests per bedroom, plus two floaters. This would mean, for example, no more than eight people overnight in a three-bedroom house. Property owners would be required to state the number of bedrooms on their permit applications.
The proposed changes also would require interior and exterior postings at each home. Inside, hosts would have to tell guests their live, 24-hour local primary contact, location and number of on-site parking spaces, street sweeping and garbage collection days, notice of the city's "loud and unruly gathering" ordinance, and a warning that guests are responsible for all their actions. Exterior signage also would list the live local contact and state the maximum occupancy.
The city also is considering increasing the cost of a short-term lodging permit from $103 to $169. The increase would cover the cost of bumping up a part-time fiscal clerk to full-time and to contract with an answering service, which could act as a go-between for complainants and property owners when code enforcement or police officers can't respond promptly to calls about noise, crowds and other concerns.
The city has received about 500 complaints tied to short-term lodging properties so far this year, according to code enforcement officer Brian Contino.
---